A low pressure system that will move through the region will bring an end to Winnipeg's stretch of beautiful late-fall weather. Rain, snow, and cooler conditions are on the way.
But first, a couple more pleasant November days lie ahead for the city. Winnipeg will see plenty of sunshine over the next couple days with highs in the 8–10 °C. Winds will be breezy today out of the west at 20–30 km/h, then ease slightly for Tuesday. Overnight lows will dip to around the freezing mark.
On Wednesday, a low pressure system will move from Saskatchewan into southern Manitoba, spreading cloud and rain across the province. Most areas in the Red River Valley should see 5–10 mm of rain through the day. Winds will start out at 20–30 km/h out of the southeast, then ease to light as the low moves over the Red River Valley in the evening. Temperatures will be much cooler with a high near 3 °C.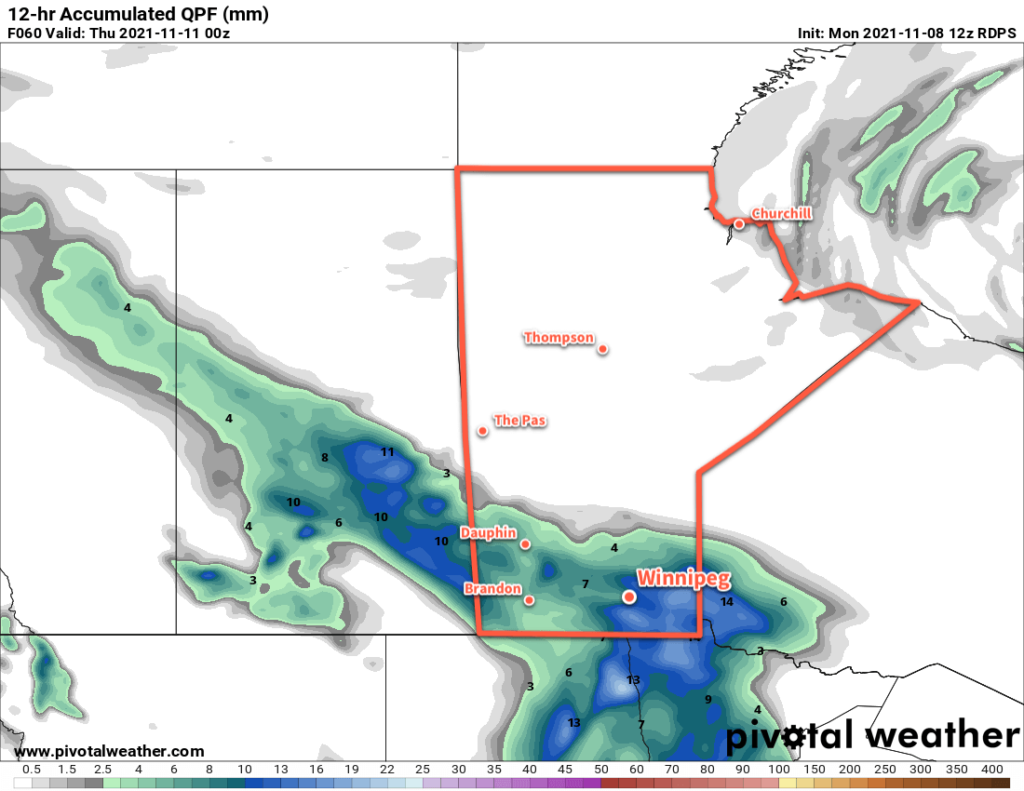 Rain may become mixed with snow late in the day, then will change completely over to snow sometime overnight as temperatures drop below freezing.
Long Range Outlook
The seasons will change quickly this year as the region will look a lot more like winter by the end of Thursday. Moderate northerly winds of 30–40 km/h will develop behind the low and continue to usher cooler air into the region. Snow will continue through much of the day on Thursday with 5–10 cm accumulation likely by Thursday evening. Some periods of light snow will likely continue through Friday, and a bit of light snow may be possible with a weak low on Saturday.
Temperatures will hover near seasonal values right through the weekend with highs around the freezing mark. Overnight lows will dip into the mid-minus single digits.
Today's seasonal daytime high in Winnipeg is +1 °C while the seasonal overnight low is -8 °C.