Much colder weather will arrive in southern Manitoba this weekend as a blast of Arctic air moves into the Prairies.
Before the cold, though, Winnipeg will see a couple days of near-seasonal conditions. A couple of weak systems crossing the region will bring partly cloudy skies and highs on the milder side of the minus single digits. Today will start off a bit breezy with southeast winds near 30 gusting 50 km/h, but the wind will ease through the day.
Saturday should be a pleasant day with light winds as a ridge of high pressure moves over the region.
The real change in the weather will begin on Saturday night. An Alberta Clipper will cross the Prairies Saturday and Sunday while a potent low pressure system strengthens over Hudson Bay. This system will bring some light snow to southern Manitoba on Saturday night as a cold front surges through the province. Behind this front, the clipper and Hudson Bay system will work together to funnel the coldest surge of Arctic air Winnipeg has seen so far this season.
Temperatures will fall to around -7 °C by Sunday morning, then continue to drop to around -10 °C through the day. Winds will stay out of the northwest at 30–40 km/h through the day as Arctic air pushes into the region. Winnipeg may see a few more flurries through the day with morning cloud cover replaced by streamers from Lake Manitoba.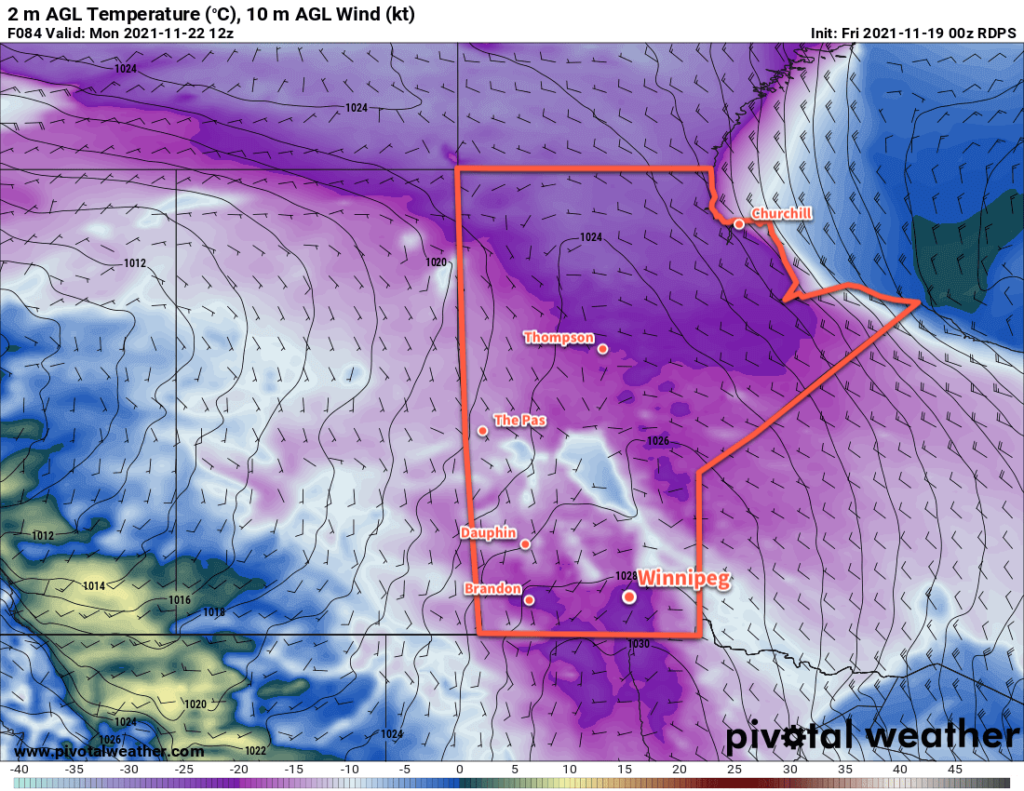 The wind will ease on Sunday evening as a ridge of high pressure moves into the province. Temperatures will dip to a low near -20 °C on Sunday night with mainly clear skies.
Long Range Outlook
Cooler weather looks to stick around next week as winter settles into Manitoba. The region will likely see variable cloudiness through the week, but more snow looks largely limited to Wednesday when another disturbance moves through the province. While no bitterly cold temperatures are in the forecast, the region will be heading into a pattern of near- to below-seasonal temperatures.
Today's seasonal daytime high in Winnipeg is -3 °C while the seasonal overnight low is -11 °C.