A stalled low pressure system over the province will keep temperatures cool over the weekend. On the bright side, there won't be much rain in the days ahead.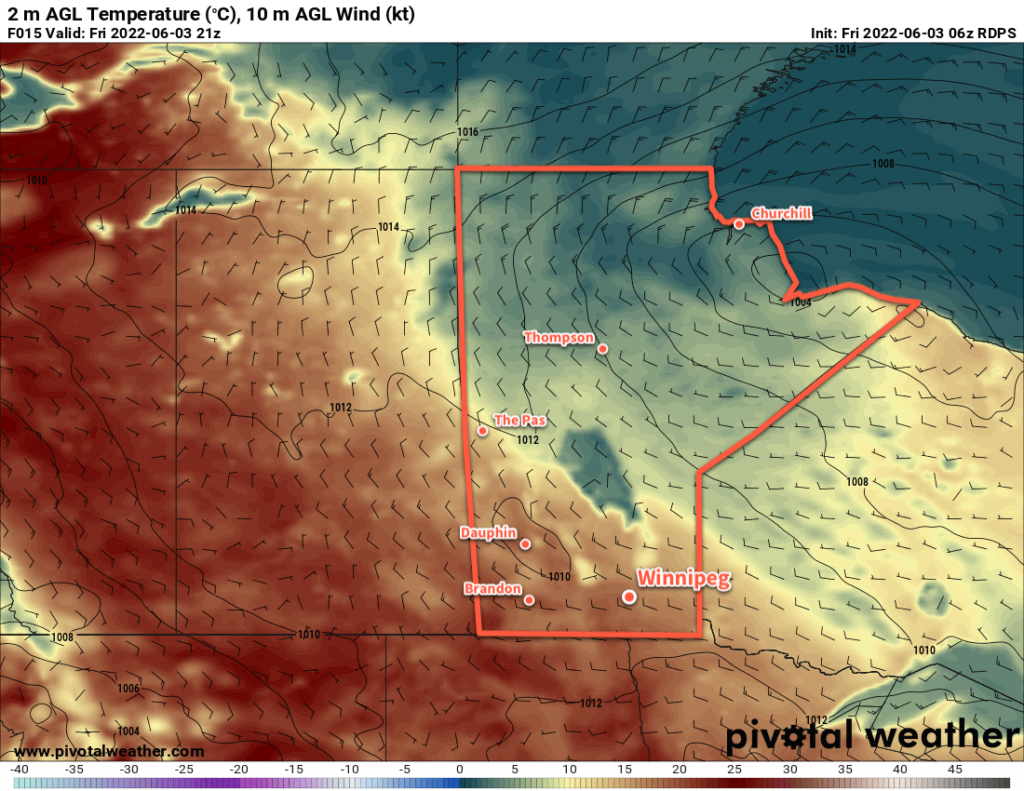 Below-seasonal temperatures will continue over the coming days as a captured cold low sits stalled over the province. Daytime highs over the next few days will sit in the 15–20 °C range with a northwesterly breeze each day. The region will see plenty of sunshine with some pop-up afternoon clouds. Overnight lows will likewise be cool, generally dipping to around 5 °C.
A bit more cloud will move through the region on Sunday. The stalled low over the province will dip southwards, also bringing slightly cooler temperatures. There's a slight chance for a bit of rain, but it looks likely that any wet weather will stick to the north of the Red River Valley. Accumulations would be light with just a couple mm of rain possible in a small band.
Warmer weather will return on Monday with highs climbing back into the upper teens with mixed skies.
Long Range Outlook
Temperatures will trend back towards seasonal values next week, but no substantial shift into warmer weather is forecast. A weak upper trough will linger across the region through most of the week, bringing the occasional chance of afternoon showers driven by daytime heating. Forecast models show an increasing chance of a large upper ridge building across the Prairies by next weekend. This would bring settled and warmer weather to the region. There is a chance, though, that as that air mass builds across the Prairies through the weekend, there would again be the potential for more organized showers/thunderstorms as a warm front lifts through the region.
But for now, things will be able to dry out a bit with cool, dry conditions, sunny to mixed skies, and a breezy northwest wind.
Today's seasonal daytime high in Winnipeg is 22 °C while the seasonal overnight low is 9 °C.