Severe weather is possible across southern Manitoba today as thunderstorms fire up in the afternoon.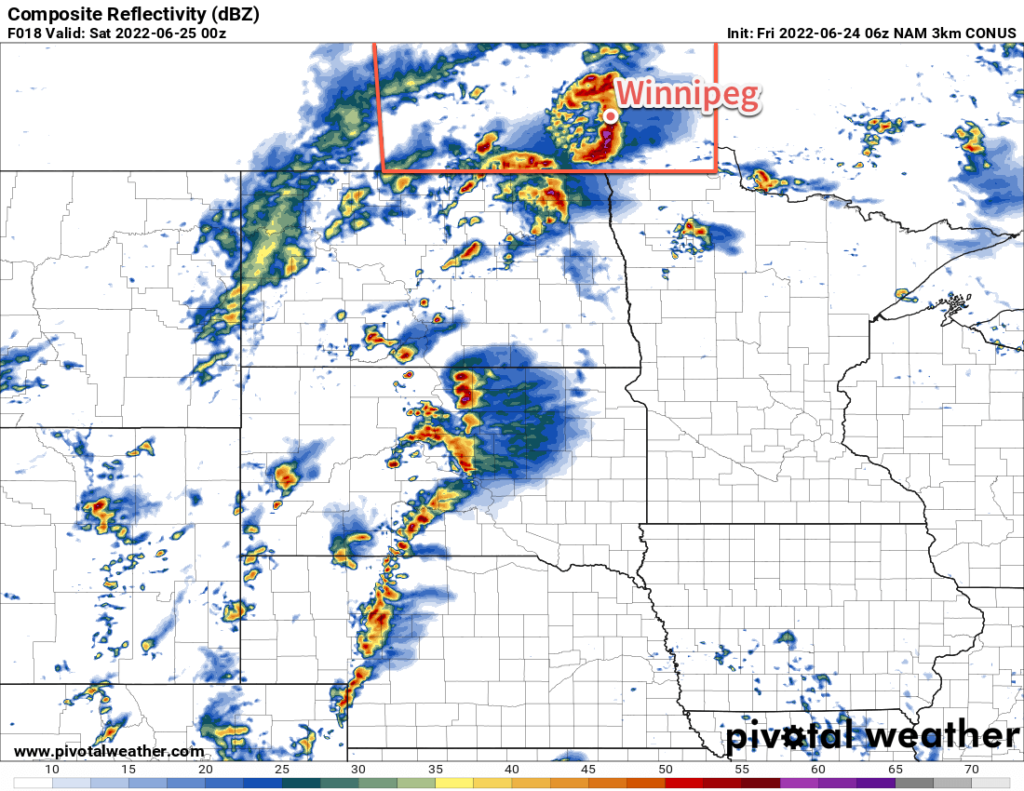 A dynamic weather setup will develop over southern Manitoba today. To begin the day, a warm front lies draped west-to-east across southern Manitoba. Temperatures will warm into the upper 20s this afternoon as a humid air mass pushes northwards out of the Dakotas. A few showers or thunderstorms are possible beginning later this morning, followed by the chance for more potent thunderstorms later this afternoon. All modes of severe weather will be possible, but the main threats will be damaging hail and torrential downpours/flooding. Some thunderstorms may be capable of producing damaging wind gusts. An isolated tornado may be possible too.
Watch for any severe thunderstorm or tornado watches and/or warnings issued by Environment and Climate Change Canada as the day progresses.
The unsettled weather will continue into the evening, then gradually taper off into the overnight period. Temperatures will head down to a low in the mid-teens overnight.
More cloud and unsettled weather will be around for Saturday as an upper low moves through the region. The morning will likely be cloudy with just a slight chance of some showers. Temperatures will climb only to around 20 °C with a strengthening west-northwest wind. As the upper low passes in the afternoon, the region will see a good chance of some more showers swinging in from the northwest. The wind will ease overnight and the showers will taper off as the system tracks off into Ontario. Temperatures will head down to the low teens by Sunday morning.
Finally, mainly sunny skies return for Sunday as a ridge of high pressure moves towards the region. Temperatures will climb into the low to mid 20s with a light northwesterly wind that tapers off later in the afternoon. Temperatures will dip to the mid-teens on Sunday night.
Long Range Outlook
It will be a bit unsettled next week as a relatively active pattern develops over the region. Stormy weather is possible again on Monday, followed by cooler temperatures and calmer weather on Tuesday. Again, Wednesday may bring more showers or thunderstorms that could possibly linger into Thursday. By the end of the week, a pattern of more settled, sunnier conditions should develop.
Today's seasonal daytime high in Winnipeg is 24 °C while the seasonal overnight low is 12 °C.