There will be plenty of sunshine in Winnipeg over the coming days as temperatures gradually ease back to seasonal values.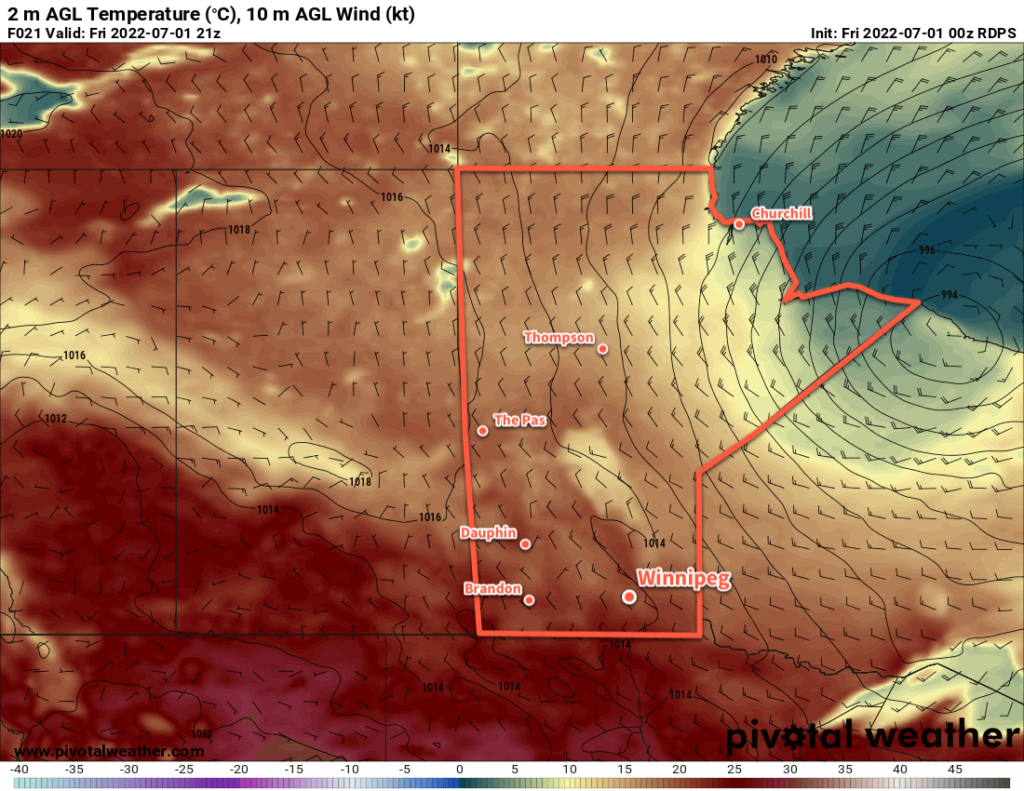 A low pressure system over Hudson Bay will keep a persistent west-northwest flow over the province for the next couple days. This pattern has brought a slow-moving high pressure system to the Prairies; it will keep the clouds (mostly) away and temperatures seasonably cool.
Temperatures in the city today will climb to a high in the low 20s this afternoon. A northwest wind will pick up into the 20–30 km/h range later this morning. In the afternoon a few clouds will pop up, but it should stay dry through the afternoon. The clouds will dissipate this evening as the wind dies off. Temperatures will head to a low near 10 °C.
A few clouds will move through the region on Saturday as temperatures climb to a high in the low 20s again. Winds will be light as the area of high pressure moves across the province. A weak low crossing Saskatchewan will begin pushing a warm front towards the region by evening. This will bring some cloud cover into the region overnight as temperatures drop to the low teens.
Sunday will be an unsettled day across the region as enough warmth and moisture returns to produce broad instability. A combination of the passing low and stalled frontal boundary will provide support for showers and/or thunderstorms, likely possible at several points throughout the day. Temperatures should reach the mid-20s in the afternoon the afternoon. At this point, severe weather is unlikely, but a few strong thunderstorms may develop.
Conditions should settle on Sunday night with temperatures heading into the low teens.
Long Range Outlook
Forecasts show temperatures staying at seasonal to above-seasonal values through the week with gradually increasing humidity. By the end of the week, daytime highs could reach close to 30 °C. Conditions will be pleasant for the first couple days, but an unsettled pattern could develop mid-week, bringing occasional periods of stormier weather.
All in all, a pretty typical and pleasant summer weather forecast!
Today's seasonal daytime high in Winnipeg is 25 °C while the seasonal overnight low is 13 °C.