Winnipeg will see summer heat return with temperatures climbing back towards the 30 °C mark before unsettled conditions close out the weekend.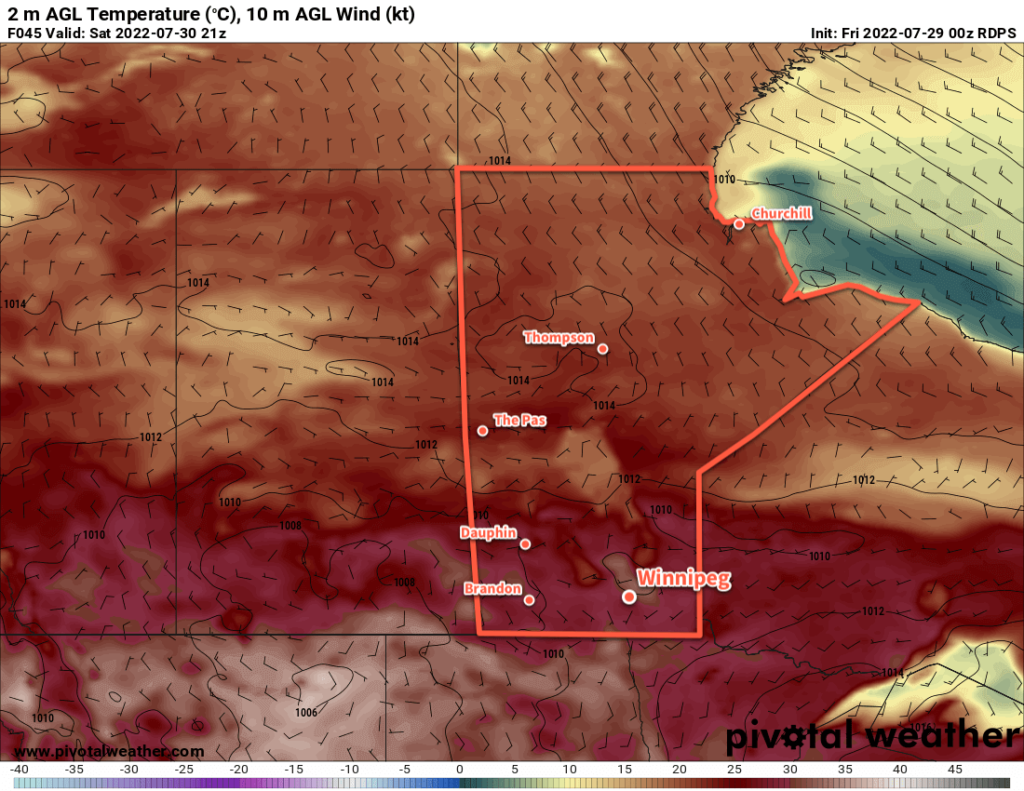 An upper ridge moving into the region will push warmer weather into southern Manitoba as the sunshine continues. Winnipeg will see a near-seasonal high in the upper 20s today, but temperatures will climb to 30 °C on Saturday. Humidity levels should stay fairly comfortable through both days. The combination of the upper ridging and a surface-level ridge will keep skies sunny for the next couple days.
Overnight lows will rise from the mid-teens to the upper teens over the next couple nights.
On Sunday, a low pressure system will move across southern Manitoba and pull a cold front southwards through the region. Skies will be cloudier with scattered showers or thunderstorms possible across the region. Most of the organized rain will likely fall across the Interlake region with 5–15 mm possible to the north of Winnipeg. Temperatures will be much cooler with highs in the low 20s as breezy northwest winds develop behind the low. Temperatures will head down into the mid-teens on Sunday night with clearing skies and easing winds.
Long Range Outlook
Next week will bring variable cloudiness and near-seasonal temperatures. No major rain events are in the forecast, but there may be a few chances for scattered showers or thunderstorms through the week.
Today's seasonal daytime high in Winnipeg is 26 °C while the seasonal overnight low is 13 °C.