A slow-moving low pressure system will bring seasonal temperatures to southern Manitoba over the next few days. Along with cloudy skies, the low will also bring a chance of rain in the second half of the week.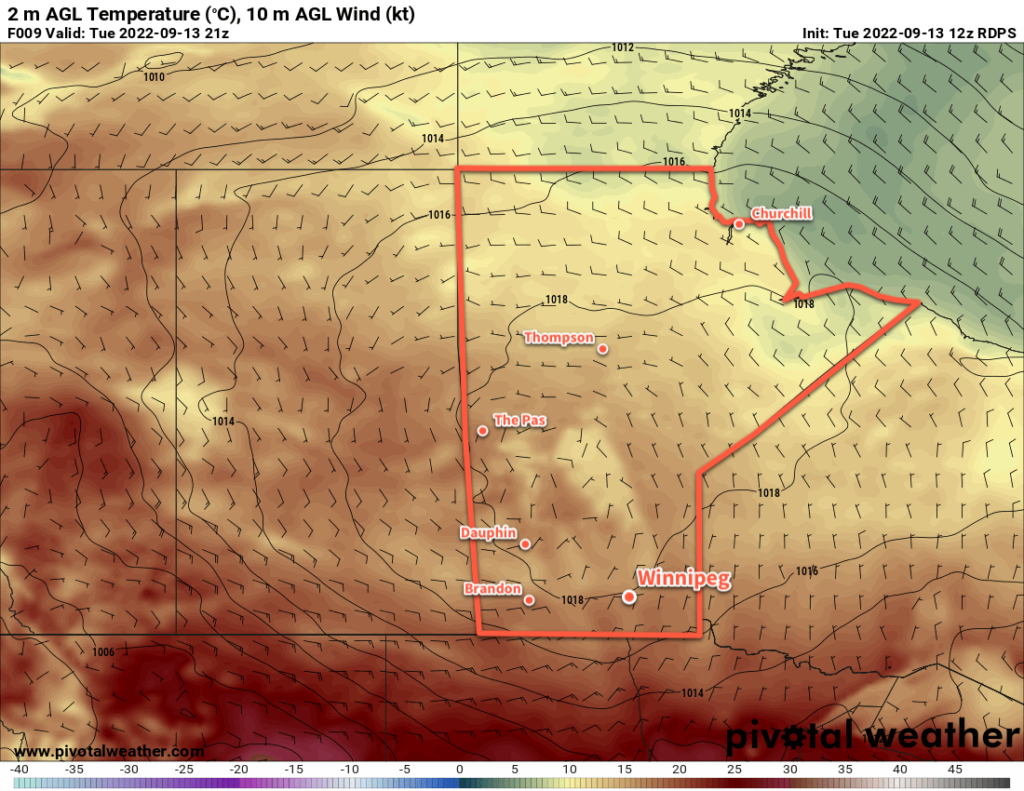 Cooler air is already on the way today behind a cold front that passed through overnight. Highs across the region will be considerably lower than yesterday's 30 °C weather. Temperatures in southern Manitoba will climb into the upper teens today with northerly winds of 20 to 30 km/h.
Cloud will begin to push into the region tonight as a slow-moving low pressure system pushes towards the Dakotas. Temperatures will dip back below 10 °C tonight as the winds ease and skies cloud over.
Beginning Wednesday, much of southern Manitoba — including Winnipeg — will see mostly cloudy skies that will persist right to the weekend. Temperatures will be very consistent through the rest of the week as well: highs will climb to the mid- to upper-teens and lows should sit in the low teens.
It should stay dry across the region on Wednesday, but conditions will grow more unsettled on Wednesday night into Thursday. Showers are likely across much of the region on Thursday, but may be patchy in coverage and sporadic in nature. Amounts by Thursday evening will be generally low, with most regions seeing jp to 5 to 10 mm of rain.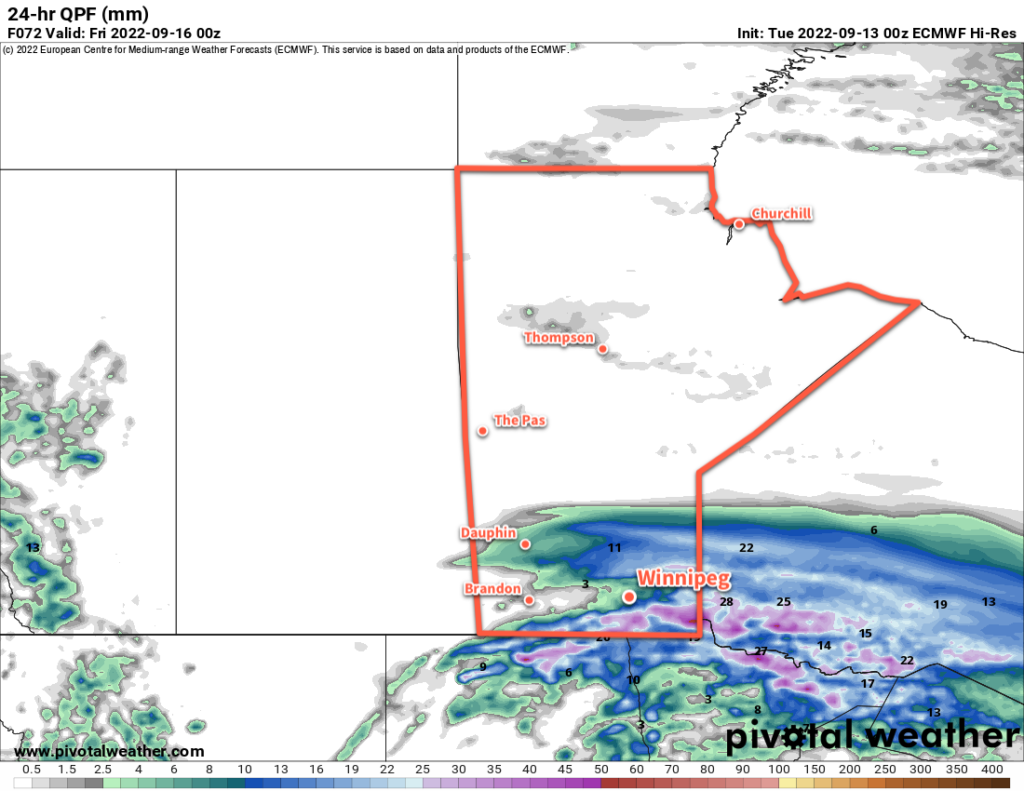 The exceptions will be in western Manitoba and in southeastern Manitoba. In WestMan, 10 to 20 mm is possible due to upslope winds over the Duck Mountains and the Riding Mountains. This will depend on the rain pushing far enough northwards, which some models — like the above ECMWF output — don't.  In the southeast corner of the province, up to 15 to 25 mm is possible as a more organized area of rain moves through that area. Some of that heavier rain may also fall over the southern Red River Valley, but that's very uncertain right now.
The showers will ease on Thursday night, leaving just a few lingering showers across the region for Friday.
Winds will pick up out of the east to around 30 gusting 50 km/h on Wednesday, then gradually ease into the 20 to 30 km/h range as it shifts northerly over Thursday and Friday.
Long Range Outlook
The region will see mixed skies through the weekend as another low moves from the Dakotas towards NW Ontario. Highs will nudge towards the 20 °C mark, but some more rain is possible sometime later Saturday into Sunday as the low passes by the region.
Next week should bring near seasonal temperatures and a gradual clearing trend.
Today's seasonal daytime high in Winnipeg is 19 °C while the seasonal overnight low is 7 °C.