A continuing series of slow-moving low pressure systems will bring more cloud and showers to southern Manitoba into the weekend.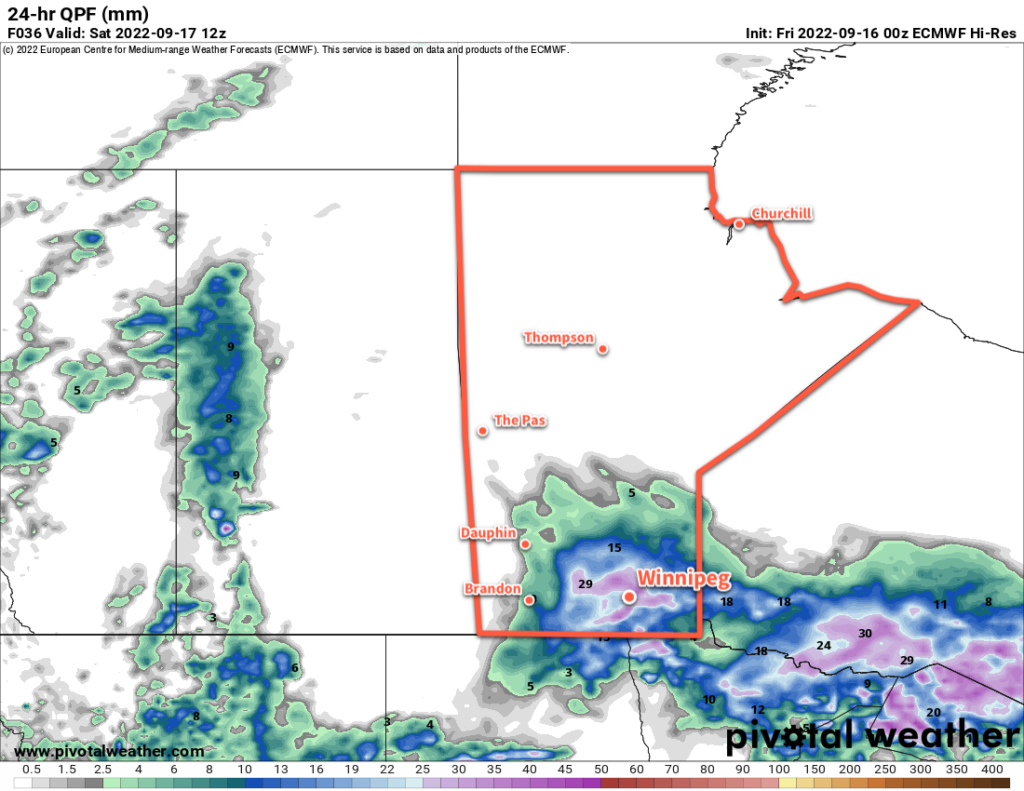 More showers will persist across southern Manitoba today as a weak low pressure system slowly lifts into the southeastern corner of the province. Scattered showers will blossom across the region this morning as the lift from this low pushes into the region. Rain will likely be sporadic through the morning and get steadier through the afternoon.
The most organized rain will likely move through the Red River Valley later this afternoon through the evening hours. The rain will then taper off late overnight or early Saturday morning. Storm-total rainfall of 10 to 20 mm is likely by Saturday morning. Locally, amounts may vary with some areas seeing a bit less, and others potentially reaching into the 20 to 30 mm range.
There will be a brief reprieve from the rain through Saturday, then another chance of showers will develop over the region on Sunday night. A low pressure system moving out the U.S. towards Lake of the Woods will spread some light rain across the southeast corner of the province with showers spreading to the northwest. A few showers may linger across the Red River Valley into Sunday morning before tapering off. Rainfall amounts with this second system will should be significantly less than today's system.
These passing systems will keep skies cloudy and temperatures cool over the coming days. Winnipeg will see seasonably cool highs in the mid-teens, but the cloud cover will keep lows mild near the 10 °C mark. Northeast winds will be gradually ease through the day today, followed by variable light lighter winds for Saturday and Sunday.
When the system leaves the region on Sunday, the cloud cover should finally break up, bringing some sun back to the Red River Valley. Highs will rebound back into the low 20s, making for a pleasant afternoon.
Long Range Outlook
More unsettled weather is likely to kick off next week, with more rain possible later Monday. The rest of the week looks to bring variable cloudiness with a chance of showers. Cooler air will build into the region, dropping daytime highs from the low 20s to the low teens over several days.
Longer-range forecasts show the decent into cooler conditions followed by an easing to near-seasonal temperatures. All in all, the general trend over the next couple weeks is an easing of fall conditions into the region.
Today's seasonal daytime high in Winnipeg is 18 °C while the seasonal overnight low is 6 °C.