A series of slow-moving low pressure systems will continue to bring cool conditions and periods of wet weather to southern Manitoba.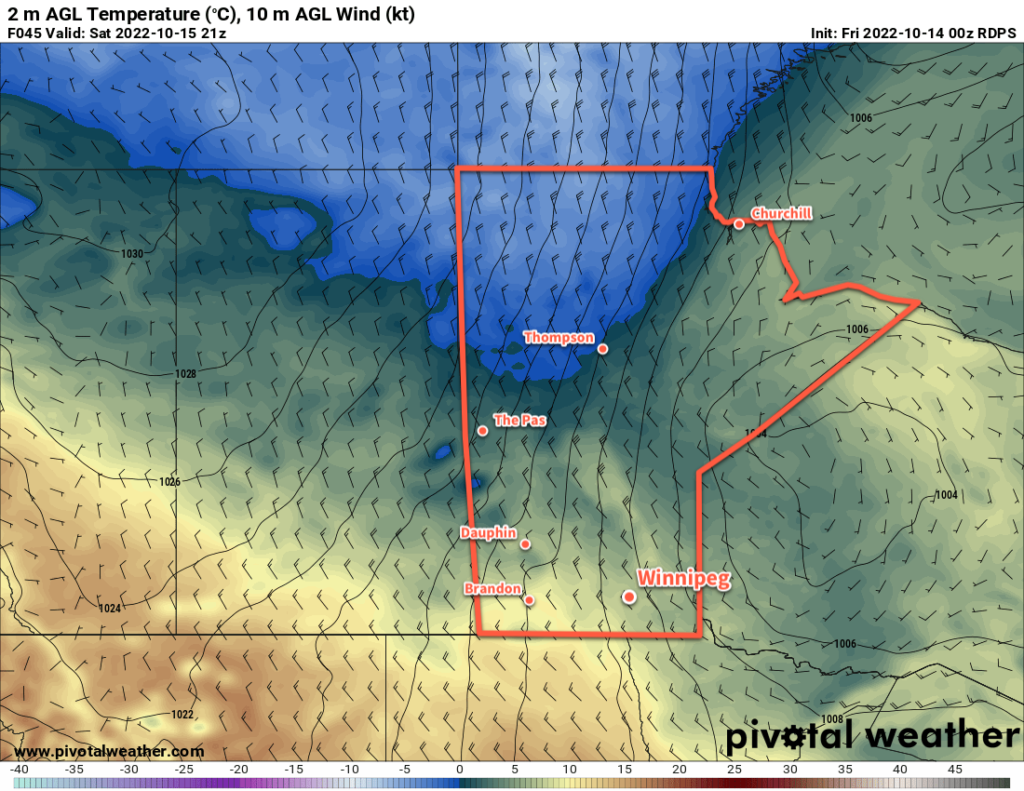 We're back from our break over the long weekend and, well, we hope you enjoyed the beautiful Thanksgiving weather. Now a distant memory, a series of low pressure systems are bringing much colder weather to the region.
A band of lake-effect precipitation from Lake Winnipeg will shift across the region today as winds shift to the north. This will bring a chance of flurries or showers to Winnipeg through the morning. Skies will stay cloudy most of the day, but the chance for any more precipitation should diminish into the afternoon. Temperatures will climb into the mid-single digits with easing winds.
The reprieve will be short lived, though. Another low pressure system will begin dropping southwards into central Manitoba tonight, spreading more rain southwards for Saturday. Most of the precipitation will fall east of Winnipeg, but the city will see a chance of seeing some rain. If the main area of rain from the system doesn't affect the city, lake-effect squalls developing it its wake could. Temperatures will be warmer on Saturday with a high of 7 or 8 °C even though skies stay cloudy. Northwest winds of 20 to 30 km/h will persist through the day.
This entire complex of systems will finally begin to shift out of the region on Sunday. Unfortunately, that will also come with an Arctic high pushing into the region. Moderate northwest winds ahead of the high will usher cooler air into the region on Sunday, keeping daytime highs in the low single digits. The cloud cover will gradually break up, allowing temperatures to fall well below freezing on Sunday night.
Long Range Outlook
The cool weather will continue on Monday with highs in the low single digits, but the winds will be much lighter. Cool conditions will continue for Tuesday, then a return to more seasonal temperatures will arrive midweek. Drier weather should also return with the seasonal temperatures.
Today's seasonal daytime high in Winnipeg is 11 °C while the seasonal overnight low is 0 °C.