The Arctic ridge bringing seasonably cold temperatures to southern Mantioba will head out later this week. In its wake? Much warmer weather will return as temperatures climb back above seasonal values.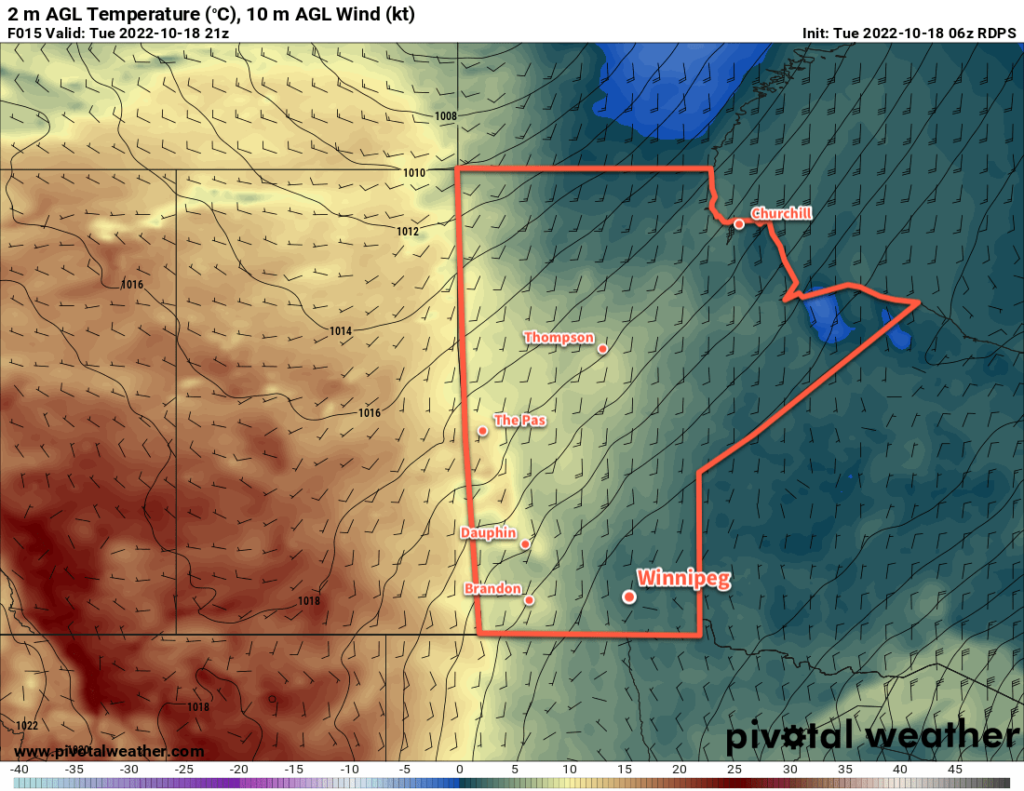 Today will bring more cold weather; the Arctic high hasn't quite left the region yet and will keep highs in the low single digits. Winds will be light and skies will be mostly sunny, so it shouldn't be a bad day overall.
Beginning Wednesday, the Arctic high will start moving out of the region and the broader long-wave pattern will begin to break down. This will cut off the pipeline of Arctic air that's been entrenched over the region and begin to allow milder air from the west to build in.
Wednesday will bring near-seasonal highs back to Winnipeg with a high near 10 °C. The winds won't even be too much of an issue with light southerlies of 15 to 25 km/h. There will be a bit more cloud than Tuesday, so expected partly cloudy to mixed skies. Temperatures will still likely fall below zero again on Wednesday night.
On Thursday, a weak disturbance will drop southeastwards through the province. Temperatures will be similar to Wednesday, but most areas will see a mainly cloudy day. The cloud cover will keep it warmer on Thursday night with a low in the mid-single digits.
Long Range Outlook
The sun will reappear on Friday across southern Manitoba while a potent low pressure system begins to develop in Alberta. As it tracks eastwards over the weekend, it will draw warmer air into southern Manitoba. Daytime highs will likely climb into the upper teens by Sunday with increasing southeasterly winds.
It should stay dry through the weekend, but as the system passes on Sunday night, the weather will turn more unsettled. Rain and/or snow will be possible to start off next week as cooler temperatures once again push back into the region.
The timing of this system could change a bit in the days ahead given how far out it is, but the general trend of warming into the weekend, then a notable cool-down by the middle of next week looks fairly reliable.
Enjoy nicer late-fall weather ahead!
Today's seasonal daytime high in Winnipeg is 9 °C while the seasonal overnight low is -1 °C.