It will be another relatively mild day in Winnipeg today, but a developing Colorado Low will begin to impact the region this weekend.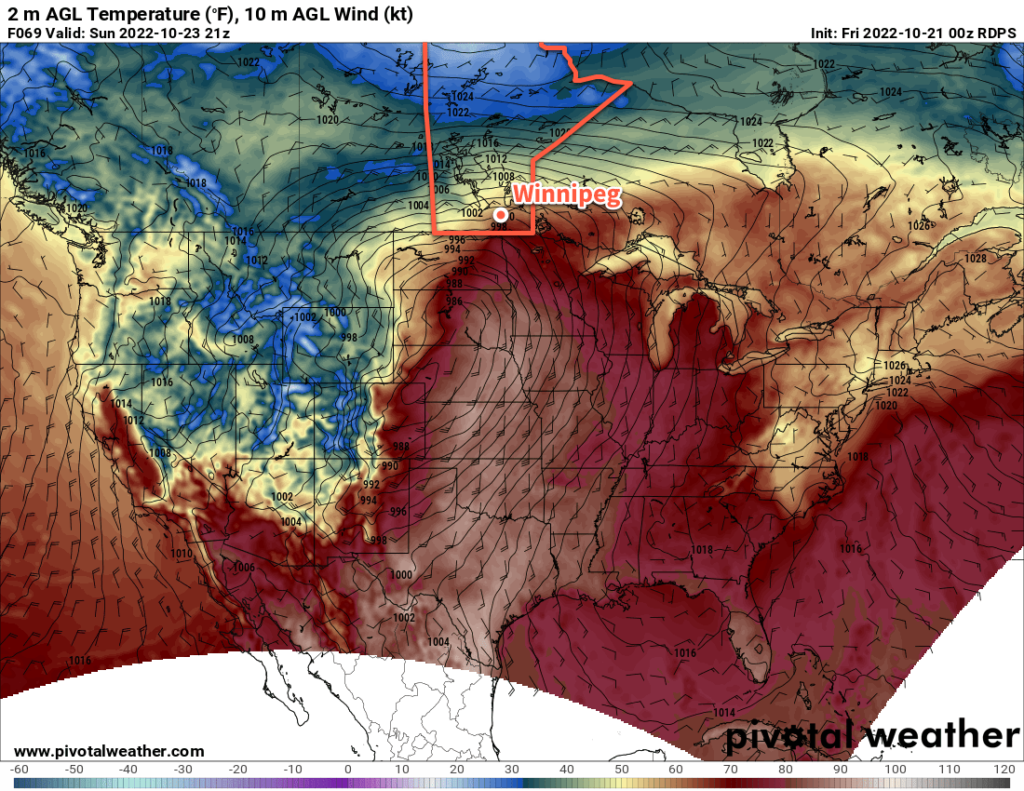 A sunny start to the day will give way to increasing cloud this afternoon in Winnipeg today. Temperatures will stay mild with a high in the low to mid-teens and westerly winds around 20 km/h.
As cloud continues to thicken up this evening, it will mark the low arrival of a developing Colorado Low. With a low down to the mid-single digits, rain showers will begin to blossom across southern Manitoba late Friday night. Driven by a warm front lifting through North Dakota, these showers will push northeast through Saturday morning. Rainfall accumulations won't be too significant at just a couple millimetres as the showers taper off in the afternoon.
Temperatures on Saturday will climb into the low teens with a wind picking up out of the northeast into the 15 to 25 km/h range. Temperatures will head down to a low in the mid-single digits again on Saturday night under cloudy skies.
On Sunday, skies will stay cloudy as a warm front surges northwards across the American Plains. By late afternoon, this front will arc from the Dakotas across northern Minnesota and Lake Superior. This will strengthen the northeasterly winds in southern Manitoba into the 30 to 40 km/h range for the day. It will also help to support a band of precipitation stretching from southeastern Saskatchewan across Western Manitoba. This will fall as a mix of rain and snow over Saskatchewan, trending toward snow as Sunday evening wears on and the precipitation moves into Manitoba.
On Sunday night, the brunt of this system will begin to impact Manitoba . Temperatures will remain warm in the Red River Valley as the low lifts northwards; Winnipeg will only dip into the mid- to upper single digits overnight. Rain will likely develop across the region Sunday night, but west of Brandon the precipitation will transition to snow. Here in the Red River Valley, rain could be heavy at times depending on how the system develops.
Long Range Outlook
Rain or drizzle will continue across the Red River Valley on Monday as the low centre passes through the province. Once the low is by, strong northwest winds will develop and usher in much cooler temperatures. Some snow may mix into the precipitation later in the day. Temperatures will dip back below freezing on Monday night. A bit of rain or snow is also possible on Tuesday before things finally settle down.
Much cooler conditions are in store for the rest of the week with daytime highs only reaching the mid-single digits. It will likely stay on the cloudier side, so overnight lows won't be too bad, dipping just a couple degrees below zero or so. If we end up with a clear night next week, we could see overnight lows dip back into the -5 to -10 °C range.
So…enjoy the weather out there today; it'll only get less pleasant as the weekend progresses!
Today's seasonal daytime high in Winnipeg is 8 °C while the seasonal overnight low is -2 °C.