With the heavy snow across the region over the past 24 hours, winter has finally arrived to the Winnipeg area. Though no more snow is in the forecast, cool weather will stick around for the foreseeable future.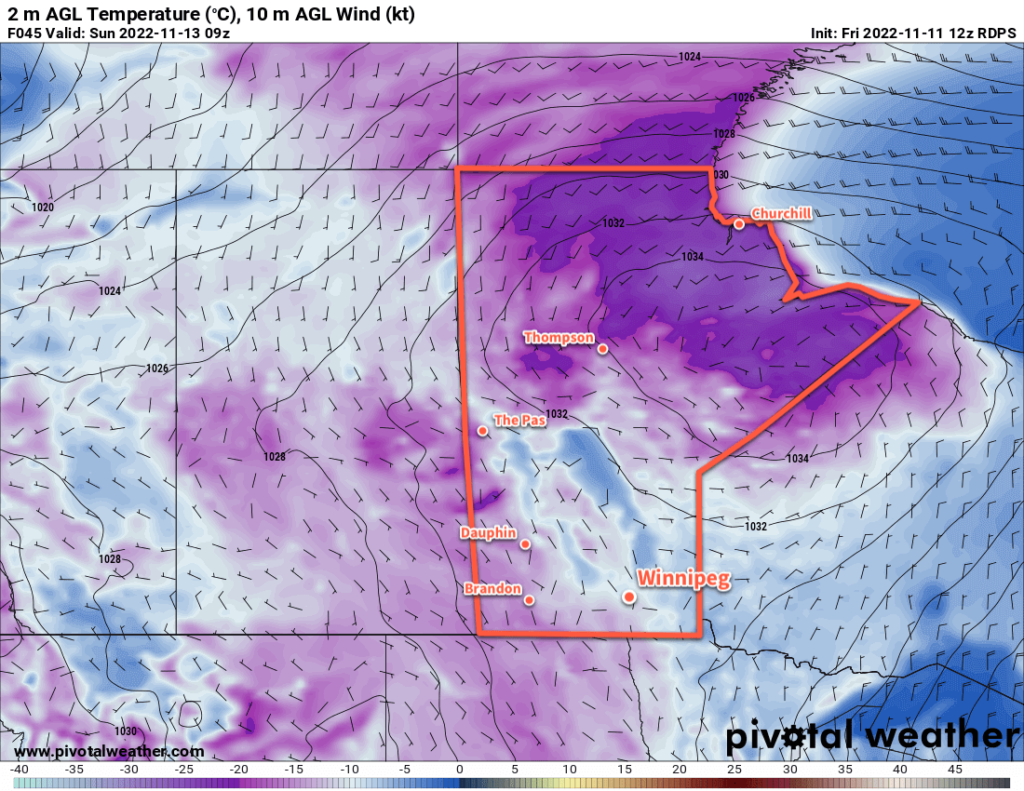 There's a blanket of white over Winnipeg today thanks to a good 10 to 15 cm of snow that fell across the city late yesterday into the night. We had talked about the potential for more snow in our last forecast, and as we expressed some concern, the system did end up shifting a bit further north — about 50 to 75 km further — than many forecast models had predicted. That said, Winnipeg ended up getting off relatively easy; to the south and east of the city, anywhere from 15 to 25 cm fell. As a result, a marked shift in temperatures will now settle over the region as, even on sunny days, the snow reflects much of the incoming heat back where it came from.
The weather over the next few days will be fairly benign, much of anything quashed by a large Arctic ridge settling over the province. In Winnipeg, this will result in diminishing winds and seasonably cool temperatures. The city will see a high around the -5 °C mark over the next several days with lows dipping down into the mid-minus teens at night. The region will see a mix of sun and cloud over the coming days, though depending on how the air mass interacts with the still-open lakes, some cloudier periods will also be possible. If skies manage to stay clear through some of the upcoming nights, with the ground now snow-covered, overnight lows could fall closer to -20 °C through the Red River Valley.
Long Range Outlook
The cool but relatively benign weather will continue into next week, with the next notable weather system expected mid-week. The passing low could bring some light snow to the region, followed by a push of cooler temperatures into the following weekend.
Today's seasonal daytime high in Winnipeg is -1 °C while the seasonal overnight low is -9 °C.