Beautiful late-November weather will continue in Winnipeg for a few more days with daytime highs climbing above freezing.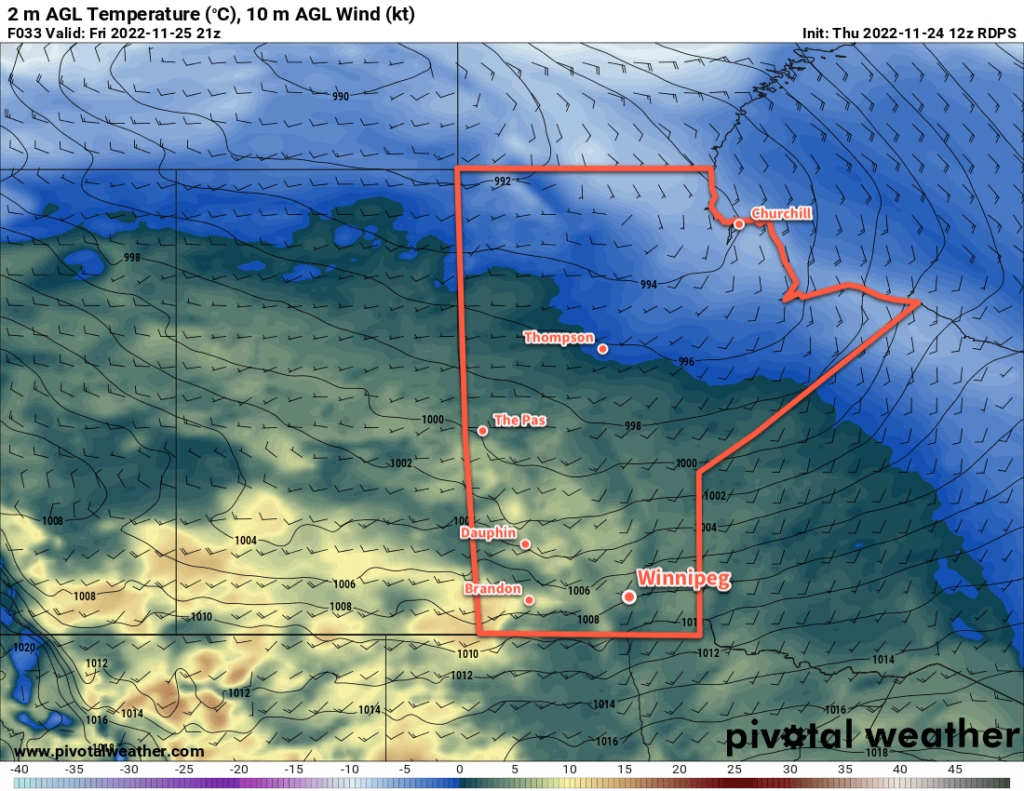 An upper ridge over the Prairies continues to bring seasonably mild temperatures to the region. Across southern Manitoba, daytime highs climbed above freezing yesterday and will stay there for another couple days yet. With Pacific air continuing to wash over the Prairies, daytime highs in Winnipeg will climb above 0 °C into the low single digits both today and tomorrow.
The wind strengthen out of south-southwest today to around 30 km/h and then ease tonight. A weak cold front will go through, bringing some cloud overnight, and then the winds will pick up out of the northwest Saturday into the 20 to 30 km/h range.
The pattern across the Prairies will begin to change on Sunday as the upper ridge collapses and a low pressure system begins to drop southeastwards across the Prairies. As it approaches, the wind will pick back up out of the southeast through the Red River Valley, but the warmer air will have slumped a bit south and more cloud will build into the region. Temperatures climb to a high near freezing, but with cloud building through the day and breezy southeasterlies, it will feel much cooler than the prior days.
As the low pushes into the region on Sunday night, light snow will blossom across the region.
Long Range Outlook
A bit of a complex setup will develop next week as energy collapses southwards from the low over southern Manitoba to a developing Colorado Low. While the Colorado Low will likely impact Ontario, the interaction of these two systems could support some periods of light snow across the region for a couple days.
By the middle of next week, cooler temperatures will begin slumping into the Prairies, sending daytime highs down below -10 °C with overnight lows dipping into the low teens.
Today's seasonal daytime high in Winnipeg is -5 °C while the seasonal overnight low is -13 °C.