A couple of disturbances moving across the Prairies will bring snow and seasonably mild weather to Winnipeg this week.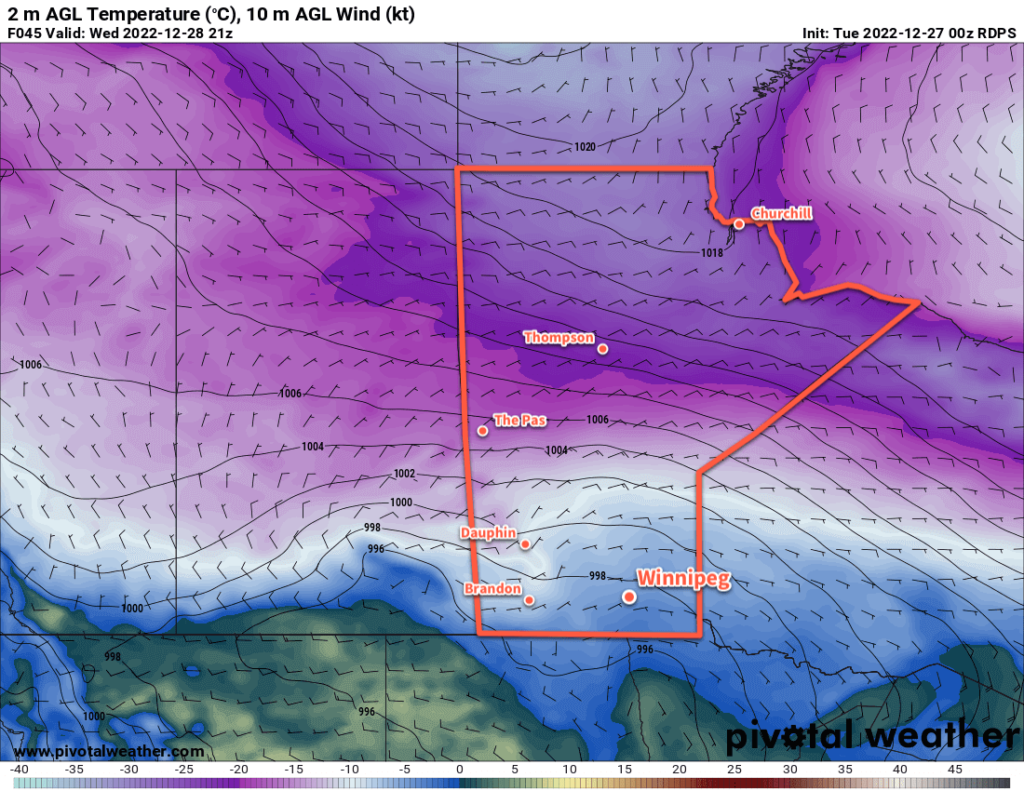 The first of two systems that will bring warmer temperatures has pushed into the Red River Valley overnight. Temperatures have warmed up towards -10 °C through the night as light snow moved across much of southern Manitoba. Any lingering snow will taper off early this morning as temperatures climb up to a high near -7 °C. The only accumulating snow left in the area today will stay well to the north through the Interlake eastwards to the Ontario border where another 2–5 cm is likely.
Just as quickly as this system leaves, another will begin pushing in from the west. Cloudy skies will continue into the night, followed by more snow as the next low pushes across Saskatchewan. Snow will push across the Red River Vallye after midnight as temperatures will rise to around -5 °C by Wednesday morning.
The snow will again taper off early in the day as it pushes off to the northeast. Snowfall totals across the region will vary with only around 2 cm over the southern Red River Valley and 5–10 cm over western Manitoba southwards to the Trans-Canada Highway corridor. The City of Winnipeg will likely get 4–8 cm of snow with this system. Temperatures will climb to a few degrees below freezing on Wednesday afternoon, then dip slightly on Wednesday night back towards -5 or -6 °C.
Cloudy skies will continue into Thursday, but light northwest winds will start to drag cooler temperatures back into the region. Temperatures will fall through the day towards -10 °C with a chance of some flurries. Temperatures will dip into the mid-minus teens by Friday morning with some clear breaks developing overnight.
Long Range Outlook
The region will see near-seasonal temperatures through the weekend with variable cloudiness. No notable weather system swill be moving though, so all in all it will be a relatively pleasant New Year's Eve and start to the new year. Daytime highs will hover in the -10 to -15 °C range with overnight lows also in the minus teens.
Long-range weather models are showing the potential for some light snow to start off next week along with another wave of milder temperatures.
Today's seasonal daytime high in Winnipeg is -12 °C while the seasonal overnight low is -22 °C.