The pleasant stretch of mid-winter weather across southern Manitoba will continue right through next week.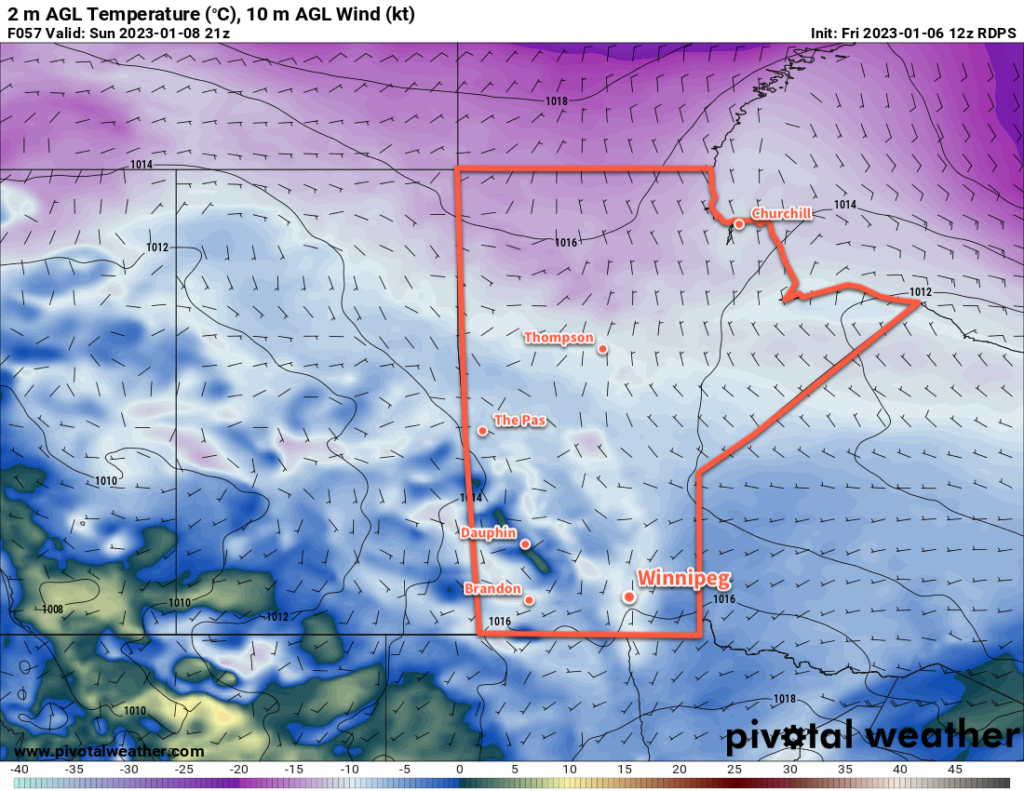 A weak disturbance that moved through the eastern Prairies the last couple days has brought more cloud back to southern Manitoba today along with slightly cooler temperatures. Daytime highs will climb close to the -10 °C mark today with light winds. Cloudy skies will stick around through the day with a bit of light snow. Morning fog patches will dissipate through the day, either lifting with the warming temperatures or eroding with the light snow.
Temperatures will dip down to around -15 °C tonight with some breaks in the cloud cover beginning to develop. A bit more light snow will be possible. Fog won't be as likely tonight as a southwest wind up to 20 km/h develops overnight.
On Saturday, the cloud cover will begin to break up as southerly winds strengthen closer to 30 km/h. Temperatures will warm up closer to -5 °C in the afternoon with skies clearing late in the day.
A surge of warmer weather will move through the region for the rest of the weekend and into the start of next week. Sunday will bring a high in the -5 to 0 °C range with some cloud cover working into the region later in the day. Temperatures will head down to a low near -10 °C on Sunday night with partly cloudy skies.
Long Range Outlook
The upper ridge will flatten out to a more zonal pattern next week, which will keep milder temperatures around but will bring cloudier skies. Daytime highs will hover in the -5 to -10 °C range next week with overnight lows dipping down just a bit below -10 °C.
All in all, just great winter weather for this time of year. Get out and enjoy it! Who knows if we'll be plunging back to the -30s next month!
Today's seasonal daytime high in Winnipeg is -13 °C while the seasonal overnight low is -24 °C.