Sounding like a broken record, the days ahead shows little change with plenty of cloud and mild conditions.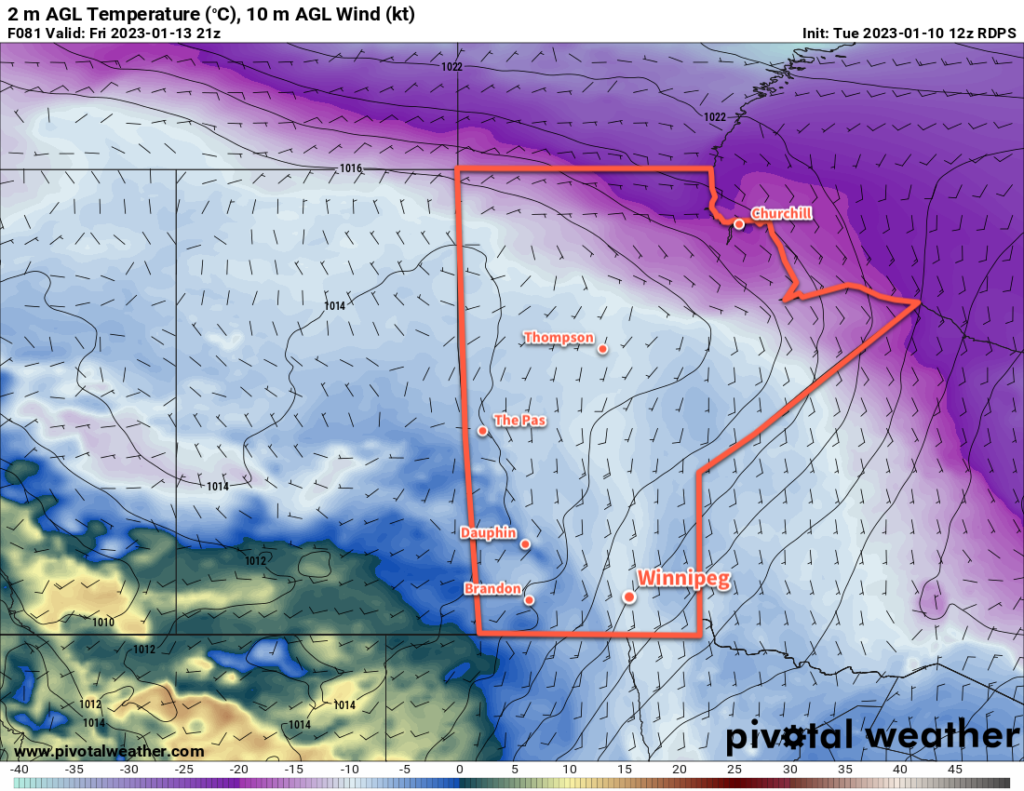 An upper ridge will rebound again over western Canada in the coming days, helping keep the colder Arctic air locked up north.
As a result, the region will continue to see seasonably mild weather. Daytime highs will sit in the -5 to -10 °C range through the rest of the work week. A weak disturbance will move through tonight will bring a chance for some light snow to the region, but it won't leave much more than a dusting of snow across the Red River Valley.
A bit of cooler air will slump in behind this system on Thursday, sending highs towards the lower end of the range mentioned above. On the upside, that might also bring some sunny breaks to Winnipeg as well.
Winds will be a bit of a mixed bag over the coming days. Winnipeg will see southerly winds near 30 km/h today that will ease later this afternoon. They will then shift to northwest winds for Wednesday around 20 km/h and ease on Thursday. Friday could be a bit of breezy day as a more organized push of wamer air works towards the region. Much of the Red River Valley will likely see southerly winds of 40 to 50 km/h develop in the morning. Those winds will last through the day and then ease overnight.
Long Range Outlook
Skies will cloud back over for the weekend as a push of milder air moves into the region. Daytime highs will climb towards 0 °C by Sunday with a chance of some snow.
The snow will likely fall mainly north of Winnipeg from WestMan across the Interlake. There could be close to 10 cm of snow for some places by Sunday evening. We'll keep an eye on this system as the week progresses. The southern edge of the snow amounts drop-off sharply, and more southerly track could mean poor travel conditions along the Trans-Canada Highway corridor on Sunday.
Until then, though, enjoy the mild conditions! If you're looking for something to do to get out and take advantage of the winter warmth, The Forks Skating Trail is open on the Assiniboine all the way to the Osborne Bridge and on the Red River to Queen Elizabeth way!
Today's seasonal daytime high in Winnipeg is -13 °C while the seasonal overnight low is -24 °C.