At this point, there's not much to say that hasn't been said multiple times before: the cloudy and seasonably mild weather will continue this week.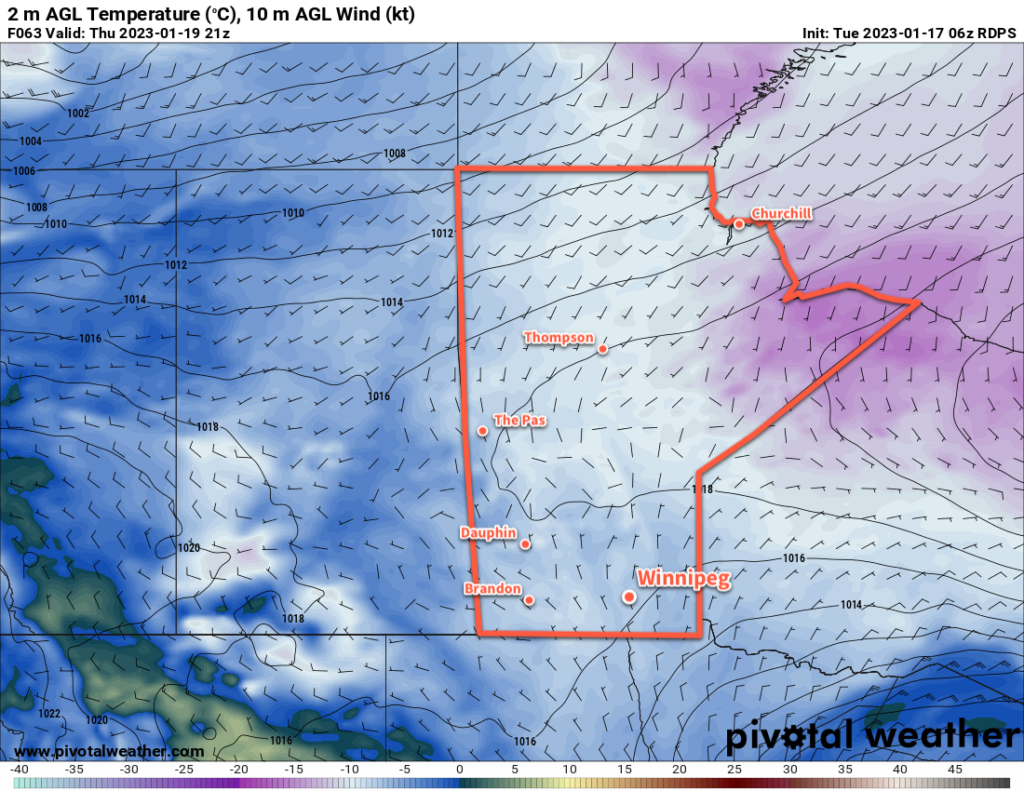 With the truly cold Arctic air locked up over the High Arctic and Russia, mild weather persists across the Canadian Prairies. Here in Manitoba, pleasant January temperatures will continue this week with highs in the -5 to -10 °C range. Today will be on the colder side of that range, then days will gradually warm through the week. Overnight lows will vary, but generally sit in the -10 to -15 °C range, though if any clear skies manage to form in the nights ahead, lows could dip a bit colder than that.
Otherwise, the weather will be fairly benign this week. A ridge building into the province will bring northerly winds of 20 to 30 km/h to the region today. Winds will ease tonight, then stay light for much of the week ahead. Skies will stay mostly cloudy this week, though an odd clear patch is possible, particularly mid-week.
Don't expect any notable snow this week, just the chance for some occasional light non-accumulating snow. Pretty much just more of the same: mild, cloudy, and benign weather.
Long Range Outlook
Looking further ahead, warm weather will continue into the weekend with a bit of snow possible on Sunday. After that, a cold front will push through the region and send temperatures back to near-seasonal values. By the middle of next week, daytime highs will likely sit in the -10 to -15 °C with overnight lows dipping towards -20 °C.
Beyond that, it's beginning to look like the end of January will bring a shift into a colder pattern as the Polar Vortex begins slumping southwards through Canada. Daytime highs could continue to slip into the mid-minus 20s with overnight lows back towards -30 °C into the final days of January.
Today's seasonal daytime high in Winnipeg is -13 °C while the seasonal overnight low is -23 °C.