A push of Pacific warmth will bring cloudy and mild conditions to Winnipeg this weekend.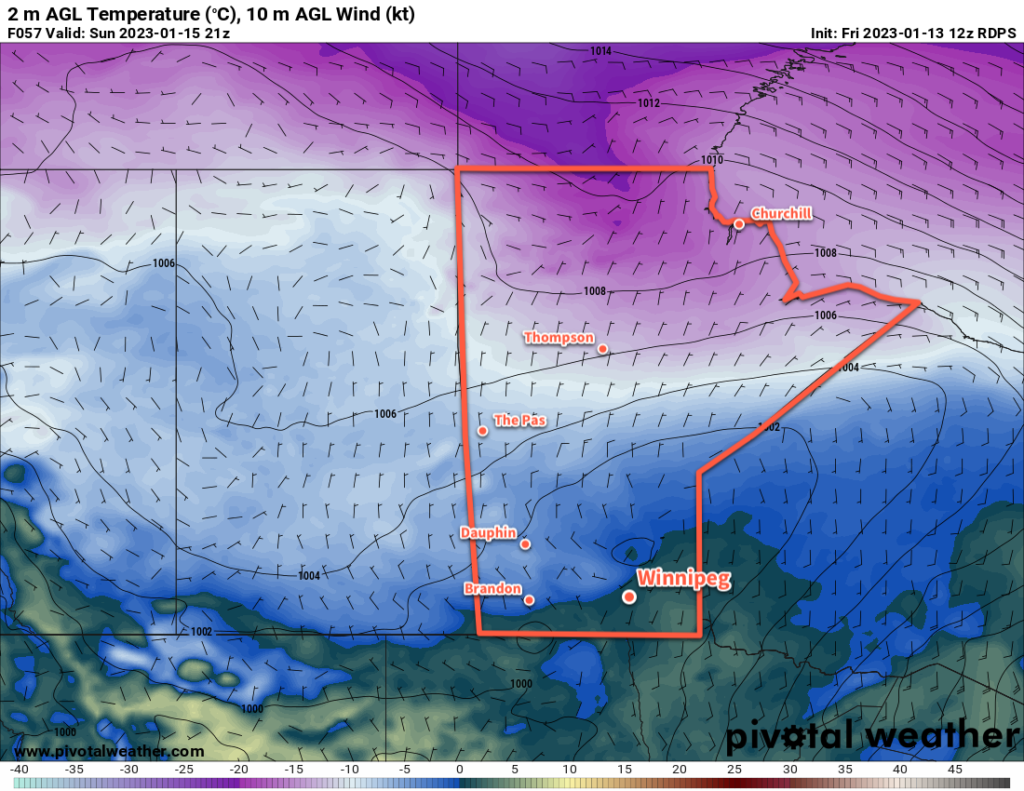 A slow-moving low pressure system will push warmer air across the Prairies over the next few days. This warmer air will bring with it plenty of cloud cover — it definitely seems like we need to enjoy those fleeting moments of sun while we have them — as daytime highs rise towards the freezing mark.
Some morning sun today will give way to cloudier skies with a high in the -5 to -10 °C range. The cool morning temperatures in the -15 to -20 °C range will result in windy conditions this afternoon as the warmer air pushes in. Southerly winds will increase to around 40 gusting 60 km/h later this morning. Winds will ease later this afternoon, then the city will head to a low near -10 °C under cloudy skies.
Expect mainly cloudy conditions through the weekend with southeasterly winds near 20 km/h on Saturday and lighter on Sunday. Daytime highs will climb into the -5 to 0 °C range for both Saturday and Sunday as a low pressure system pushes into Saskatchewan. Overnight lows will also be quite mild near -5 °C. While the occasional few flakes are possible, any notable snow will stay north and west of Winnipeg.
The most organized area of snow will develop over Saskatchewan on Saturday evening and spread through WestMan and the northern Interlake on Saturday night. A swath of 5 to 10 cm is likely, with localized higher amounts possible as it moves into central Manitoba. The Red River Valley will stay mainly unaffected by this system.
Long Range Outlook
A few flurries will be possible on Monday as a cold front sweeps through the Red River Valley behind the passing low. Temperatures will begin to cool, with near-seasonal values returning for Tuesday. After that, though, milder air will again work its way into the region with daytime highs climbing back towards -5 °C by the end of the week.
For those missing the sun, the week ahead will continue to disappoint. Mainly cloudy conditions will persist through next week, though a few sunny breaks will be more likely on Tuesday.
While everyone's tastes vary, the cloud cover is generally the trade-off needed for warmth at this time of year. Personally, I'll take the trade-off of cloud for warmth as it makes getting outside and doing things so much more pleasant. But pretty soon even I'll be willing to take the trade-off of a few -20 °C days for some blazing sunshine.
Today's seasonal daytime high in Winnipeg is -13 °C while the seasonal overnight low is -24 °C.