Benign, near-seasonal conditions will stick around for Winnipeg this week. The weekend looks to bring warmer weather back to the region.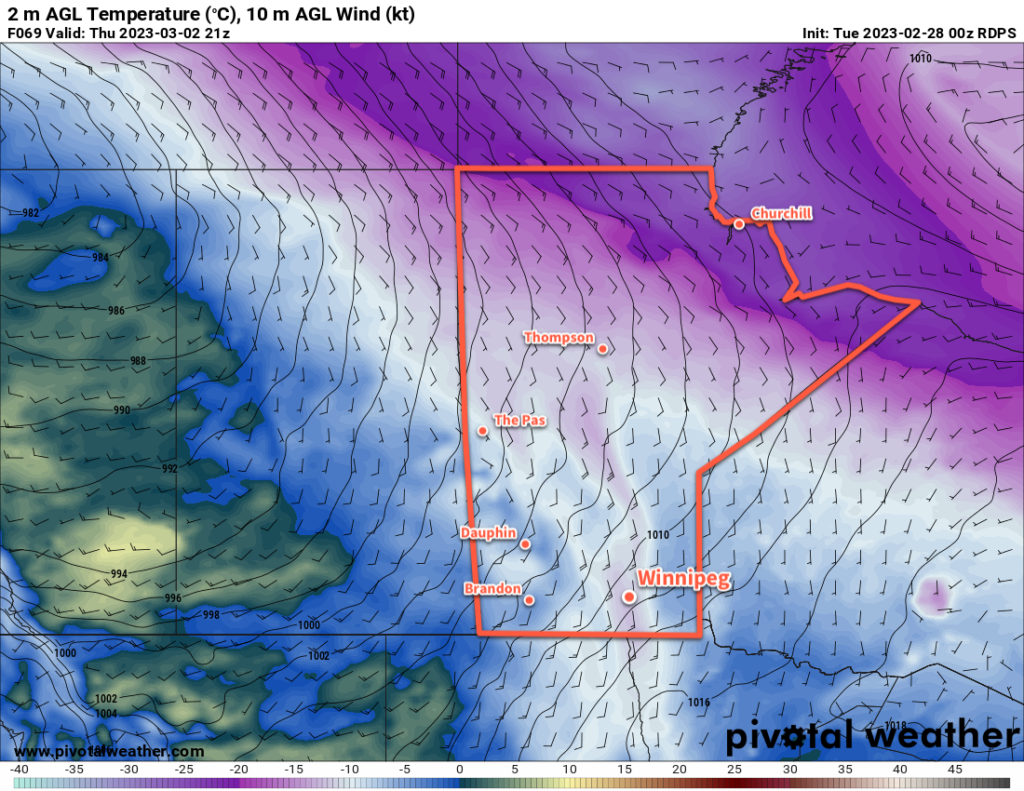 Winnipeg will see quiet weather for most of the week as an Arctic high builds into the region. This one won't be too bad, only sending daytime highs down to the -10 to -15 °C range for Wednesday. Overnight lows the next couple nights will dip down into the -20 to -25 °C range.
On Thursday, a stiff southerly wind will develop as the high departs the region. Winds will strengthen up to around 40 gusting 60 km/h with the morning chill breaking through the day. Temperatures should climb to a high in the -5 to -10 °C range.
On Thursday night, a push of much warmer air will continue moving into Manitoba. The cloud cover will thicken up on Thursday night, keeping lows warmer near -10 °C.
On Friday, the warmer temperatures will climb to a high near the freezing mark with a chance of afternoon flurries.
Long Range Outlook
The warmer weather will persist through the weekend with highs in the -5 to 0 °C range. The region will see variable cloudiness with a bit more sun likely on Saturday and a bit more cloud on Sunday. Quiet, mild weather will continue for Monday, then a disturbance moving into the region could bring a chance for some light snow later on Tuesday into Wednesday.
Today's seasonal daytime high in Winnipeg is -5 °C while the seasonal overnight low is -16 °C.