Seasonal March warmth will stick around in Wininpeg this week, but a passing low pressure system will clip the province tonight and bring some fresh snow to the region.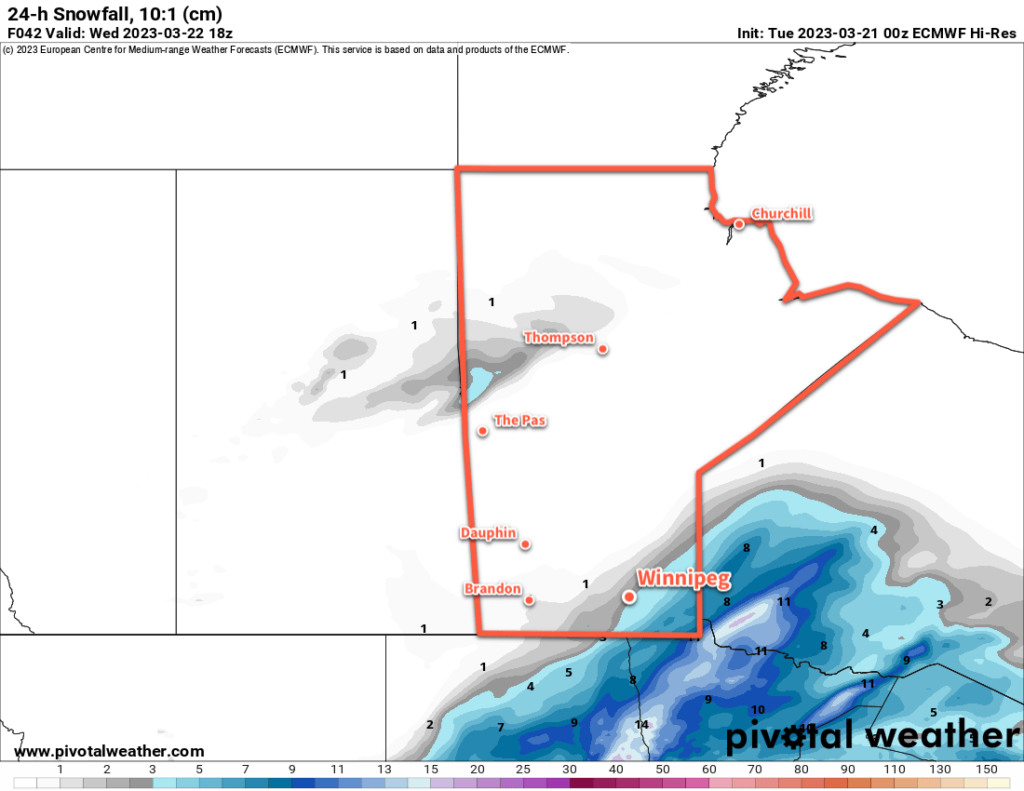 An upper ridge over the west coast that has maintained downstream roughing over the eastern Prairies has been the driver behind the cooler temperatures across southern Manitoba over the last several days. Fortunately for us, this feature has begun to collapse and will allow milder air to push eastwards across the Prairies.
Before that happens, though, a compact low pressure system will impact the region tonight. It will spread snow through North Dakota today, then into Southern Manitoba and Minnesota tonight. Much of the heaviest accumulations will remain south of the border, but accumulating snow will still fall across the region. Winnipeg will likely see 2–4 cm of snow by Wednesday morning while amounts increase into the 5–10 cm range to the southeast. The heaviest swath of snow, likely 10–15 cm will from eastern North Dakota into the Kenora, ON region.
Fortunately, winds will stay fairly light through the event, snow blowing snow won't be too big an issue overnight into tomorrow.
Aside from tonight's snow, the weather will be quite pleasant with sunny to mixed skies and light winds through much of the week. Daytime highs will hover just on the cold side of freezing, while overnight lows will have a bit more variability. Tuesday night will likely be the coldest night of the week as clear skies combine with the fresh snow cover to drive lows into the -15 to -20 °C range. Other nights this week will likely see low near -10 °C as warmer air begins moving into the region.
Long Range Outlook
A low pressure system passing to the north will bring some cloud and a chance of flurries to the region on Friday into Saturday, then sunshine should return to end the weekend and kick off next week. Temperatures may cool slightly on the back-side of that system, but near-seasonal temperatures should return by mid-week.
And like we've mentioned before, daytime highs will vary depending where you find yourself in Winnipeg; more urban parts of the city, especially those close to the downtown core, will likely find plenty of melting and highs near or even a touch above freezing in the coming days as more of the dark surfaces are exposed and able to absorb heat from the strengthening spring sun.
Enjoy the beautiful weather ahead!
Today's seasonal daytime high in Winnipeg is +1 °C while the seasonal overnight low is -9 °C.