It will be a bit of an unpleasant day in Winnipeg today as breezy northerly winds combine with light snow and cooler temperatures. Nicer weather is on the way soon, though, with plenty of sun and warming temperatures through the weekend.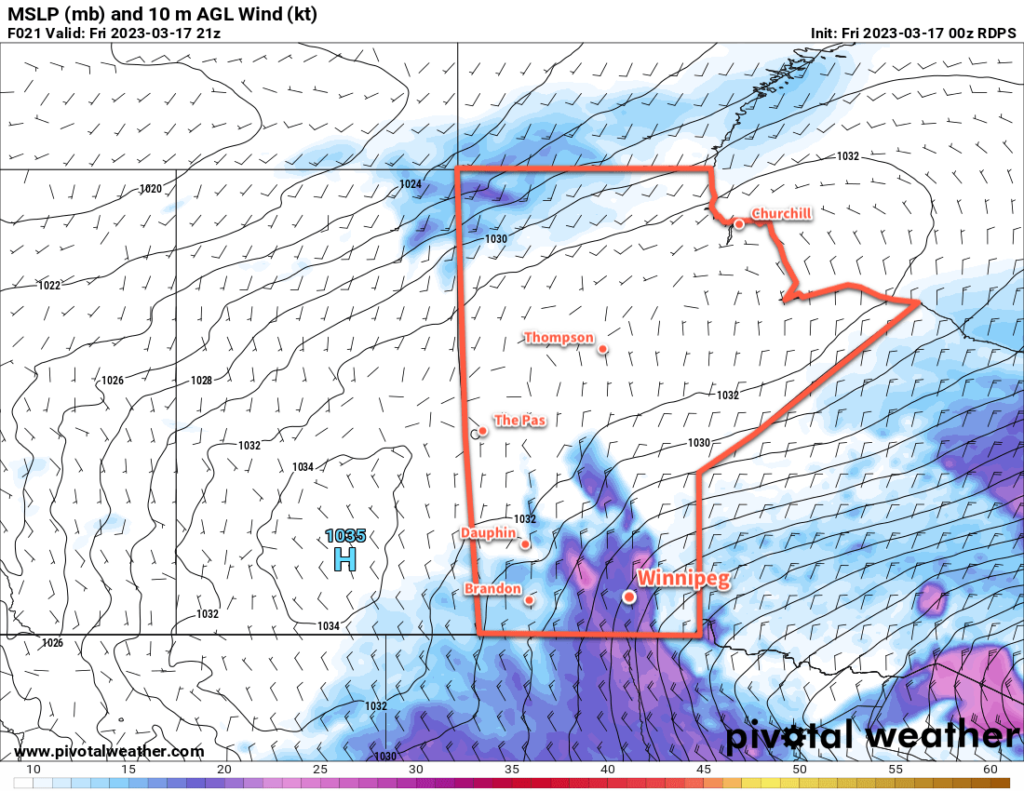 Winnipeg will find itself on the back side of a rather potent low pressure system moving from the United States into Ontario today. The region will see breezy northerly winds up to 40 gusting 60 km/h today, driven by the passing low and the approach of an Arctic high from the northwest. Along with that, a weak inverted trough slumping southwards will bring some light snow to the region. These two things will combine to produce some blowing snow in the region, but will mainly be limited to outlying areas and southwards through the Red River Valley. Temperatures will struggle to reach even -10 °C today, and head back into the mid-minus teens overnight. The wind will be stronger this afternoon, then ease overnight.
Skies will clear for Saturday, leaving behind sunny skies for the weekend. Temperatures will climb into the -5 to -10 °C range on Saturday and then into -5 to 0 °C range on Sunday. Overnight lows will sit in the -10 to -15 °C range. Of note, though, is that with full sunshine in mid-March, areas that aren't just barren snow-covered fields will definitely see temperatures higher than this. It won't be surprising for many parts of the city to see temperatures in the -5 to 0 °C range this weekend and to see plenty of melting despite the sub-freezing air temperatures.
Long Range Outlook
The start of next week will cool just a bit, then warm up again heading into mid-week. Some snow is possible on Wednesday as a disturbance moves through the region, but it will also likely bring a shift to daytime highs around freezing.
With no major snowfalls on the horizon and several days of sunshine ahead, it will continue to gradually feel more spring-like in Winnipeg; enjoy the pleasant weather this weekend!
Today's seasonal daytime high in Winnipeg is +0 °C while the seasonal overnight low is -11 °C.