It will be relatively pleasant spring conditions in the Winnipeg area over the next few days as seasonably cool temperatures combine with a mix of sunshine and flurries.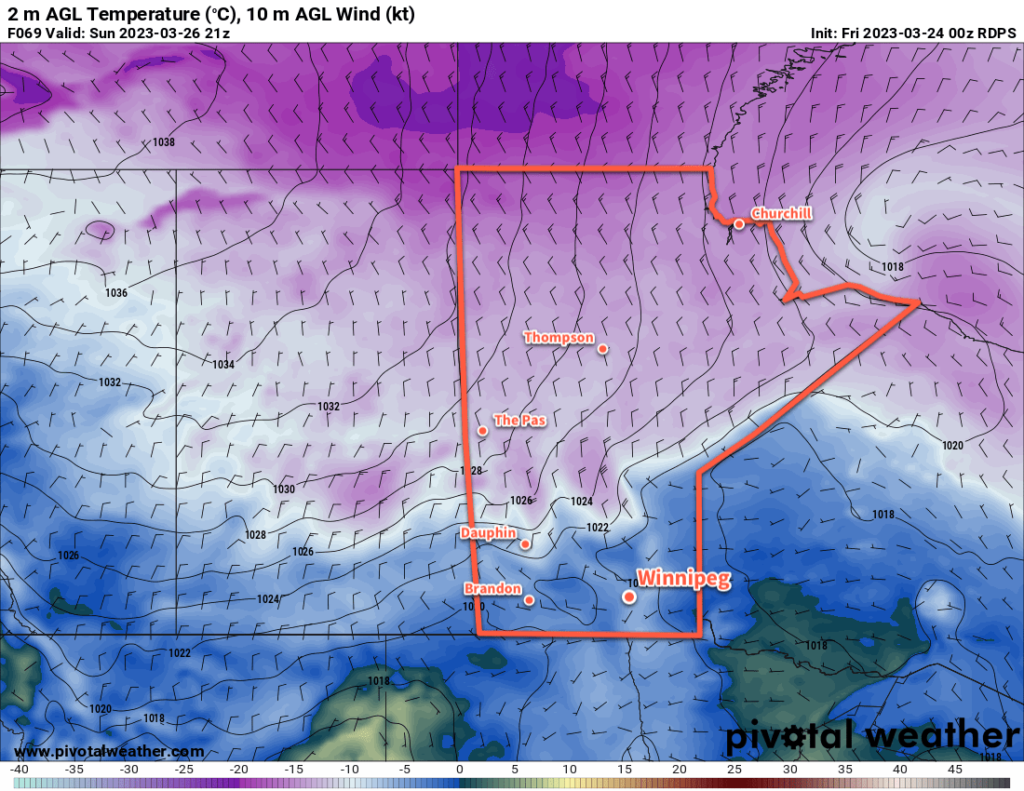 While the seasonal daytime high for the region has finally climbed above the freezing mark, temperatures in Winnipeg will run just a tad on the cool side over the coming days. Highs will climb very close to freezing today and tomorrow, with the more snow-free urban parts of the city possibly reaching the seasonal high. Overnight lows will dip into the -5 to -10 °C range tonight.
A cold front will swing through the region on Saturday, bringing mixed skies to the region with a slight chance of flurries overnight. Winds will pick up out of the north into the 20–30 km/h range and then ease with the flurries overnight. Overnight lows will dip into the -15 to -20 °C range behind the front.
Temperatures will cool off a bit for Sunday with highs dipping back towards the -5 °C mark. There will be a bit more sun, which means again that some areas will likely see temperatures climbing closer to the freezing mark if they have less snow. Another cold front will swing into the region on Sunday night, ushering an Arctic air mass back into the province along with some more flurries.
Long Range Outlook
Seasonably cool weather will start off next week with overnight lows close to -20 °C and daytime highs in the -5 to -10 °C range. It will start to warm up mid-week followed by a chance for some snow in the second half of the work week.
Today's seasonal daytime high in Winnipeg is +2 °C while the seasonal overnight low is -9 °C.