Winnipeg will finally see temperatures returning towards seasonal values, but after a couple more nice days the weather will turn more unsettled.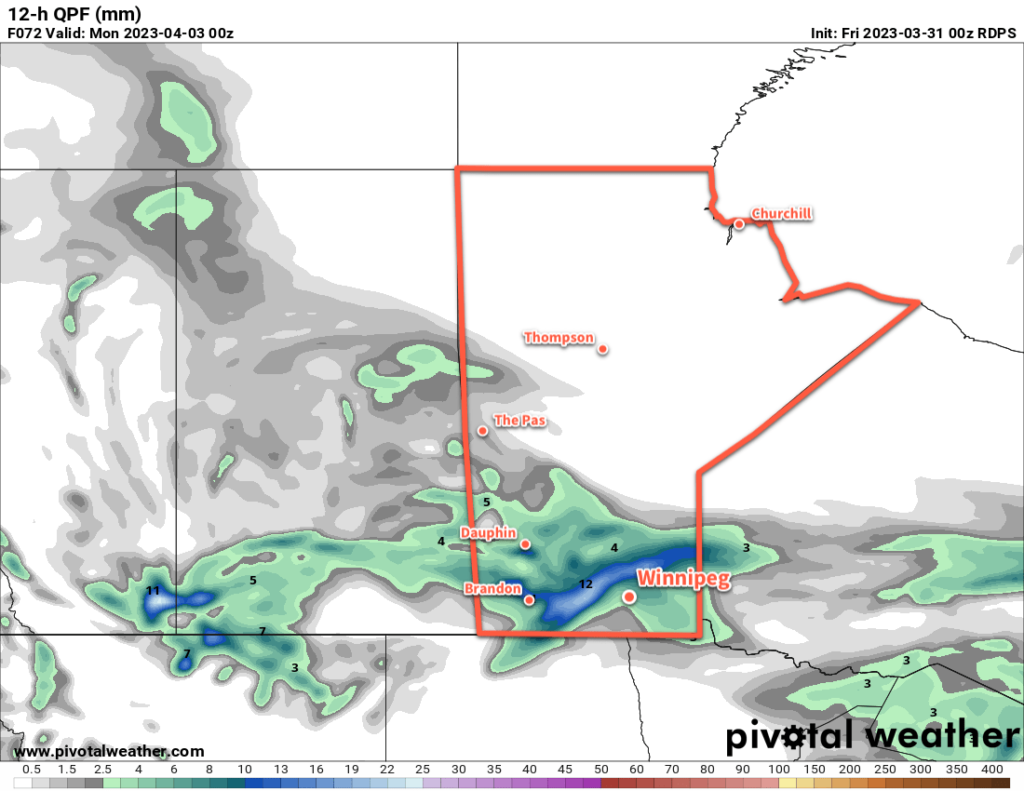 It will be seasonably cool in Winnipeg over the next couple days as daytime highs climb to around the freezing mark under sunny skies. A broad area of high pressure over the province will keep the main weather track to the south, leaving cool but pleasant conditions across southern Manitoba.
Overnight lows will be cool tonight as clear skies combine with the widespread snowpack still in place over the region. Most areas will see temperatures dip down into the -15 to -20 °C by early Saturday morning. Overnight lows will be very different on Saturday night as cloud cover associated with an approaching warm front moves in. Most areas will see temperatures stay steady in the 0 to -5 °C range.
On Sunday, a low pressure system will track across southern Manitoba, bringing mainly snow to the region, though a wintery mix may be possible in some parts of southern Manitoba. Accumulations are tricky to forecast at this point; this system will be compact and relatively energetic, likely with some convective elements embedded within it. On the cold side of this system's fronts, snowfall amounts of 5–10 cm are possible, perhaps even higher if this system has enough instability. On the warm side, temperatures could end up climbing a degree or two above freezing, and melting will impact the accumulations.
All that means that what any one place sees on Sunday will depend significantly on the exact track of the system and how intense the low ends up being. Almost certainly many places will see poor conditions on Sunday with some accumulation of snow and possibly rain, but we'll need to wait a bit longer to see exactly how this system shapes up to know exactly what it will bring.
Long Range Outlook
The weather will settle down for a couple days to start next week, though a fair amount of cloud will linger in the region. Temperatures will again stay seasonably cool with light northerly winds.
The next disturbance that could impact our region is a potent Colorado Low expected to eject northeastwards mid-week. There's a significant amount of uncertainty as to how far north this system will push, but there is a chance that southern Manitoba will be grazed by the northwestern flank of the system. This could bring light to moderate snow into the province along with cool temperatures and moderate to strong northerly winds possibly beginning Tuesday night into Wednesday.
We'll be keeping an eye on this system as it develops and have an update in next week's forecast.
Otherwise, it's reasonable to expect seasonally cool temperatures as the snow pack remains over the region, with cooler lows on clear nights. We should begin to see a more sustained warmup after next week as heading into April the sun begins to get noticeably stronger and warmer conditions continue to push northwards through the United States.
Today's seasonal daytime high in Winnipeg is 5 °C while the seasonal overnight low is -6 °C.