Below-seasonal temperatures will continue in Winnipeg this week as temperatures gradually ease back towards the 0 °C mark. The cool conditions and strengthening sun will help flood conditions a bit by gradually evaporating water from the snow pack over the region.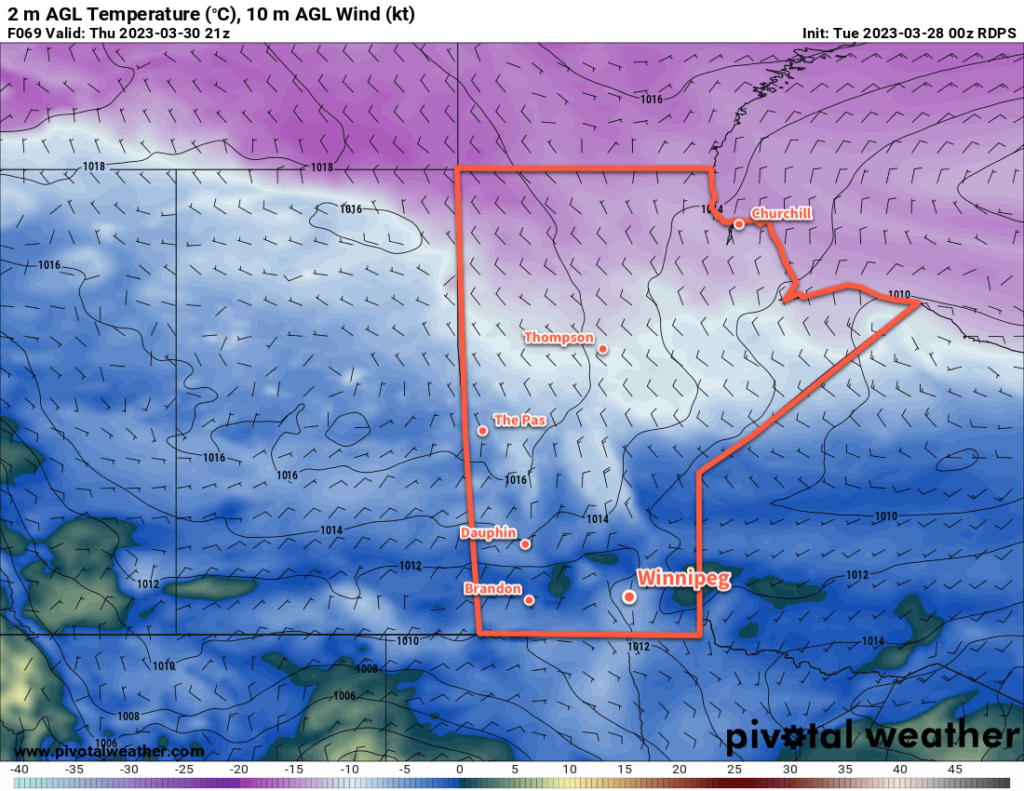 The coldest night of the week is now behind us, and the Arctic high responsible for it is gradually shifting off to the southeast. Temperatures will remain cool today with highs once again near -10 °C and lows dipping back to around the -20 °C mark tonight. At least we'll see plenty of sunshine!
After that, a gradual warm-up will begin as the Polar Vortex begins to weaken over Hudson Bay. This won't mean a huge warmup for us though, because rather than shifting back into the High Arctic, the Polar Vortex will still stay relatively far south and keep a northwesterly flow over the region. Daytime highs will jump back into the -5 to 0 °C range mid-week with overnight lows in the -10 to -15 °C range.
The region will see some cloud on Thursday as a low pressure system drops out of the Northwest Territories into central Manitoba. Any snow will likely remain well to the north of Winnipeg, perhaps not even moving out of central Manitoba. More sun should return to the region on Friday, but some cloud might work its way into the region as a low passes by to the south of the province.
Long Range Outlook
Heading into the weekend, temperatures will finally reach freezing, with highs of above zero even possible. A system passing through the region on Sunday will bring some more cloud to the region along with a chance of snow.
Today's seasonal daytime high in Winnipeg is 4 °C while the seasonal overnight low is -7 °C.