A strong upper ridge will spread a much warmer air mass into the eastern Prairies this weekend, marking the start of a widespread spring melt.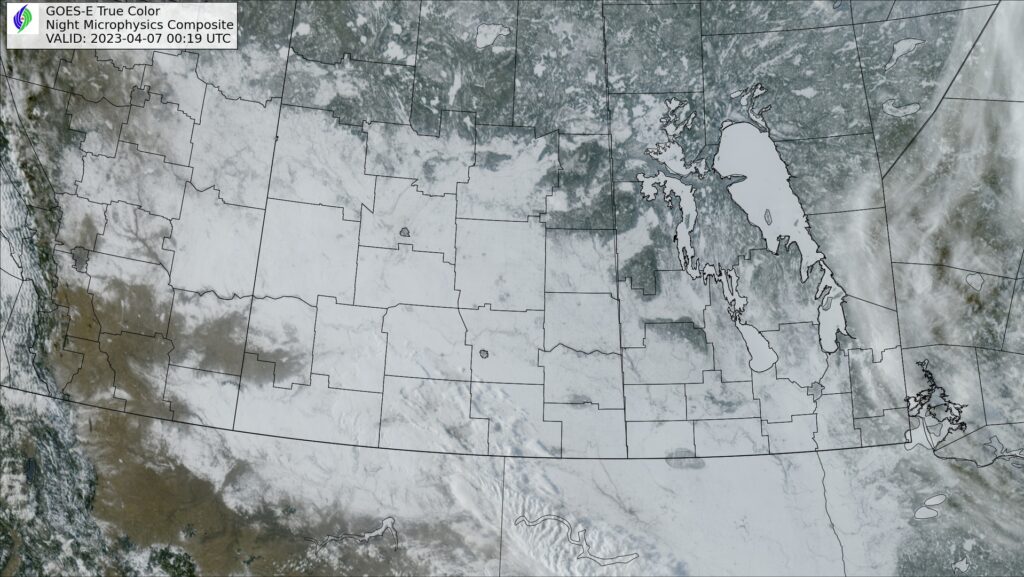 As we mentioned on Tuesday, southern Manitoba will see a much warmer air mass move into the region this weekend as upper ridging persists over western Canada. While this feature will produce plenty of warm air that will head east, the biggest wrinkle in the whole thing is the extensive snow pack across southern Manitoba and North Dakota.
This deep layer of snow will keep the surface cooler and help support an inversion across the region. An inversion is when temperature warms as you go up instead of cooling. This can effectively limit the ability for the warmer air over top of the surface to reach down to the ground.
Mild air will certainly stream into the province this weekend. Temperatures at 850 mb — about 1.5 km above the ground — will climb from around 0 °C on Saturday to warmer than 15 °C on Tuesday into Wednesday. Now, if we had full sunshine and dry, bare ground, that could result in daytime highs climbing from the low teens into the upper 20s. But the snow will absolutely keep temperatures much cooler than that.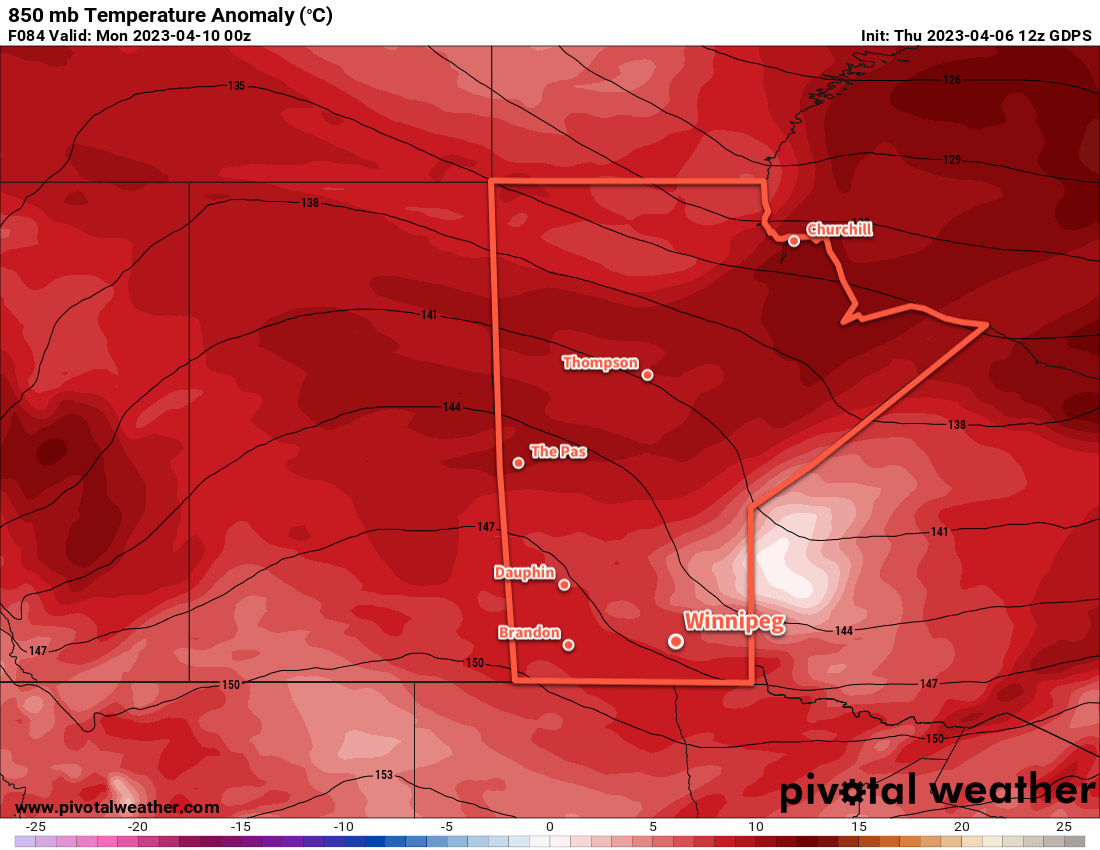 The other factor to pay attention to that will dramatically impact how quickly the snow melts will be the dew point temperature. When the dew point is below freezing, it is easy for water that is draining through the snowpack to re-freeze within it. But when the dew point climbs above freezing, that process becomes much harder and the rate the snow pack will melt at increases. The dew point will likely climb to the positive side of freezing this weekend, then increase several degrees above freezing next week as the warmer air pushes into the region.
The last factor to take into account is what all this water that's melting out of the snow will do. With warming temperatures aloft and a strong inversion, that moisture will be trapped near the surface. This could result in the development of fog and low clouds as the melt picks up, which would also work to reduce potential high temperatures and produce cloudier conditions that really lock temperatures fairly close to freezing. It's simply impossible to tell at this time if that will happen this weekend, but it's a possibility to keep in mind.
So all that said, what can we expect?
After a cold start to the morning, temperatures will climb to a high near freezing this afternoon with a light southerly wind. Temperatures will dip back down into the minus teens tonight, the the warmer air mass begins building in this weekend.
Temperatures will climb to a high a few degrees above freezing on Saturday and Sunday with light southerly winds continuing. Overnight lows will be much warmer, just dipping below freezing overnight on both nights. Conditions will likely be sunny, but particularly beginning Saturday night there may be a chance of seeing widespread fog or low cloud develop. If it does, it could persist through Sunday and into the start of next week.
The snowpack will likely begin to melt at a faster rate as dew point values climb above freezing on the weekend.
Long Range Outlook
Next week will start off with a very warm air mass moving over the region, with the large question mark of how the near-surface layer will interact with the snowpack. Continued southerly winds will likely serve to reinforce the low-level inversion, but the sheer magnitude of the warm air will likely result in either (a) temperatures climbing towards 10 °C or even warmer in any areas with an eroded snow pack, or (b) widespread development of low cloud that results in near-surface temperatures again only a few degrees above freezing.
It's simply too early to know exactly how that will go at this point, but we'll be keeping an eye on things through the weekend.
One thing for sure is that substantial amounts of snow will melt next week, both in southern Manitoba as well as North Dakota. The water may appear relatively quickly, so we encourage anybody in areas that may need to be concerned about flooding to keep a close eye on updated flood conditions and forecasts. Moderate to major flooding is possible along parts of the Red River in North Dakota and Manitoba. Depending on the rate of snowpack melt in Manitoba, overland flooding may also be an issue beginning next week.
Fortunately, there is little risk for any notable precipitation across southern Manitoba over the coming week.
Today's seasonal daytime high in Winnipeg is 7 °C while the seasonal overnight low is -4 °C.