Seasonably cool temperatures will stick around for Winnipeg this weekend — along with some unsettled weather — but a big warm up is on the way for next week.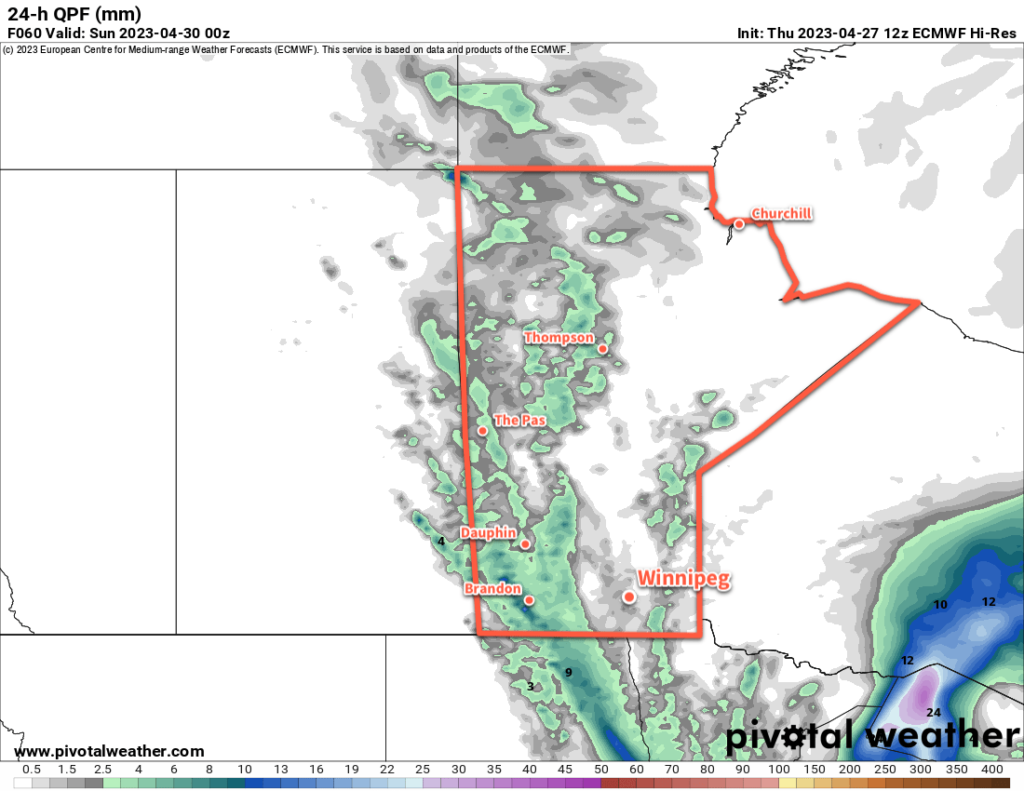 To wrap up the work week in Winnipeg, any morning fog will burn off as temperatures head to a high in the low teens for the afternoon. The region will see mixed skies today with light north-northwest winds.
The next disturbance to impact the region will begin moving in tonight. Skies will cloud up tonight with showers pushing into the Red River Valley from the northwest by morning. Temperatures will head to a low near 2 or 3 °C tonight.
Saturday will bring mostly cloudy conditions to the region with the chance for some sunny breaks in the afternoon. The most organized shower activity will move through the region in the morning, but much of the activity may end keeping west of Winnipeg. Temperatures will climb to a high near 10 °C as northerly winds pick up to around 20 km/h. A few pop-up showers will be possible in the afternoon in the unstable northerly flow that develops.
Skies will clear out on Saturday night with a northerly breeze. Temperatures will dip to a low again in the low single digits.
Sunday will bring partly cloudy skies to the region with a high in the low teens. It will be a breezier day with north winds picking up as high as 30 gusting 50 km/h. It'll be a cool night on Sunday night with a low near the freezing mark.
Long Range Outlook
Heading into next week, a major pattern change will bring a substantial change to the weather across Manitoba. The cool temperatures of the last while have largely been due to a persistent upper-level vortex over Hudson Bay. Heading into next week, there's high confidence that feature will finally collapse southwards into Ontario, then shunt eastwards and out of the region.
The upper-level pattern will then begin to reorganize itself over a few days, with the most prominent trend being a building upper ridge over western North America. As a result, by the end of the week, a well-formed upper ridge is forecast over much of the western United States, the Canadian Prairies, and central Arctic.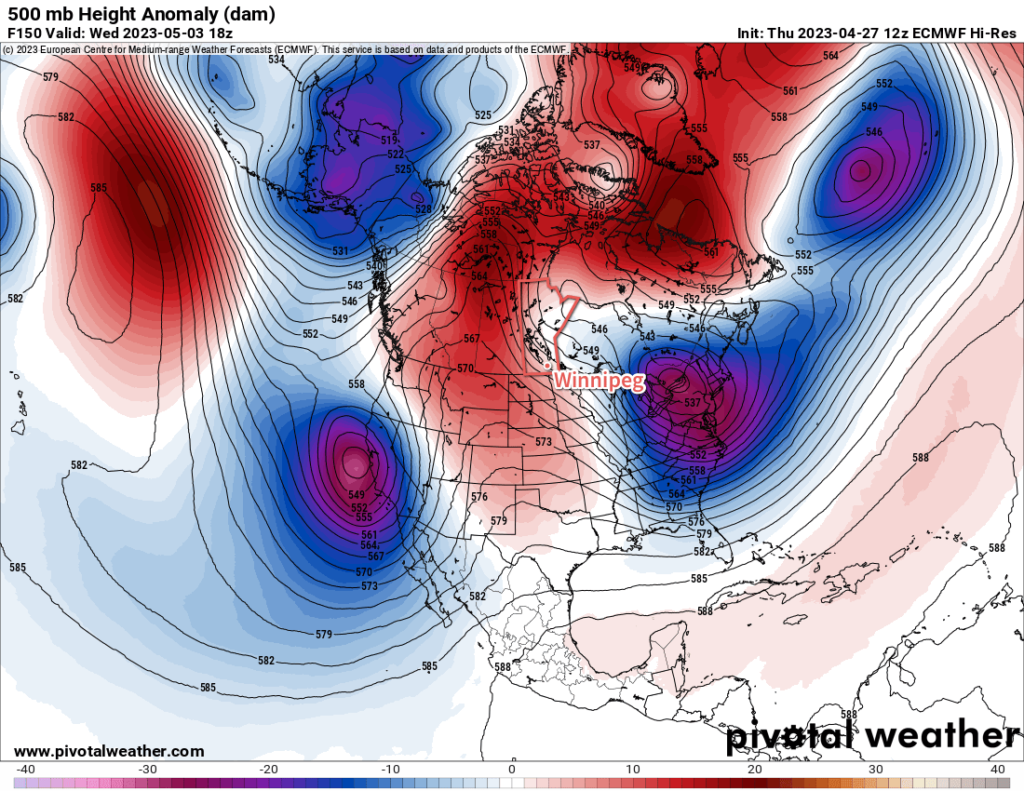 The end result of that will be that next week will see relatively little by way of precipitation and substantially warming temperatures. Daytime highs in southern Manitoba will likely climb into the 20s by Tuesday or Wednesday, followed by highs in the 15 to 25 °C range through the rest of the week.
So after one more weekend on the cool side of seasonal, some spring/early-summer warmth will arrive next week!
Today's seasonal daytime high in Winnipeg is 15 °C while the seasonal overnight low is +2 °C.