An upper low crossing the Prairies this weekend will keep temperatures cool in southern Manitoba with some showers or thunderstorms likely in the days ahead.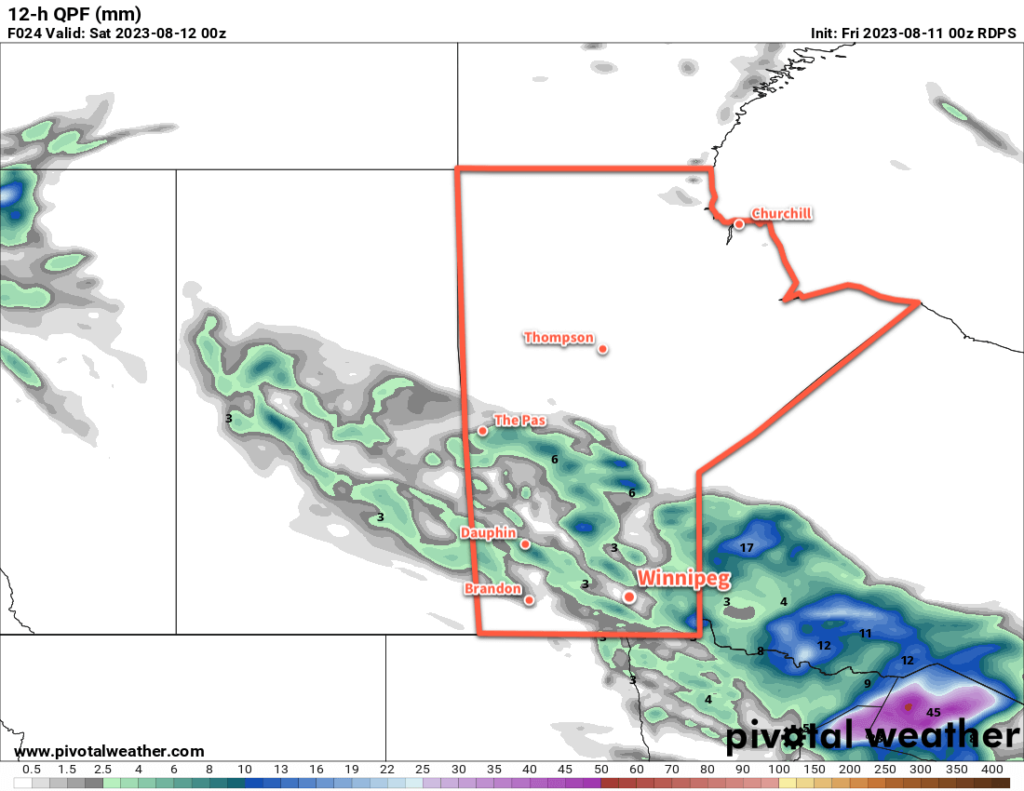 A weak low pressure system will move across southern Manitoba today, the lingering feature from the system that brought 5 to 10 mm of rain to Winnipeg yesterday evening. As this low trundles into the Red River Valley this afternoon, it will support the development of scattered showers and thunderstorms. Severe weather is unlikely; energy will be limited with only 500 to 1000 J/kg of MLCAPE and bulk shear is also low at only around 15 to 20 knots. A marginally severe thunderstorm with large hail can't be ruled out, but much of the area will mainly see the chance of showers and shorter-lived pulse thunderstorms.
Much of the activity will taper off in the evening, but a few showers may linger into the night, supported by both a shortwave sliding across the region and a weak trough extending from southern Manitoba northwestwards into central Saskatchewan.
On Saturday, the region will continue to see mixed skies with a slight chance of showers. Much less activity is expected than on Friday; there will be few, if any, features to support and organize showers. A bit of lingering instability may be left behind, but for the most part, mixed skies with just a slight chance of an isolated shower or two is most likely.
On Sunday, another low pressure system is poised to dive southeastwards through the province, bringing a good chance of rain to many parts of southern Manitoba. Some uncertainty remains on the track, but in general areas south of a line that runs roughly from Dauphin to the Whiteshell are likely to see accumulating rain at some point from early Sunday morning through the end of the day.
Temperatures over the next three days will be steady in the 20 to 25 °C while winds will generally be on the lighter side. Winds both today and tomorrow will mainly be westerly, while the passing low will shift the winds more northerly on Sunday.
Long-Range Outlook
It's looking like unsettled conditions will continue into next week. Monday should bring a reprieve from any wet weather, but the chance of rain will return several times through the rest of the week. Winnipeg's daytime highs and lows will sit at near-seasonal values through next week.
Today's seasonal daytime high in Winnipeg is 26 °C while the seasonal overnight low is 12 °C.