Winnipeg will see seasonal temperatures in the mid-20s this week, but several passing disturbances will bring chances of showers or thunderstorms to the region.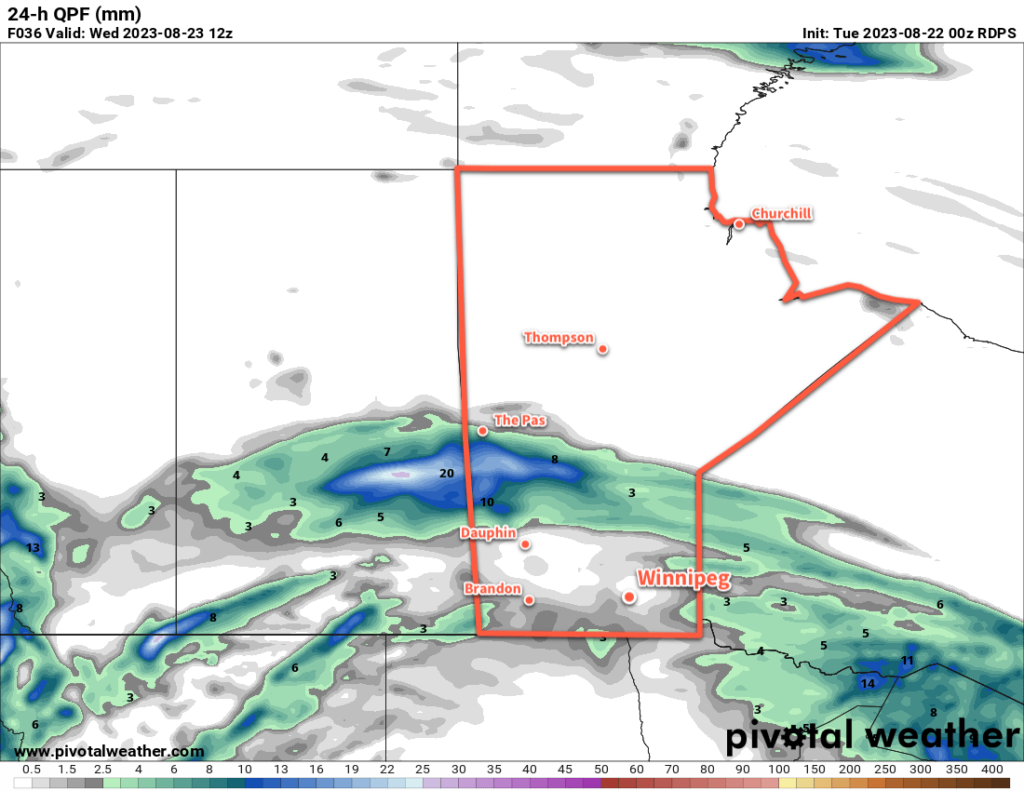 Today will be another cooler day in Winnipeg as easterly winds undercut moisture streaming over the province in the upper-level flow. The city will see easterly winds around the 20 km/h mark much of the day. Skies will likely be cloudy through the day, but a few sunny breaks are possible in the Red River Valley and southeast corner of the province. North of the city in the Interlake, showers are likely through much of the day, while further south the best chances will be early in the morning, then again in the late afternoon. A few thundershowers may be embedded within these showers.
The showers will taper off this evening as the winds diminish and temperatures head to a low in the mid-teens. Skies will stay mainly cloudy overnight as the next disturbance approaches the region.
On Wednesday will be another cloudy day in Winnipeg. Showers and/or thunderstorms will likely push into the southwest corner of the province early in the day, then gradually spread eastwards through the day. By mid-afternoon, the chance of showers or thunderstorms will begin to increase in the Red River Valley. This activity will slump southeastwards through the evening and exit the province overnight. Temperatures will head down to a low in the upper teens on Wednesday night.
On Thursday, a bit of sun will return to the region, but cloud will push back in later in the day as another disturbance pushes towards the region from Alberta. More showers or thunderstorms will develop near the Saskatchewan/Manitoba border late in the day and then gradually spread eastwards through the evening. This will bring a chance of thunderstorms or showers to Winnipeg overnight, with a slight chance of showers lingering into Friday morning. The city will see the overnight low dip down into the mid-teens.
Regarding daytime highs, much of the week will bring near-seasonal highs in the low to mid-20s.
Long Range Outlook
Heading into the weekend, an upper ridge will begin to re-establish itself over the Prairies, bringing more settled conditions. Sunnier weather looks likely for the weekend with daytime highs climbing towards the upper 20s.
Today's seasonal daytime high in Winnipeg is 24 °C while the seasonal overnight low is 11 °C.