A stagnant weather pattern will continue to funnel Arctic air southwards into the Prairies, continuing the cool temperatures across southern Manitoba.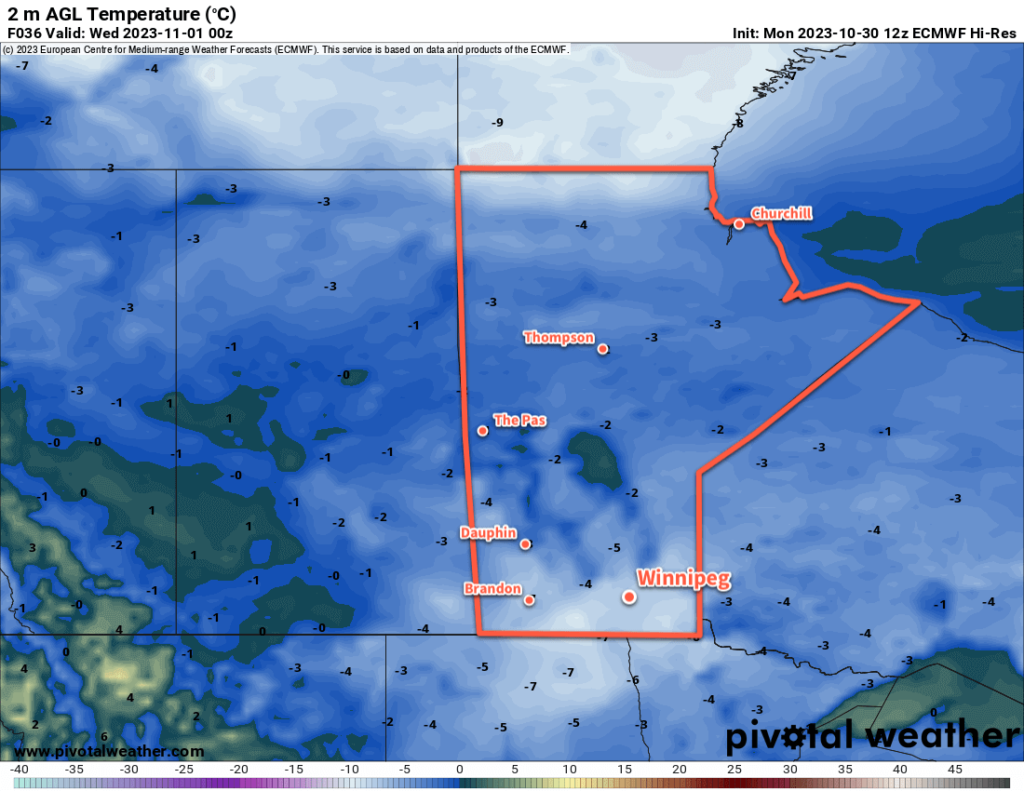 A slow-moving vortex over Hudson Bay continues to support an outbreak of Arctic air across the eastern Prairies this week. Between this system and a high-amplitude upper ridge over the west coast, northerly winds through the region will be maintained for a few more days yet.
As a result, temperatures will stay stuck below seasonal values. Today will be the coldest day of the week, the cold air bolstered by the passage of a disturbance yesterday. The high in Winnipeg should reach around -6 °C with temperatures dipping to about -8 to -10 °C by the time kids start heading out to prowl the neighbourhoods for Halloween.
Heading through the rest of the work week, the city will see daytime highs close to the freezing mark and overnight lows dipping into the -5 to -10 °C range. Skies will be mixed over the coming days and winds, aside from a bit of a breeze this evening, will be light.
No notable snowfall is expected, but a few light flurries could be possible through the week.
Long Range Outlook
Little change is expected to the pattern beyond weakening slightly in the days ahead. This will mean that daytime highs should continue to hover at or just below freezing into next week along with overnight lows dipping below -5 °C.
There are some early indications that some snow may be possible early next week; we'll continue to keep an eye on that system as it develops.
Today's seasonal daytime high in Winnipeg is 4 °C while the seasonal overnight low is -5 °C.