The unsettled weather that's been in place for the last few days will continue through the end of the week as the general instability remains in place as more weather systems push through the region.
Today will be a fairly pleasant day that's quite similar to yesterday other than a couple degrees warmer. Temperatures should climb to around 28°C this afternoon with more clouds popping up and developing into an afternoon/evening chance of some scattered thunderstorms. Thunderstorm activity should be fairly limited as the main story will be the low pressure system that will move into Southern Manitoba overnight and will set the stage for Thursday's weather. Expect temperatures to dip to just 19°C as increasing cloud and the humidity continue to keep temperatures warm.
Thursday Brings Heavy Rain Potential
Tomorrow may actually end up being quite a wet day as multiple models are showing a low pressure system moving through tapping into the ample moisture in the region to produce a fairly large, and intense, area of rain.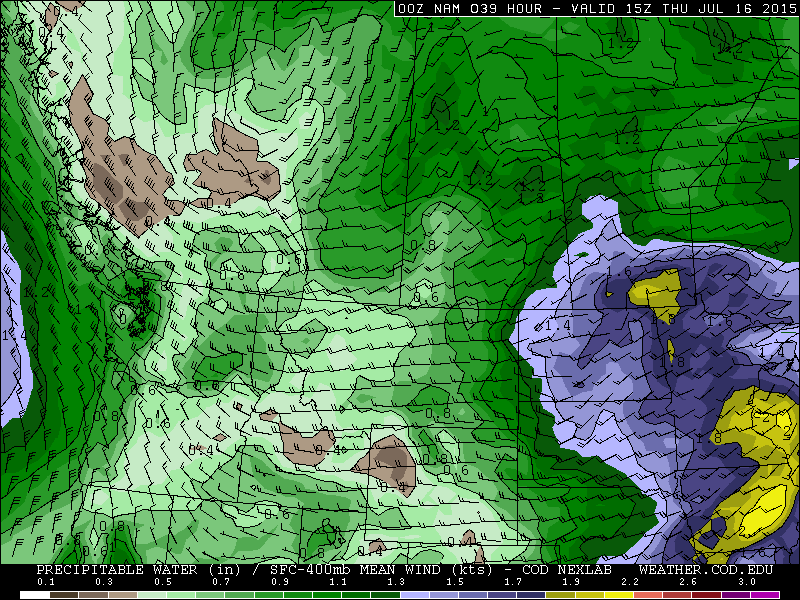 The NAM (shown above) is forecasting precipitable water values as high as 1.8 to 1.9" (in the 45–50mm range) which is very high for our region. Precipitable water correlates strongly to potential rainfall amounts of storm systems[1], so it's not unrealistic to say that rainfall totals of 1.5" to 2" (~ 35 – 50mm) are not out of the question albeit on the high end. If heavy convection were to set up, then even higher amounts would be possible. We'll keep an eye on things and see how the storm progresses this evening; if the outlook changes much, we'll provide an update at the bottom of this post.
So, the general forecast for Thursday would see the rain moving in overnight on Wednesday night and see the rain persisting at least until mid-day, but possibly into the late afternoon or early evening. Rainfall totals may end up being variable, but in general will likely be 20–40mm with the potential of seeing double that if system becomes vigorous enough. The high temperature will be in the 21 to 23°C range with an overnight low around 16°C. Winds will be fairly light much of the day.
Friday
The thunderstorm risk returns Friday, although it will be a fairly mild risk with just some isolated to scattered non-severe storms possible. The daytime high will sit near 26 or 27°C with light winds out of the southwest. The humidity continues to remain fairly high with dew points in the high teens. Skies will clear out Friday night as we head to a low near 15°C.
---
Thunderstorm rainfall totals can greatly exceed PWAT values due to the convergence of the inflow wind that can "accumulate" PWAT from areas around the storm.  ↩