Winnipeg will see breezy conditions with seasonably mild temperatures today, but a cold front passing through on Saturday will usher in an extended period of markedly cooler weather.
A low pressure system crossing the Prairies will finally bring seasonal temperatures back to southern Manitoba today. With a brisk southerly wind increasing to 30 gusting 50 km/h, temperatures will climb to a high near 11°C. Morning sunshine will give way to mixed skies, but things should stay dry with no precipitation in the forecast. The low will continue to advance towards the province tonight, keeping skies mixed and maintaining the southerly winds. Winnipeg should see a low near 7°C.
The city will still see seasonal temperatures on Saturday, but the day will be much less pleasant as a cold front sweeps through early in the morning. Temperatures will hover near the overnight low of 7°C then begin cooling later in the day. Winds will be breezy out of the west-northwest near 30 gusting 50 km/h and skies will be mostly cloudy. Again, no precipitation is forecast. Skies will stay cloudy on Saturday night with a northwest wind near 20 km/h and a low of -1°C.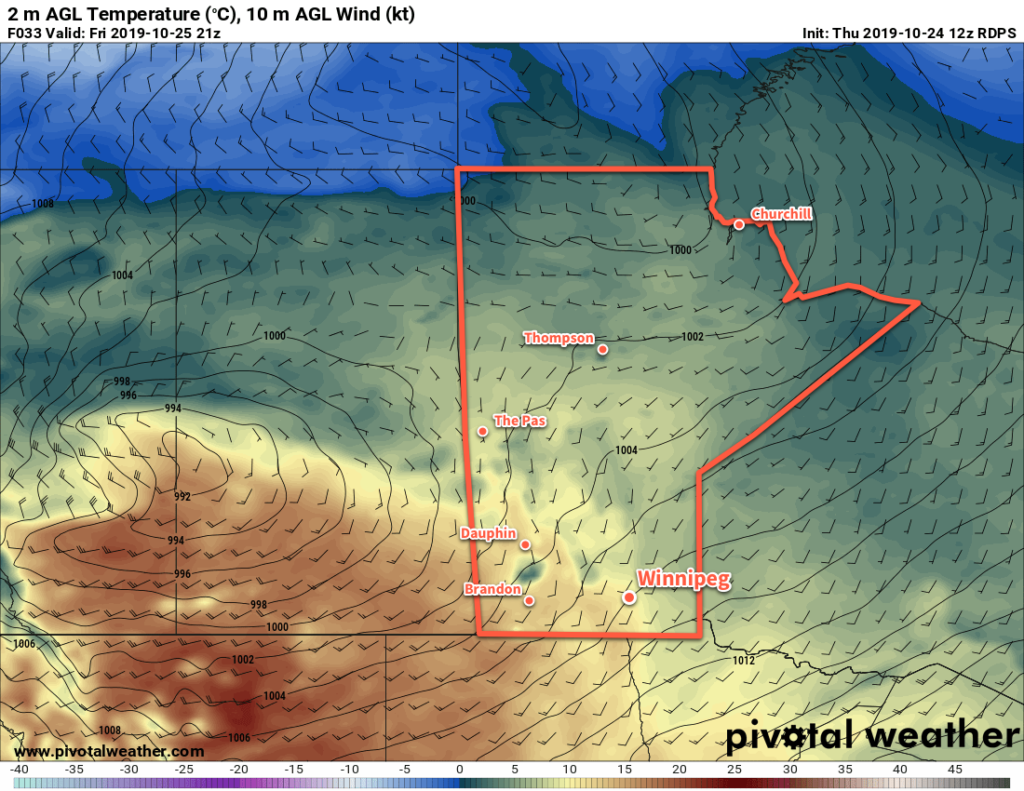 Sunday will bring cloudy conditions to the city with temperatures remaining steady near 0°C. This will mark the beginning of a prolonged cold snap that will entrench the city in below-normal temperatures for the next week. The northwest winds will gradually ease through the day and into the evening. Some flurries will be possible in the city as the cold air and northwest wind will bring a chance of lake-effect snow off of Lake Manitoba. Temperatures will head to a low near -4°C on Sunday night with mostly cloudy skies.
Long Range Outlook
Unfortunately, a long stretch of cold weather is on the way for Winnipeg. Arctic air will plunge southwards through much of North America through the week as a significant upper-level trough develops.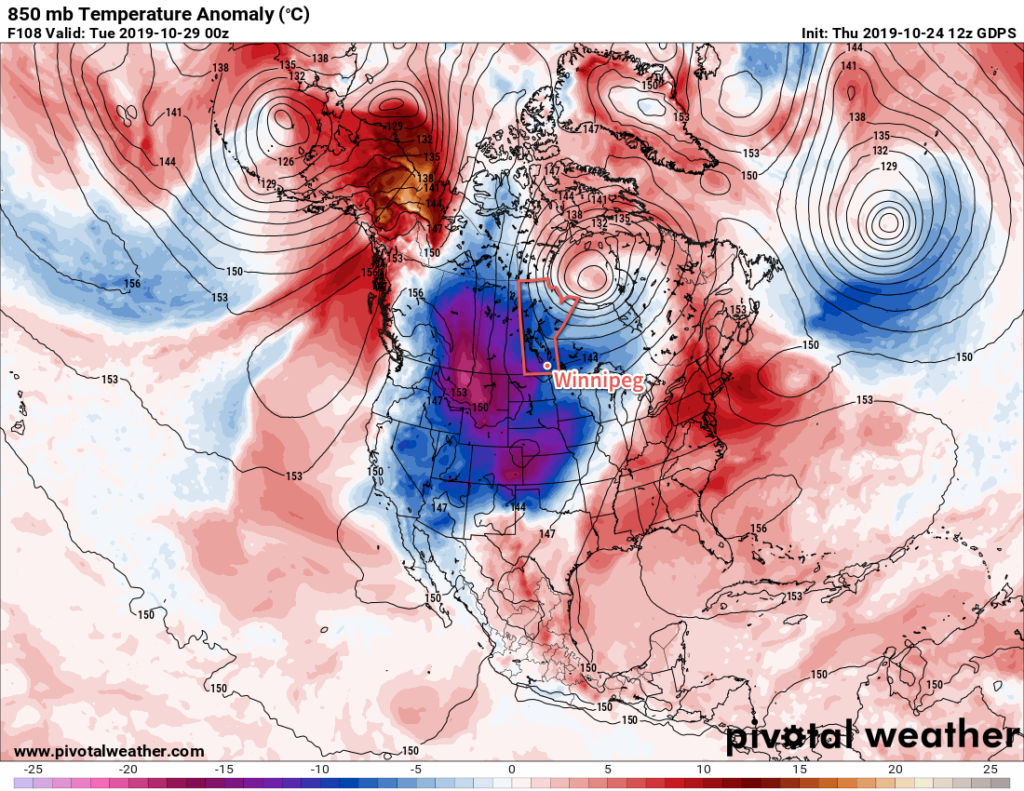 The result will be a week of variable cloudiness, temperatures struggling to reach 0°C, and several chances of accumulating snow.
Today's seasonal daytime high in Winnipeg is 7°C while the seasonal overnight low is -3°C.