Winnipeg will see more cloud with a chance of flurries over the next few days as northwest winds stream lake-effect cloud into the Red River Valley.
Cool weather continues in Winnipeg and will persist right through the weekend. Daytime highs over the coming days of 0 to -2 °C will be some 7 to 10 °C below seasonal values. These cool temperatures will combine with west-northwest winds to generate a fair amount of lake-effect cloud. Overnight lows will also dip well below seasonal values, generally into the -5 to -10 °C range.
Today, the west-northwest wind will pick up into the 20–30 km/h range this morning. This wind will support lake-effect cloud and snow that will move off Lake Manitoba and towards Winnipeg. The wind will ease off tonight and turn more westwards, which will weaken the lake effect snow and bring some clear patches into the city.
On Saturday, winds will turn back northwesterly, but be lighter than Friday. As a result, Winnipeg will likely see a mix of sun and cloud, but flurries are unlikely for the day. Skies will stay mixed to mostly cloudy on Saturday night.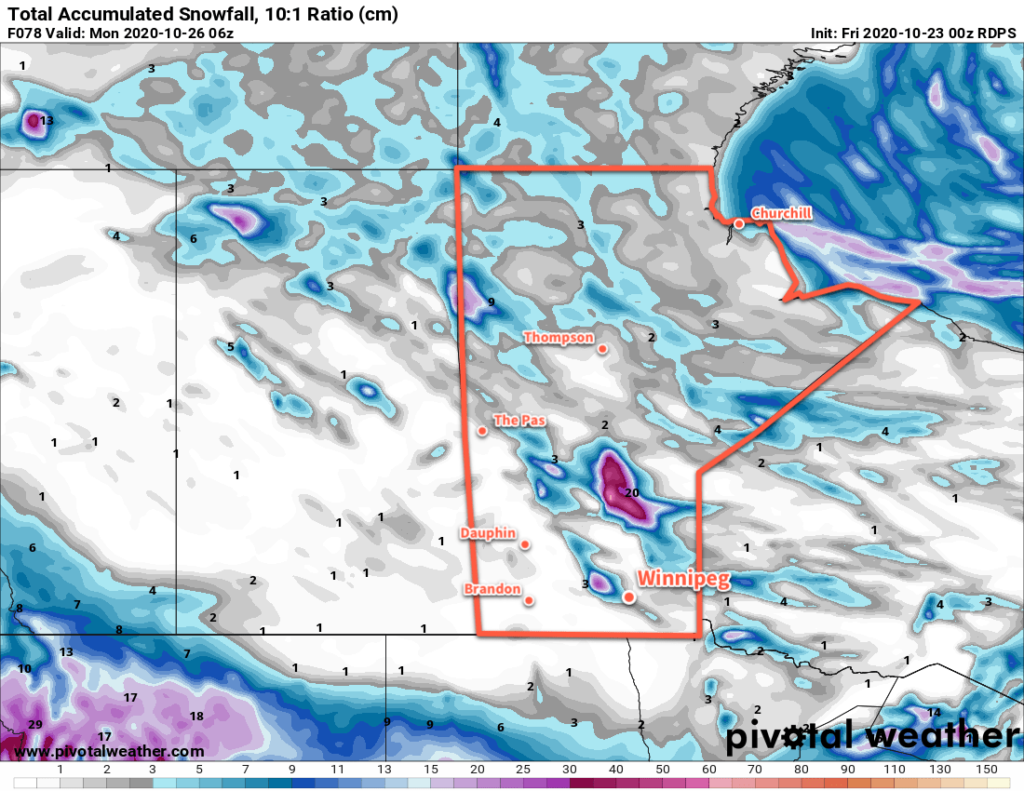 On Sunday, Winnipeg will see mostly cloudy skies with another chance of flurries off Lake Manitoba as west-northwest winds once again pick up into the 15–25 km/h range. Winds will shift west-southwest on Sunday night and clear things out.
Long Range Outlook
Monday should bring sunshine to the region, but then cloudier conditions will return as a much more unsettled pattern develops over the region. While temperatures will continue with highs near the freezing mark, there will likely be several chances of widespread snow events through the week.
Today's seasonal daytime high in Winnipeg is 7 °C while the seasonal overnight low is -2 °C.