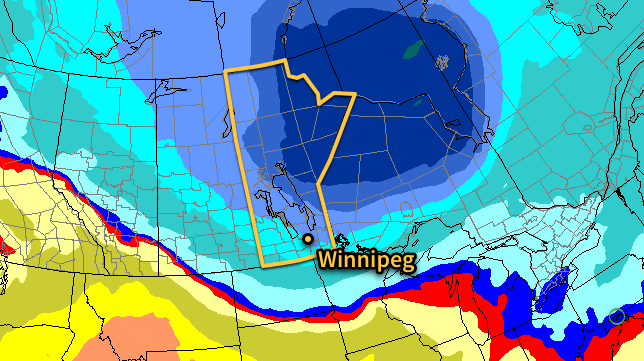 Much cooler temperatures are on the way for the weekend – especially overnight lows – as a push of Arctic air slumps southwards behind the cold front that passed through Southern Manitoba last night. The result will be below normal daytime highs and some exceptionally cold nights for mid-March.
Friday
Mostly cloudy; slight chance of morning flurries
Today will be a mostly cloudy day with some sunny breaks this afternoon, however the main weather for the day will be the brisk northerly winds to 30–40km/h that pick up through the day. These winds will be ushering in significantly cooler air for this evening. Fortunately, temperatures will be able to recover a little bit today before the colder air pushes in with high temperatures reaching a slightly below-normal[1] –2°C. Unfortunately, the cold air slams into the Red River Valley tonight. Temperatures will drop to around –19°C overnight.
Saturday and Sunday look fairly quiet weather-wise. After a very cold start to the morning, temperatures on Saturday should climb to around –5°C under partly cloudy skies. This high will be around 6°C below normal. Temperatures will dip just below –10°C on Saturday night and then climb back up to –2°C or so on Sunday afternoon. Sunday looks to start fairly sunny but see increasing cloudiness through the day as a disturbance slips across southwestern Manitoba.
Seasonal Weather Returns Next Week
Seasonal highs anywhere from 0 to +4°C will return for the start of next week. Conditions look fairly dry, however early indications point to a system moving through Southern Manitoba mid-week that could bring some rain (or less likely, snow) to the area.
---
Normal daytime highs for this time of year are around +1°C.  ↩