First Significant Severe Weather Event of the Season Strikes Oklahoma
This past Wednesday severe storms erupted across much of Oklahoma bringing with them very large hail and even tornadoes. It was the biggest severe weather day this year in the states, up to now (but many more are to come). A surface low was located in central Oklahoma with dryline extending southward, cold front crashing south from the north side of the low, and a warm front extending northeastwards from the low. There were two main focus areas for the storms – along the dryline and near the triple point/along the warm front. A moderate risk was issued by the SPC and covered the areas of concern. The outlook also included a 5% tornado risk with 45% hatched hail probabilities. A moderate jet streak was in place with dewpoints in the high teens, which together provided sufficient shear and CAPE for supercells.
As expected, several storms initiated on Wednesday afternoon and grew into supercells. Two supercells were of most concern before storms consolidated into squall lines: one near Tulsa and one near Oklahoma City. The storm that approached Tulsa showed strong rotation on radar early in its lifetime –a tornado warning was able to be issued well before it hit the city. By the time it reached a suburb of Tulsa, Sand Springs, a tornado touched down and tore through a trailer park. In addition to that, hail, the size of tennis balls, were reported in Tulsa's metro region as the supercell's hail core passed over the city. The tornado (preliminary rating of EF-2) injured over a dozen people and one person lost their life in the trailer park.
The Oklahoma City storm fired off the dryline initially but then got undercut by the cold front – meaning it had little tornado potential. Interestingly enough, the supercell was able to catch up to the cold front and interact with it, enhancing the vorticity in the area – likely being a contributing factor to the formation of the tornado. With this mesoscale interaction playing a significant part in the cause of the tornado, not much lead time was provided to residents (it happened quickly). Unfortunately the twister (preliminary rating of EF-1) touched down in the city of Moore, OK which got hit by a devastating twister in 2013 and had seen two other strong tornadoes since 1999. No injuries were associated with this one, thankfully.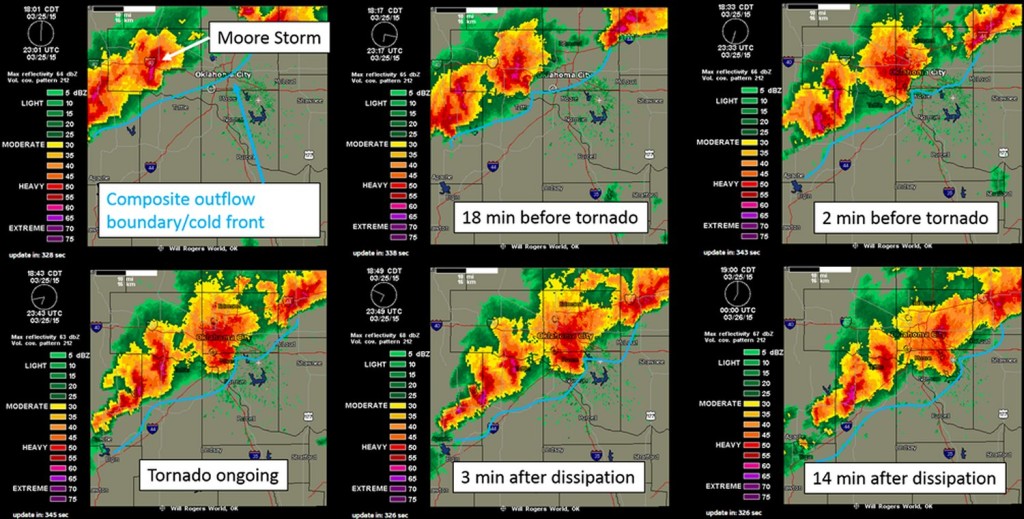 The pattern could become active again by the middle of next week, but it is still too early to be certain. April to late May is typically the busiest time of the year for severe weather in the Southern US Plains, due to plentiful moisture before the jet stream shifts further north for the summer.