Summer-like warmth has arrived for Winnipeg and the Red River Valley thanks to an upper-level ridge moving into the region that will spread warm air over Manitoba for the coming days. Some rain looks likely on Thursday evening as a "cool" front passes, but the other days through the second half of the week look beautiful with plenty of sun to go along with the warmer weather.
Today will be a mainly sunny day with a high near 21°C. Winds will remain fairly light through the day as well. With an overnight low near 8°C or so, the warmth should hang on into the evening making for a pleasant evening to be outside.
Thursday will bring a fair amount of cloud, however the sun will still poke out a few times through the day. Winds will be breezy out of the south, picking up to around 30–40km/h with gusts to 50–60km/h or so. Heading into the second half of the afternoon should really bring in the thicker cloud ahead of the approaching "cool" front. A band of showers will move in sometime between 6–9PM and last for a few hours as they move through.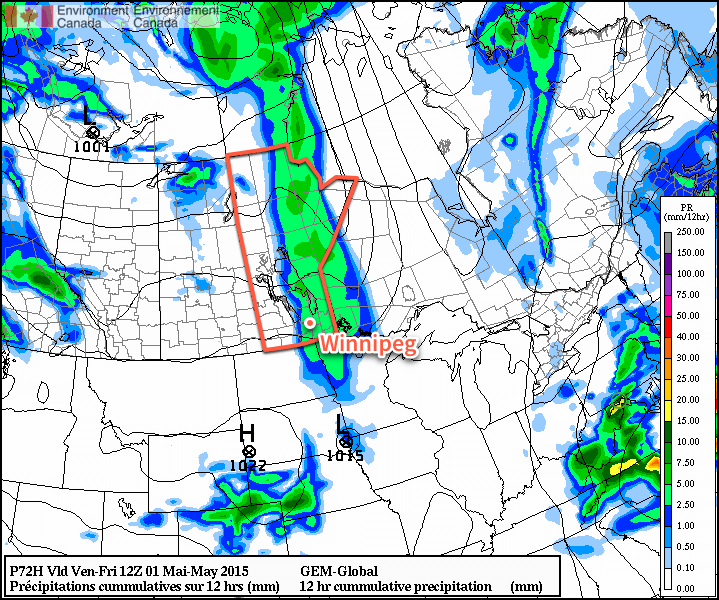 Precipitation is expected to be fairly light, however, with total accumulations around 2mm, although if the odd convective cell gets going, some places may see closer to the 5mm mark. Winds will taper off with the passage of the front and temperatures will drop to around the 7°C mark with clearing skies overnight.
Friday will be another pleasant day with light winds, mainly sunny skies and a high near 21°C. Expect a low near 8°C on Friday night.