The summer-like temperatures seen in Winnipeg over the past couple days will continue into the weekend with daytime highs 10°C above normal. A cold front will finally push through on Saturday evening, bringing an end to the exceptional warmth and ushering in a return to seasonal temperatures.
Today will be a gorgeous day in the Red River Valley with light winds and daytime highs near 25°C with a bit of a southwesterly wind. Expect a few clouds tonight with a low near 10°C.
Tomorrow will be a more interesting day as a more organized southerly flow develops over the Red River Valley ahead of an approaching low pressure system. Temperatures will climb to around 27°C while a meager amount of moisture pools through the Red River Valley ahead of an approaching trough. As the trough moves into the Red River Valley, it's looking quite possible that we may see a few thunderstorms develop, however the chance is largely conditional.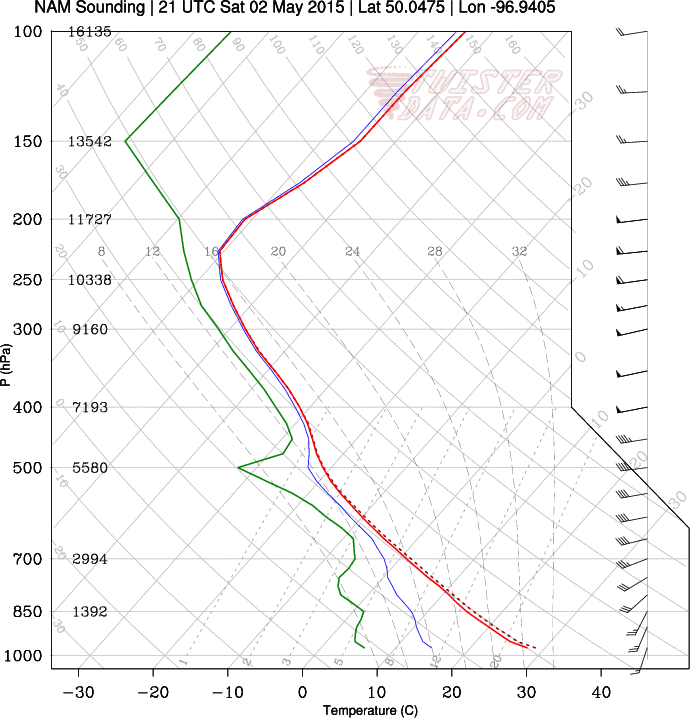 Given the fairly low amount of moisture available, cloud bases would likely be very high; the forecast sounding indicates cloud bases near 10,000ft which would mean the biggest threat from the storms would be strong wind gusts. Some hail might be a threat further south in North Dakota, perhaps sneaking onto extreme southeastern Manitoba, but overall it looks more like we'll see a few weak thunderstorms develop capable of producing some fairly gusty winds. The overall environment, save for the lack of moisture, looks quite favorable for the development of the storms, though. Winds will generally be out of the south to southwest at around 30 gusting 50km/h with a slight chance for some 50 gusting 70km/h winds in the afternoon.
Some cloud will linger overnight as temperatures dip to around 9°C with winds relatively light out of the west to northwest.
Sunday will bring a bit of cloudiness and slightly cooler temperatures with a daytime high of "only" 19°C. Winds could be gusty out of the northwest for a few hours beginning in the morning before settling down to 30 gusting 50km/h for the afternoon. Sunday night looks mainly clear with a low near 5°C.