Yet another tropical disturbance has developed over the Atlantic this week thanks to another mid-level wave traversing off the coast of Africa westwards over the Atlantic. It's currently impacting the Dominican Republic and is forecast to head west-northwest towards the southeastern United States.
[map type="terrain" autofit="1″ disable_scrollwheel="1″] [pin]Dominica[/pin] [pin]Dominican Republic[/pin] [/map]
Erika, which formed near the Cape Verde Islands, was centered near the southwest corner of the Dominican Republic as of Friday night bearing sustained winds of 75km/h and a rather unimpressive pressure of 1000mb. The tropical disturbance has struggled mightily at getting even somewhat organized over ocean waters; dry air and strong shear were both contributing factors to this. Erika is expected to continue experiencing problems organizing in the near future due to the strong wind shear in place, as well as a new concern – the rugged islands of Hispaniola.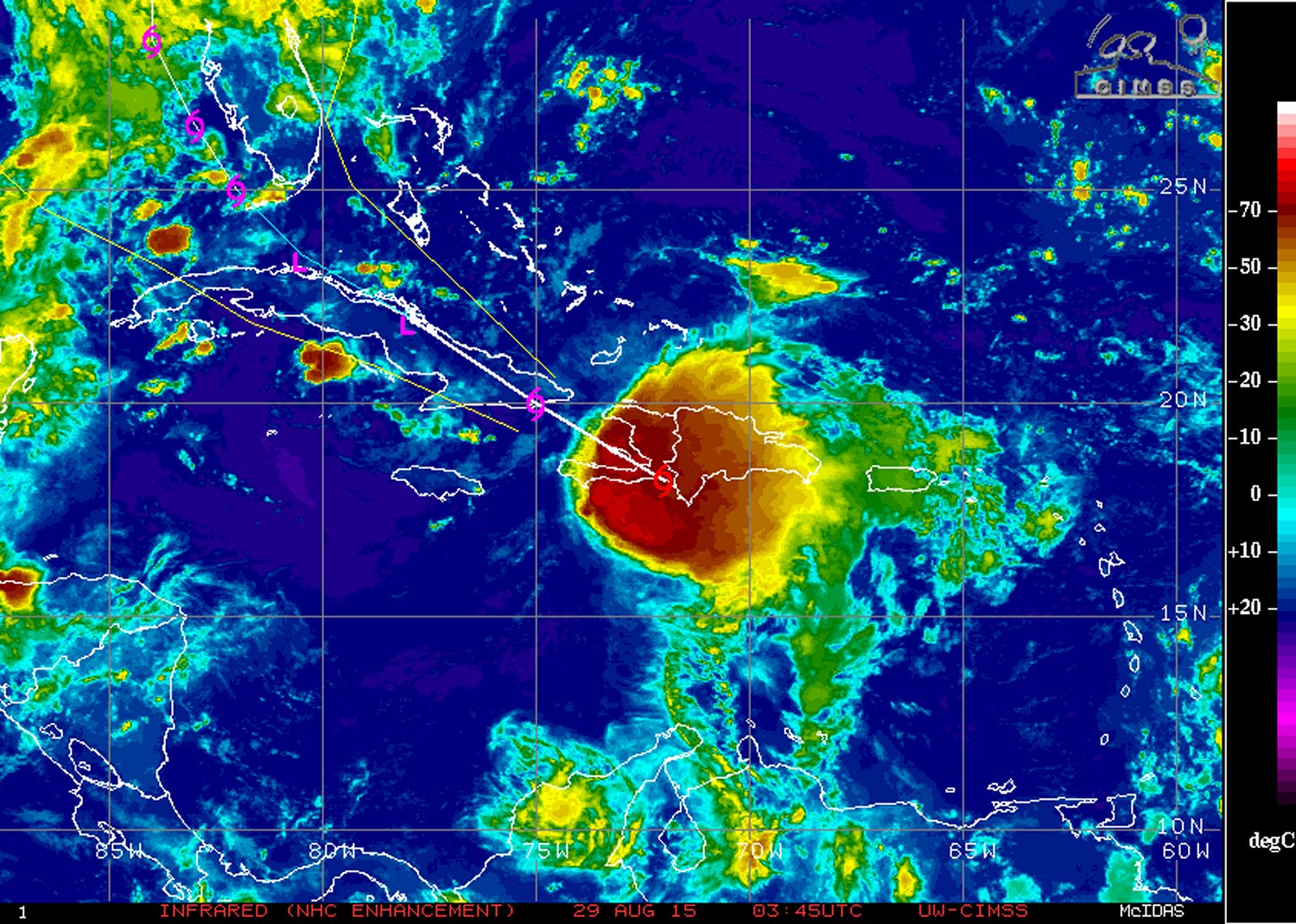 The heavy rains that accompany this tropical disturbance are not to be underestimated, however. Heavy rainfall in the order of 100mm to 150mm, as high as 250mm locally, is expected to fall across both the Dominican Republic and its neighbouring country, Haiti. There have already been 20 confirmed deaths associated with Erika from the island of Dominica (located in the Lesser Antilles), and three dozen more residents are still missing. In consequence, this tropical storm has been the deadliest natural disaster for the country since 1979.
The future of Erika remains uncertain at this point. Most models show Erika as weakening over the Caribbean islands (due to the shear/terrain problems discussed), then emerging over waters off of the western coast of Florida as a weak tropical storm. Overall, it's unlikely that Erika will become anything more than a tropical storm that is just a rain-maker for southeast US.
In other news, it had been the year of the hurricane in the Eastern Pacific near the Hawaiian Islands. Several hurricanes have brushed by Hawaii already this year – an unusual occurrence. Yet another is on its way in the coming week. Hurricane Ignacio (category one) is expected to pass close to Hawaii. What remains to be seen is how close – Hawaii can at least expect high surf and heavy rainfall from the outer bands of Ignacio on Monday, but there is still some uncertainty on strength of the winds which depends on how close Ignacio comes. Another hurricane in the Eastern Pacific is churning; Jimena, is a high-end category four but is not expected to have any impact to land in the near future.