Notably warm and humid weather in place over Southern Manitoba today will bring a threat for severe thunderstorm activity across the region as a shortwave trundles through. An upper-level ridge will then begin to rebound back into the Southern Prairies in response to a digging trough off the western coast of North America, bringing even warmer air into the region thanks to the resultant southwesterly flow aloft that will develop.
Friday: Thunderstorms Possible Midday
A weak mid-level shortwave trundling across the region will bring a risk of thunderstorms to Winnipeg & the Red River Valley today[1] as warm and humid weather meets the colder air associated with the shortwave. As always, using our MIST principles:
Moisture: Adequate. Moderate moisture will be in place both at the surface and through the lower levels of the atmosphere as deep-layer moisture continues to build into the region.
Instability: Favourable. With both thunderstorm possibilities, both elevated and surface-based, enough instability will be in place. Surface-based convection would have greater potential to be severe, however it will rely on strong surface heating with mainly sunny skies until the shortwave arrives, which could be in question depending on what sort of nocturnal convection develops.[2] If it does end up cloudy, strong mid-level lapse rates associated with the shortwave should be enough to sustain showers or thunderstorms as it heads eastwards. All said, storms should have around 1000–2000J/kg of CAPE to work with, depending on their exact timing and where they're based.
Shear looks quite good with around 35kt of 0–6km bulk shear and gently looping hodographs. Low-level winds are weak enough that tornado activity doesn't look like a particular threat, but the directional shear is favourable for the organization of supercell thunderstorms.
Trigger: The shortwave moving through coupled with a weak surface trough will provide the convergence and trigger for convective initiation.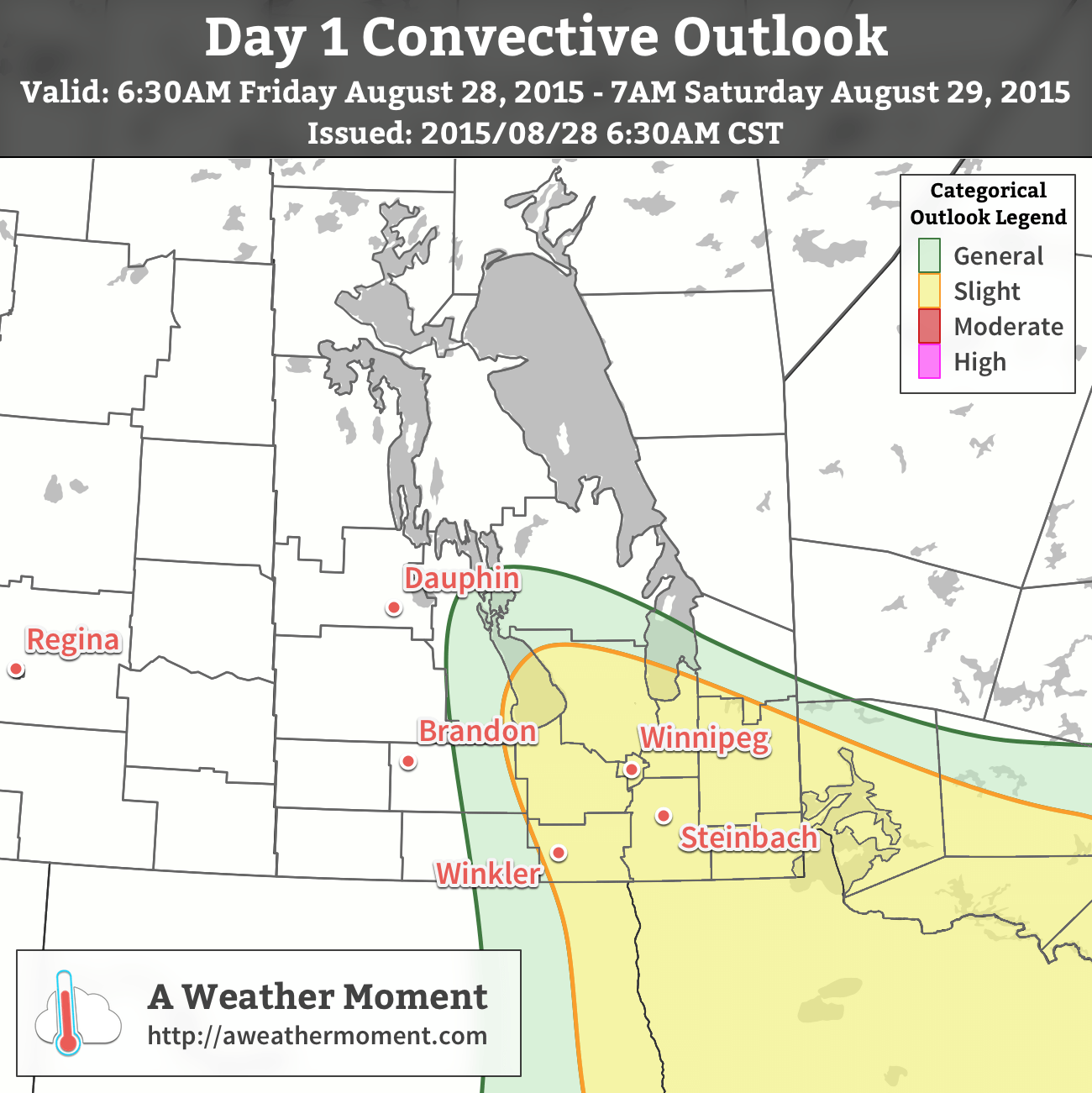 All things considered, it's likely that we'll see some activity at some point today. The primary threats with today's thunderstorms will be large hail and strong winds. Storm motions will generally be towards the southeast. Later in the day, a more organized heavy rainfall threat may develop with any storms still ongoing.
Those things aside, it will be quite a nice day. Temperatures will climb to around 28 or 29°C with a few clouds through the day. The humidity will begin to be more noticeable as dewpoints climb into the high teens by the afternoon ahead of the weak surface trough/low moving through. Winds will remain light.
Things clear out tonight with the humidity remaining in place and temperatures dipping down to about 17°C.
Hot & Humid Weekend Ahead
Temperatures will soar this weekend as warmer air moves into the region and sends daytime highs to 30°C or higher. Saturday will be a sunny day with a high around 30°C and dewpoint values in the high teens or low twenties making it feel more like the upper 30's. Winds will be light. Expect a low near the 20°C mark on Saturday night.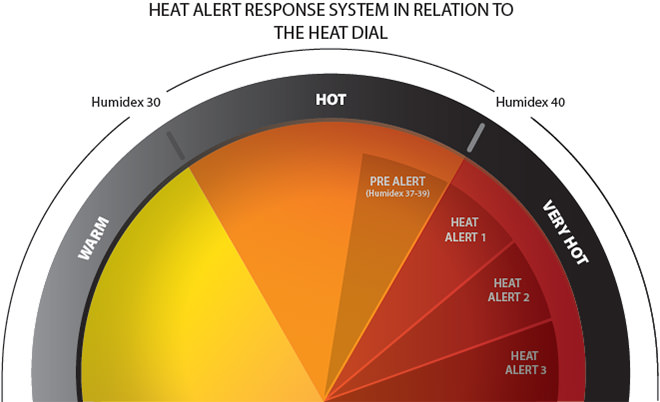 Sunday will see the daytime high climb even higher, most likely towards the 32 or 33°C mark as breezy southerly winds develop ahead of a developing low pressure trough. The humidity will remain in place with dewpoints in the high teens or low 20's, making it feel more like the upper 30's. There's a slight chance we may see humidex values hit 40 on Sunday, which is Environment Canada's criteria for a heat warning. That said, both Saturday and Sunday will likely qualify for the Province of Manitoba's Heat Advisory and Response Pre-Alert which requires a humidex of 37 or higher.
There appears to be a slight chance late Sunday night or early Monday morning for some showers or thunderstorms to move through the area, but it looks very conditional at this point and it's far to early to say much about it. We'll put an update here early Sunday afternoon regarding the precipitation potential for Sunday night. Temperatures will likely only drop to around 19°C on Sunday night, however.
Long Term: Slight Cool-Down to Start Next Week
Looking ahead, it seems like we'll see a slight cool-down next week as a frontal boundary stalls out over the region and brings a chance for multiple bouts of unsettled weather through the first half of the week. We'll have more details about that bright and early Monday morning!
---
Exactly when depends on the timing which will be affected by how much and what type of elevated convection developed with this feature overnight in Saskatchewan.  ↩
If the nocturnal convection is in the right spot or strong enough, our sunshine could be replaced by cloud cover instead, dramatically limiting surface heating.  ↩