Friday will bring a severe thunderstorm threat to Winnipeg & the Red River Valley as the first of several bouts of unsettled weather moves through, gradually flushing out the unseasonal heat and humidity and transitioning us towards almost fall-like weather.
Friday
Mainly cloudy; showers and thunderstorms this afternoon
Saturday
Mainly cloudy; slight chance of showers. Evening showers or thunderstorms possible
Sunday
Mainly cloudy; slight chance of drizzle or light rain
Mainly cloudy skies will be over Winnipeg & the Red River Valley today while a low pressure system gather steam and begins to move into the region from North Dakota. Little in the way of weather is expected until the low approaches this afternoon and triggers a substantial amount of convective activity. Showers and thunderstorms are expected to fire up mid-afternoon and track to the northeast. There's a decent chance that the stormy weather will persist well into the evening before it clears out and moves off to the northeast.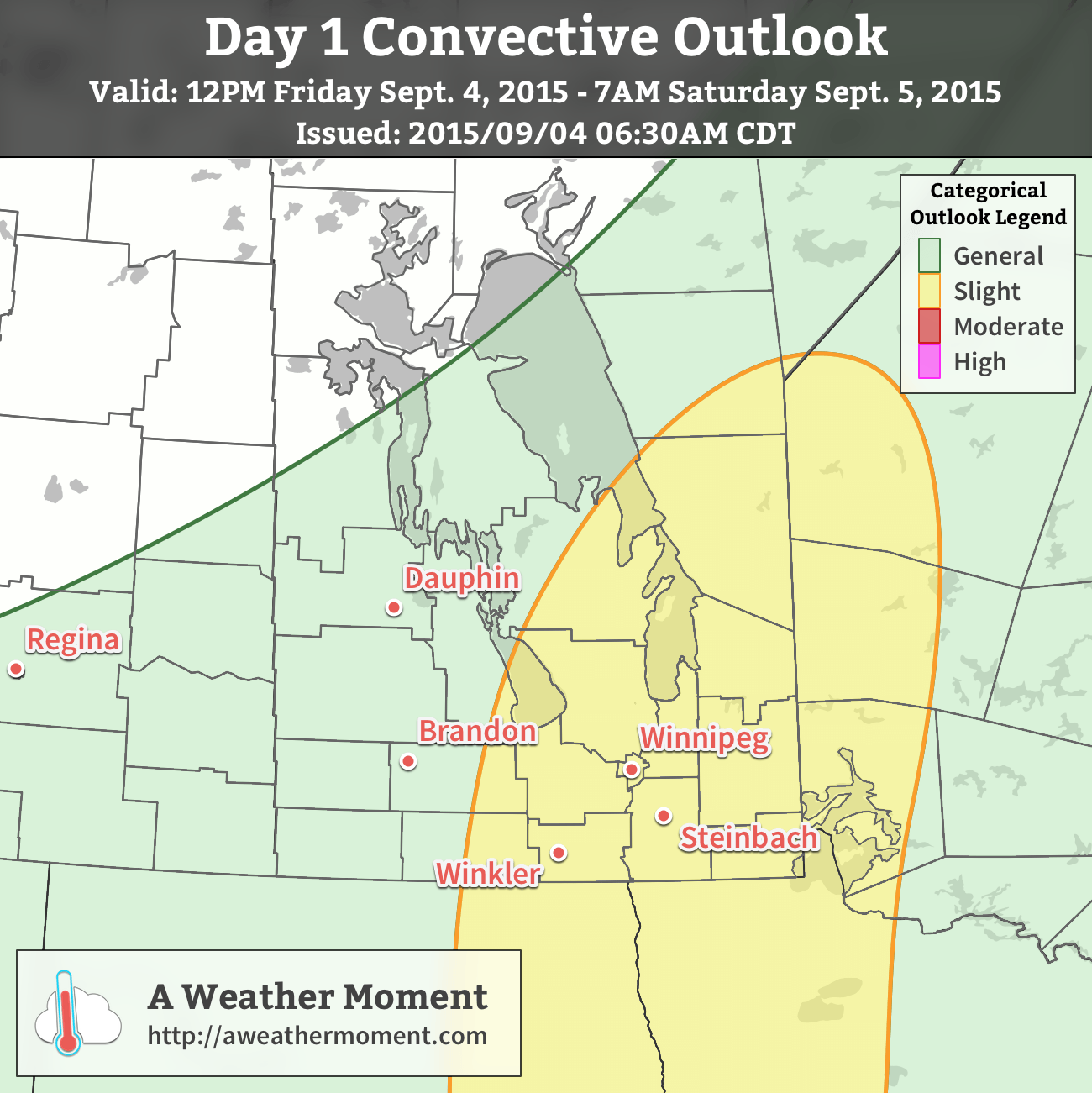 A slight risk for severe thunderstorms will be in place over much of south-central and southeastern Manitoba today. Looking at the MIST basics for thunderstorms:
Moisture will be ample with deep boundary layer moisture evident through surface dewpoint values near 22°C thanks to a multi-day build-up of humidity in a southeasterly flow. Strong evidence of the substantial moisture in place is shown by the precipitable water values which are forecast to climb over 50mm through the afternoon.
Instability will moderate with MLCAPE values around 2000–2500 J/kg. Much of the instability will be brought through the substantial moisture present since mid-level lapse rates are only expected to be moderate and not excessively steep.
Shear will be ample with approximately 25–35kt of 0–6km bulk shear and broadly looping hodographs. This should support the development of organized thunderstorms.
Trigger: there will be several triggers converging on the Red River Valley this afternoon including a frontal boundary, approaching low, as well as shortwave aloft. There should be no troubles finding something to trigger thunderstorms.
The primary threats from today's storms will be heavy rain and large hail. PWAT[1] values are expected to climb over 50mm, which means torrential downpours and flash flooding will be a notable threat with this afternoon's thunderstorms. Additionally, with such high MLCAPEs and adequate storm structure through the shear profiles, large hail may be an issues, however that would likely be a more isolated threat than the rainfall.
The thunderstorms will gradually push off to the northeast. Total storm rainfalls may exceed 2–4" (50–100mm) in some places, while other areas may end up seeing very little. Be sure to stay alert for any watches or warnings issued by Environment Canada.
Less excitingly, daytime highs will sit around 29°C today (which will feel more like the upper 30's thanks to the humidity) with winds out of the southeast at 20–30km/h. Expect a low near 18°C.
Cooler, Unsettled Weekend
Both Saturday and Sunday will be cooler days with highs in the mid–20's. Some uncertainty exists on precisely how things will play out, but in general, a very powerful low pressure system is expected to develop and lift northwards through Saskatchewan through the weekend.
The biggest change, compared to Friday, will be that it seems like the timing for any precipitation will shift from daytime hours towards the evening and overnight hours. Saturday will be mainly cloudy with just a very slight chance of some showers through the daytime hours. As the evening approaches, though, it looks likely that thunderstorms will develop along the western escarpment of the Red River Valley and then progress eastwards across the valley overnight. At this point it looks like the storms will be non-severe, but we'll keep an eye on them in case the threat increases as we get closer to the event.
The overnight low on Saturday night will be around 17 or 18°C.
Sunday will be another fairly cloudy day with a slight chance of some very light rain or drizzle as easterly winds keep the boundary layer socked in moisture while drier mid-level lift approaches. As the evening approaches, once again some showers or thunderstorms are possible. Expect a low in the low teens on Sunday night.
Next Week's Weather?
At this point, next week looks much cooler and drier with more fall-like weather in place. Daytime highs through the first half of the week look to be in the 15–20°C range while overnight lows will drop towards the mid-single digits. Little precipitation is expected, and we'll see more and more sun as the week progresses.
---
PWAT stands for precipitable water, a measure of how much water is contained in a column of air.  ↩