It looks like someone forgot to turn off the snow machine as yet another round of snow is possible early this week.
Today will be near seasonal with temperatures around -10C. Skies are expected to be mainly cloudy with a low stratus deck hanging over the Red River Valley. Winds will be from the south-east at 20km/h.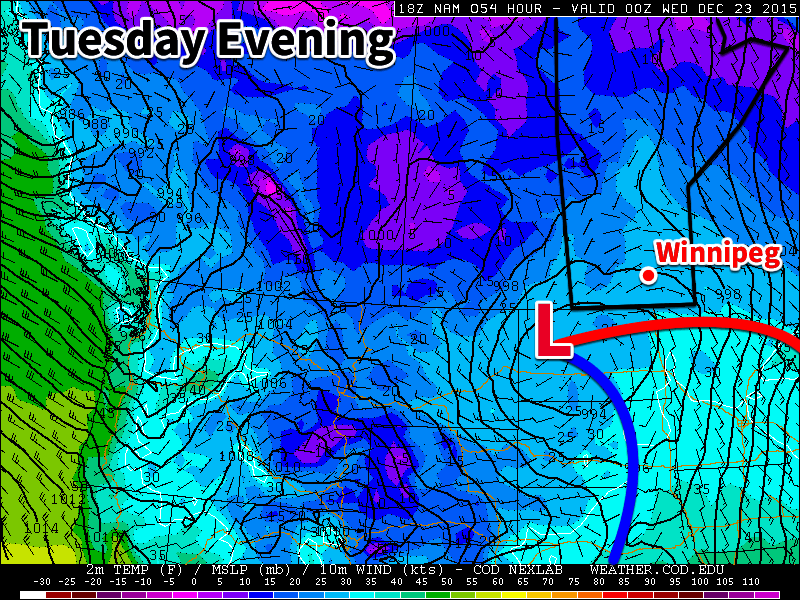 Tuesday will see the arrival of another low pressure system that will likely bring shovel-able snow to parts of southern Manitoba. At this point it appears that 5-10 cm of snow is most probable for the Red River Valley, although that could be more or less depending on the eventual track of the system. Below is a current rundown of model predictions from December 20 for this storm (assuming a 15:1 snow to liquid water ratio):
Wednesday will be seasonably mild in the wake of the departing low from Tuesday. Temperatures will be in the mid to upper minus single digits under mainly cloudy skies and light winds. Luckily there won't be a large pressure gradient with Tuesday's low pressure system so winds will be relatively light, so extensive blowing snow won't be an issue.
Long Range
The long range forecast shows generally seasonable weather up to Christmas. There are some hints of slightly below normal weather developing just after Christmas, but models suggest it won't last long. A return to above-seasonal weather appears possible around New Year's.