Calmer weather is settling into Southern Manitoba after a Colorado Low dumped 10–20cm of snow over the Red River Valley, quickly turning an area that still had substantial amounts of snow-free ground into a winter wonderland.
Today will bring mixed skies to Winnipeg & the Red River Valley as cloud left behind from this week's storm straggles over the region. Temperatures will be much closer to seasonal than we've experienced over the last several weeks. Today's high temperature will be around –13°C, actually a couple degrees below the seasonal high temperature of –11°C. With some clear patches working their way into the Red River Valley this evening, the overnight low will manage to drop all the way down to a seasonal –20 or –21°C.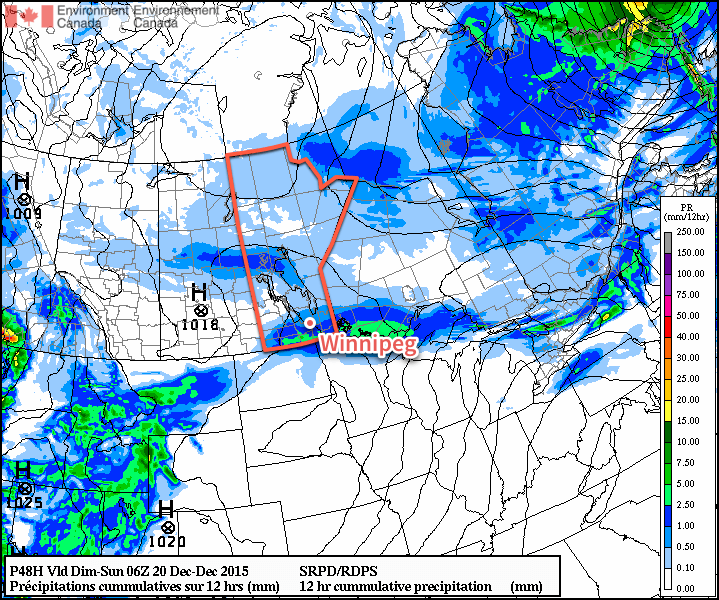 Saturday will see more cloud spreading into Southern Manitoba as a mid-level disturbance tracks along the international border. As the system approaches, an area of light snow will spread across the region. Total snowfall is expected to be light, with just 1–2cm over the Red River Valley. Further north through the Interlake could see a tad more snow with total amounts in the 2–4cm range. Temperatures will remain cool with daytime highs near –12°C. Winds will be a bit breezy out of the southeast at 20–30km/h.
The extensive cloud cover at night will moderate the overnight low, with temperatures dropping to just –14 or –15°C. The winds will diminish early in the evening.
Sunday will continue with mixed skies, but temperatures will be quite a bit warmer than Friday or Saturday as daytime highs climb towards –8°C with light northwesterly winds. Not much else to talk about for the end of the weekend as skies clear and temperatures dip back into the mid-minus teens on Sunday night.
Looking Ahead to Christmas Week
Next week is looking great considering we're moving into the second half of December. The northwesterly flow aloft which is giving us this outbreak of more seasonal temperatures is forecast to be replaced by a more zonal (west-to-east) or southwesterly flow aloft, which will help milder air spread over the southern Prairies.
We may see a few bouts of light snow next week while we enjoy warmer-than-seasonal temperatures in the –5 to –10°C range.