Winnipeg will see near-seasonal temperatures over the coming days with some light flurry activity mixed in before a big warm-up moves in for the weekend. The transition to warmer weather won't be particularly graceful, however, as a howling southerly wind develops on Friday, making for a rather unpleasant shift.
The weather in Winnipeg through today and tomorrow will be dominated by the gradual arrival of a weak Arctic high that will slowly build southeastwards out of the Northwest Territories across Saskatchewan and Manitoba. Weak is the key descriptor of this ridge; it will bring with it little in the way of cold air nor will it be able to muster up much clearing either.
That said, today's weather will be relatively pleasant, all things considered. Skies will be mainly cloudy through the day with some occasional light flurry activity. Temperatures will climb a little bit from where we start off to about -10°C with fairly light winds throughout the day. Tonight will continue to bring mainly cloudy skies—although a few clear breaks are possible—and temperatures dipping down to about -18 or -19°C. If more clearing develops than is expected at this point, the overnight lows could dip closer to about -23°C.
Tomorrow will bring very gradual clearing to Winnipeg with the morning likely starting off fairly cloudy and slowly becoming mixed to mainly clear throughout the day as the Arctic ridge slides into the Red River Valley. With the arrival of that system, the daytime high tomorrow will be cooler at around -15°C with a light northerly wind. There's a slight chance of some flurries through the early morning, but for the most part no precipitation is expected on Thursday. Expect a low on Thursday night near -21°C under partly cloudy to mixed skies.
Friday will be…unpleasant. As many who have lived in Winnipeg for a while know, whenever a big warm-up is on the way there is often "the day" before the warm weather arrives; a day where it's rarely as nice as it sounds like it's going to be and those famous southerly winter winds make an appearance. Friday will be that day.
As the Arctic ridge pushes past and moves to our southeast, it is quickly replaced by a strengthening low pressure system moving across the Prairies. As the low moves into eastern Saskatchewan and begins spreading warmer air aloft over Southern Manitoba, its relatively close proximity to the Arctic ridge will result in a tight pressure gradient over the Red River Valley, oriented very favourably for the development of strong southerly winds. While starting the day off light, the winds through the Red River Valley will increase to around 30 gusting 50 km/h by noon, and then further strengthen to 40-50km/h gusting to 70km/h by the evening hours.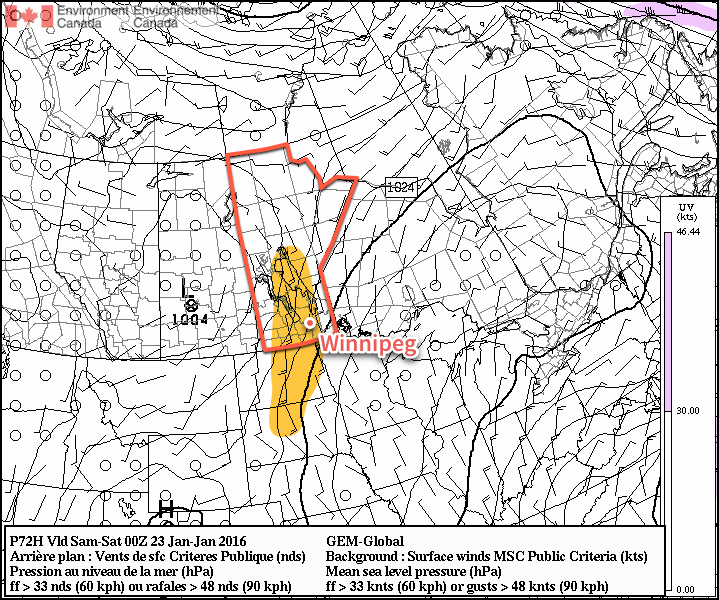 Temperatures will gradually climb to around -12 or -11°C by late in the afternoon—although it will feel closer to -25 throughout much of the day due to the wind chill. Temperatures will continue to rise overnight as the warmer air finally begins working its way into the valley; by Saturday morning the temperature is expected to climb to about -8°C in Winnipeg.
With strong warm air advection aloft and the surface flow dominated but the outflow from an Arctic ridge, it's likely that Friday will be fairly cloudy as stratus streams northwards out of the ridge.
Warm Weekend Ahead
This weekend looks beautiful with temperatures well above seasonal expected throughout the Red River Valley. In Winnipeg, the temperature is expected to climb all the way to around the freezing mark under mainly cloudy skies. Sunday looks fairly nice, perhaps evening bringing some sun to the region, with daytime high closer to the -5°C mark.
Temperatures are expected to return to seasonal values for the start of next week.