Near-seasonal temperatures are on the way for Winnipeg through the remainder of this week with multiple chances for light snow as several weak disturbances slide across the region.
Today's weather will be dictated by a weak low pressure system moving through the region that will spread more cloud and snow across Southern Manitoba. Although the snow will be widespread as it gradually pushes eastwards across the province, it will also be quite light. The grand-total for around 4-6 hours of snow will be just 1-2 cm, with some areas that see little-to-no accumulation. Here in Winnipeg, we'll see some sun through the morning, then increasing cloud with some light snow starting late in the afternoon. It will be pleasant for early February, however, with daytime highs around -11°C and light winds. Expect temperatures to dip to around -15°C tonight under mainly cloudy skies.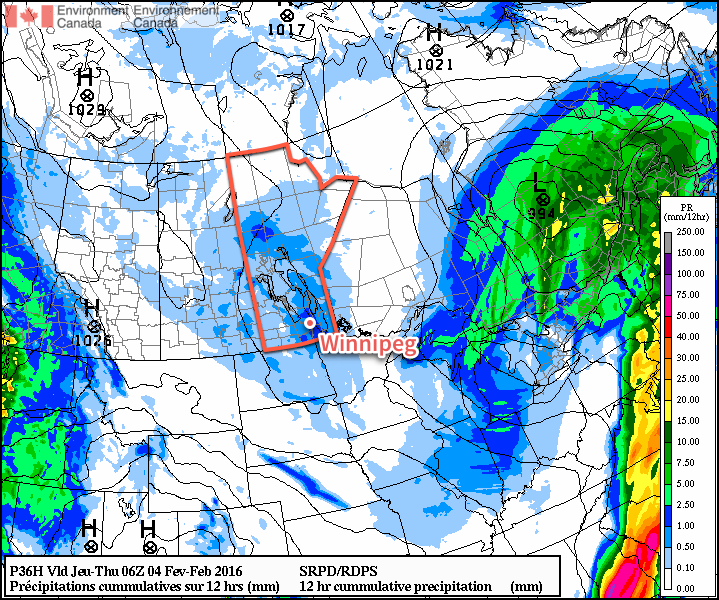 Thursday will be a benign day with mainly cloudy skies, daytime highs once again near -11°C for Winnipeg, and light winds. There's a very slight chance of some flurries thanks to the temperature profiles through the lower atmosphere, but if they do develop, they will be quite weak. Temperatures will drop to about -14°C on Thursday night with cloudy skies as the next low pressure system moves in from the west.
Friday will be another cloudy day with daytime highs climbing a couple degrees higher to around -9°C. There's a decent chance of some flurry activity through the Red River Valley as the next low pressure system tracks through the region. Temperatures will dip to around -14°C on Friday night under cloudy skies.
Long Range
The long-range outlook shows a fairly significant pattern change next week, but not before things turn a little more unsettled.
Through the weekend and into the first half of next week, the weather looks to turn more unsettled as the storm track shifts over Manitoba. No major snowfalls are expected at this point, but several relatively strong lows will likely move through the region, at least bringing a little more variability to the temperature and some windy conditions at times.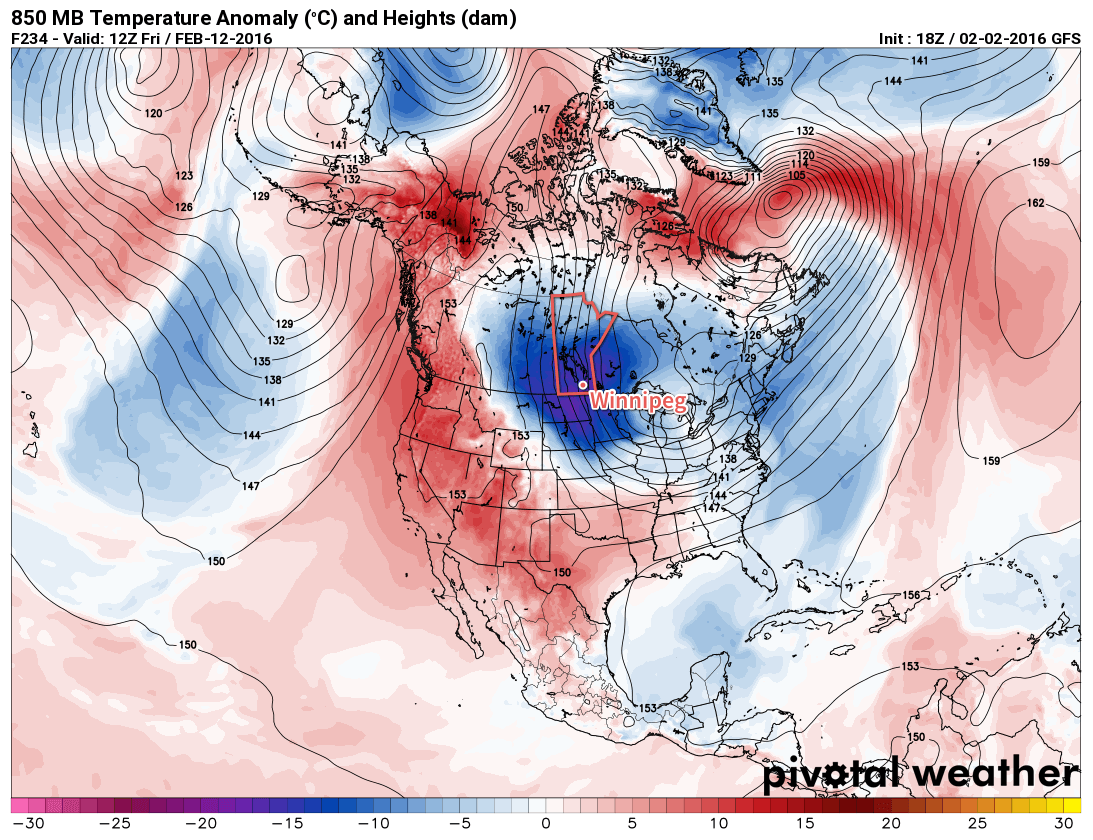 A major large-scale pattern change begins early next week as the polar vortex slumps southwards into Northern Ontario as large scale upper-level ridging takes place over the west coast of North America. This combination will shift winds at all levels over Manitoba to northerlies straight out of the Arctic, and a surge of colder air will blast southwards in response. This will likely happen in multiple stages with a weaker shot mid-week and then a stronger surge at the end of the week. The image above shows the GFS forecasting 850mb temperatures [1] over 10°C below normal for next Friday.
If this forecast comes to fruition, then through the latter half of next week daytime highs would fall into the -15 to -20°C range.
The colder air doesn't appear to be likely to stick around for too long, though, with seasonal temperatures building back in by the end of the weekend.
Seasonal daytime highs in Winnipeg for early February are -10°C while seasonal the overnight lows are -21°C.
---
850mb is approximately 1.5km above the ground.  ↩