Above-seasonal temperatures will continue through to the end of the weekend in Winnipeg and the Red River Valley thanks to a continued flow of mild air sourced from the Pacific. Some light snow will be possible Saturday night and into Sunday as a low pressure system moves through the region and brings cooler temperatures to start off next week.
Sunny skies will help temperatures climb to a balmy +1°C this afternoon as mild air spreads eastwards across the province. Winds will remain relatively light out of the southwest at 10-20 km/h. Other than that, there isn't much to say about today! Enjoy it!
Temperatures will remain mild tonight with southwest winds gradually tapering off and temperatures dipping to just -4°C[1].
Saturday will be another mild day with a daytime high near 0°C. Winds will be very light through much of the day before gradually picking up out of the north later in the afternoon through the evening. The day will start off mainly sunny, but through the afternoon cloud cover will spread southwards as the northerly winds pick up. As the cloud moves in, there will be a slight chance of some flurries, but more organized snowfall will not likely move into the region until the evening.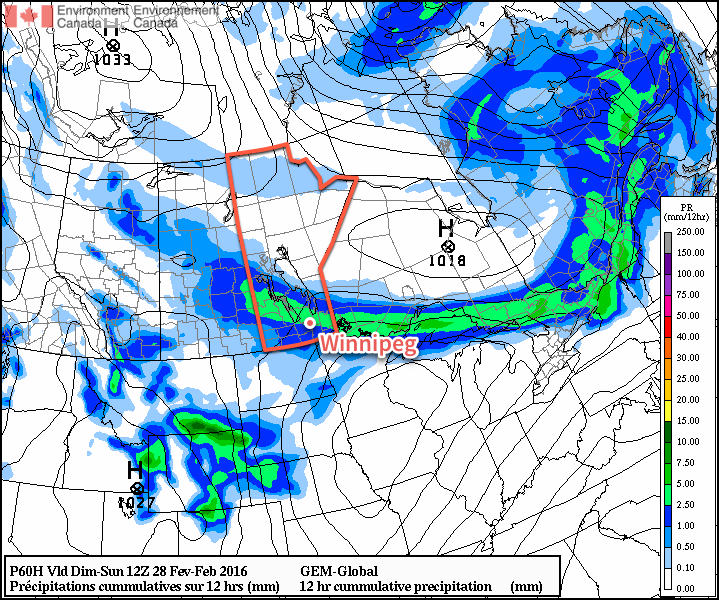 Snow will fall through much of Saturday night, although accumulations aren't expected to be particularly significant; 2-3 cm are possible in Winnipeg & the northern Red River Valley, while less than 2 cm is expected through most areas in the Red River Valley south of the Trans-Canada Highway. Temperatures will dip to an overnight low near -12°C with those north winds blowing at 20-30 km/h.
Sunday will be a cloudy day with the northerly winds tapering off and a high near -5°C[2]. A chance of flurries will persist through Winnipeg & the Red River Valley for much of Sunday.
A second chance for more organized snow will return on Sunday night as the next low pressure system moves across the province ahead of another push of cooler air. This system will bring the chance for 2-4 cm of snow across much of the Red River Valley, alongside gusty northerly winds and plummeting temperatures. As the snow moves through, temperatures will fall towards an overnight low near -17°C.
Long Range: Another Brief Cold Snap
Monday will see any remaining snow clear out of Manitoba. Temperatures are a little tricky; depending on the exact timing of Sunday night's system, temperatures will either see a high in mid-minus teens or fall through the day. Either way, colder air is on the way in and below-normal temperatures are expected for Monday and Tuesday in the wake of Sunday night's low.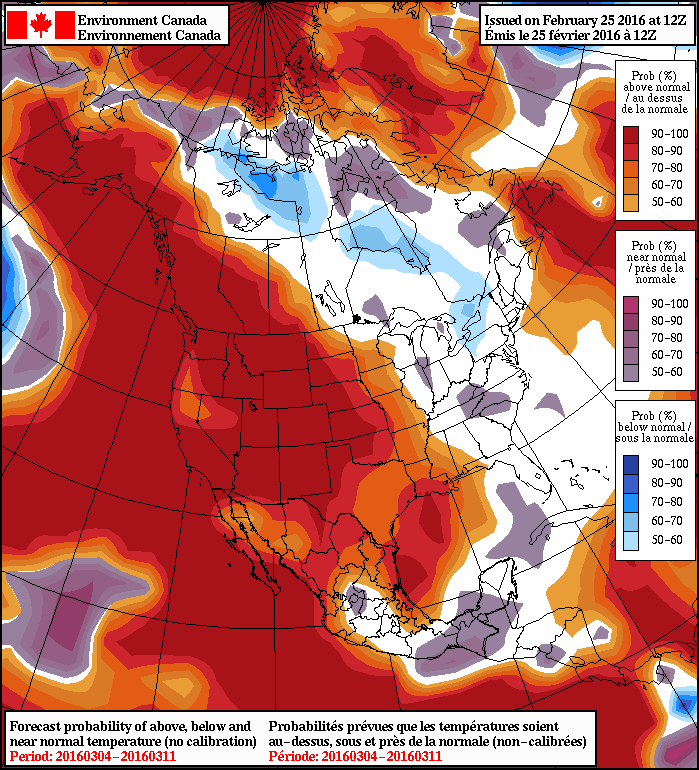 Heading into mid-week, though, it appears temperatures will quickly trend back towards seasonal values. Little-to-no precipitation is expected through this period. By the end of the week, above normal temperatures are likely to be back in place. Overall, as shown in the NAEFS forecast above, that our below and above normal temperatures next week will lead to an overall near-seasonal temperature regime for the long-range.
Winnipeg's seasonal daytime high is currently -6°C while the seasonal overnight low is -16°C.