Unsettled weather is on its way back to the province as a trough of low pressure develops over the western Prairies and draws humid air northwards out of the United States. For people heading out to Bird's Hill for the Folk Fest, this means increasingly muggy weather through the weekend with the potential for thunderstorms both Saturday & Sunday.
Today will be a fairly pleasant day. The system that brought up to 20 mm of rain to the Red River Valley yesterday1 will be moving off the east and any remaining cloud from it should clear out through the morning leaving just a few clouds around for the afternoon. Temperatures will climb to a high near 25°C. Expect just a few clouds overnight and a low near 14°C.
Saturday
Saturday will see more humid air beginning to work into the region. Morning sun will be replaced by clouds as the day goes on while the temperature climbs to a high near 26°C. There will be a slight chance of thunderstorms in the evening, but the main threat will occur through the overnight period. There will be a very small chance of severe thunderstorms.
Update: Severe Thunderstorms Hit SW Manitoba on Saturday July 9, 2016
Severe thunderstorms developed over SW Manitoba on Saturday and focused into one primary strong supercell thunderstorm that organized near Virden, MB and then moved southeastwards through Minto & Ninette before continuing on across the US border. It produced a variety of severe weather, with numerous reports of heavy rain, large hail and severe winds: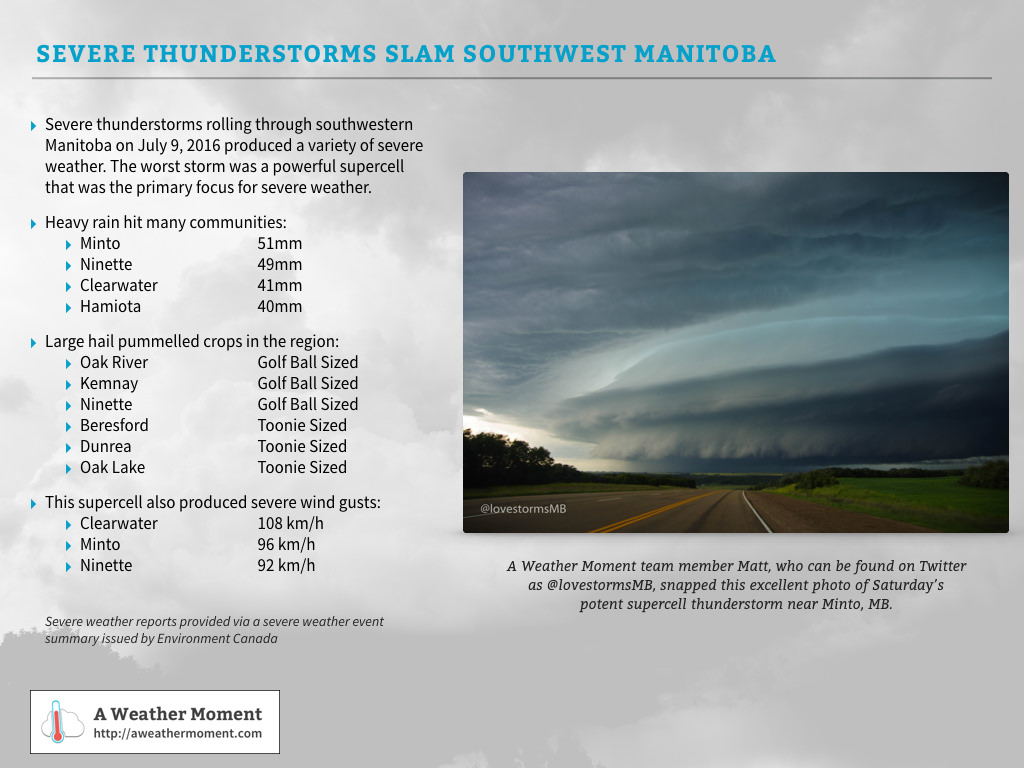 Sunday
Sunday will see the humidity move into the region full force with dewpoint values climbing up into the low 20's. This will make the high near 27°C feel very warm, however conditions will be a bit more bearable due to the fair amount of cloud cover expected through the day. Any times the sun does poke out, though, will likely see things begin feeling very warm very quickly.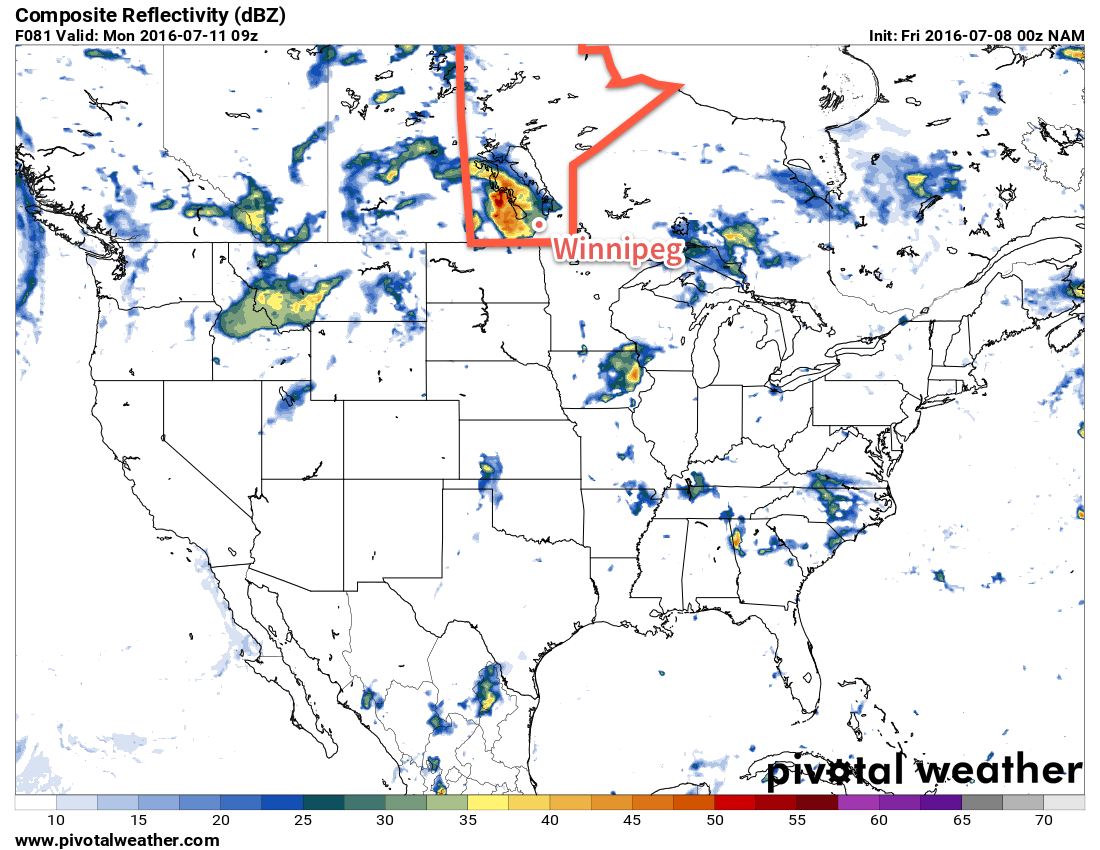 Rain-wise, we may see some remnant showers or thunderstorms in the morning from any activity on Saturday night, and then things should diminish for much of the day. By Sunday evening & overnight, the thunderstorm threat once again returns. Sunday night will see a slight to moderate threat of severe thunderstorms across the Red River Valley. Large MUCAPE values overnight coupled with 30-50 kt of bulk shear ahead of an incoming shortwave will support the development of organized thunderstorm activity across a wide area of Southern Manitoba. The primary threats will be large hail and strong winds, with rapid rainfall accumulations also a concern.2
It will be a very mild night with a low near 21°C.
Long Range
The start of next week continues warm and humid with a thunderstorm threat late in the day into the overnight period. Heading through Tuesday into mid-week, the main upper low associated with the weekend's weather pattern moves into the region, bringing relief from the humidity and cooler temperatures alongside more cloud and chances for showers.
While Winnipeg saw nothing but a few light showers late in the evening, the rain managed to push as far north as St. Adolphe, which saw 2mm. ↩
Although the thunderstorms will likely have very intense rainfall, they will be moving relatively quickly, making accumulations not as prominent a threat as the hail or wind potential. ↩