The remainder of the work week will be marked by daytime highs climbing above 0°C, continuing an above-normal temperature trend that has persisted through every single day so far this November.
Today will be damp but mild as stratus cloud bringing drizzle and fog lingers throughout the region. A few isolated flurries may also be thrown into the mix as well, but we're done with any accumulating snow for now. We should reach a high temperature of +2°C, which will continue to melt the snow that fell yesterday morning across the city. Winds will be light out of the northwest at 10-15 km/h. Expect cloudy skies tonight with a continued chance of drizzle or freezing drizzle alongside fog patches. Tonight's low should be near -1°C.
Thursday will likely be more of the same with low-level moisture trapped under a slack flow. Temperatures will reach a high near +2°C with light winds. There will be a very slight chance of some patchy drizzle or fog. For Thursday night, skies will remain mostly cloudy until some clearing begins working in late overnight. Temperatures will dip to a low near -2°C.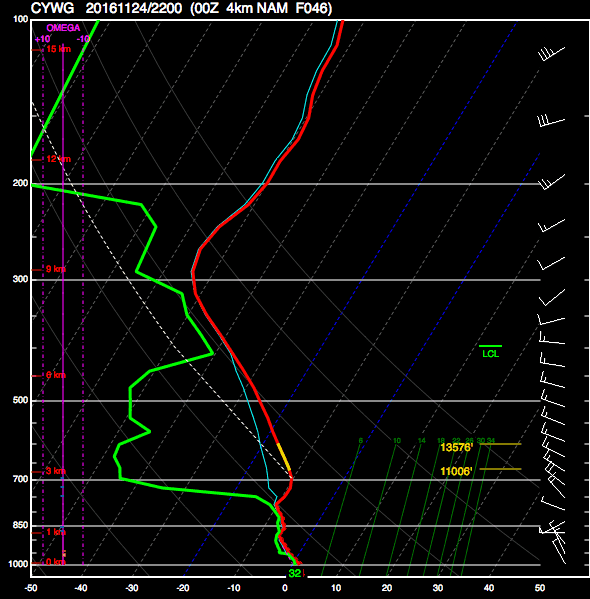 Friday will likely bring some sunshine back to the region with more above-normal temperatures on tap as the daytime high climbs to +2 or +3°C. Skies will gradually clear through the day and things should finally start to dry out a bit. Winds will be light out of the south.
Tuesday Snow Breaks Record
While the actual snowfall event that began early in the morning on Tuesday November 22 was unimpressive with just 2-5 cm of fresh snow accumulation across the city, it managed to break a long-standing record: the latest day of first measurable snowfall.
Rank
Date of First Measurable Snowfall (≥ 0.2cm)
Year
1
November 22
2016
2
November 21
1963
3
November 20
1953
4
November 19
1931
5 tie
5 tie
November 18
November 18
1880
2015
7
November 17
1890
8
November 16
1977
9
November 15
1903
Yesterday's snowfall was the latest in the year Winnipeg has seen its first fall/winter snow in the 144 year old record that dates back to 1872.
Long Range
The weekend looks quite nice with a fair amount of sun and mild temperatures with daytime highs continuing slightly above the freezing mark. Heading into next week, though, it appears another significant winter storm may be brewing. Some long-range models are hinting at the possibility of 10-25 cm over the Red River Valley through the first half of next week, but it's still too early to really comment on how accurate any of those predictions will be.
That said, the continued significant story is the above-normal temperatures that have been in place the entire month of November and continue to be forecast through to the end of the month. If we do indeed see high temperatures close to what is currently forecast, November will be in the contest for the warmest November on record!
Winnipeg's seasonal daytime high is currently -4°C while the seasonal overnight low is -13°C.