There's no end to the mild weather in sight thanks to a stagnant weather pattern that will persist through the remainder of the week. For those that love the sun, it will be a hard week as cloudy conditions persist with a continued chance of light flurry or freezing drizzle activity.
This weekend was a notable one when it came to warmth in Winnipeg as temperatures remained above 0°C for a record-breaking 66 hours, breaking the old record of 44 hours set on January 8/9, 2002. Temperatures first climbed above 0°C at 3PM on Friday January 20th and remained there all the way through 11PM on January 22.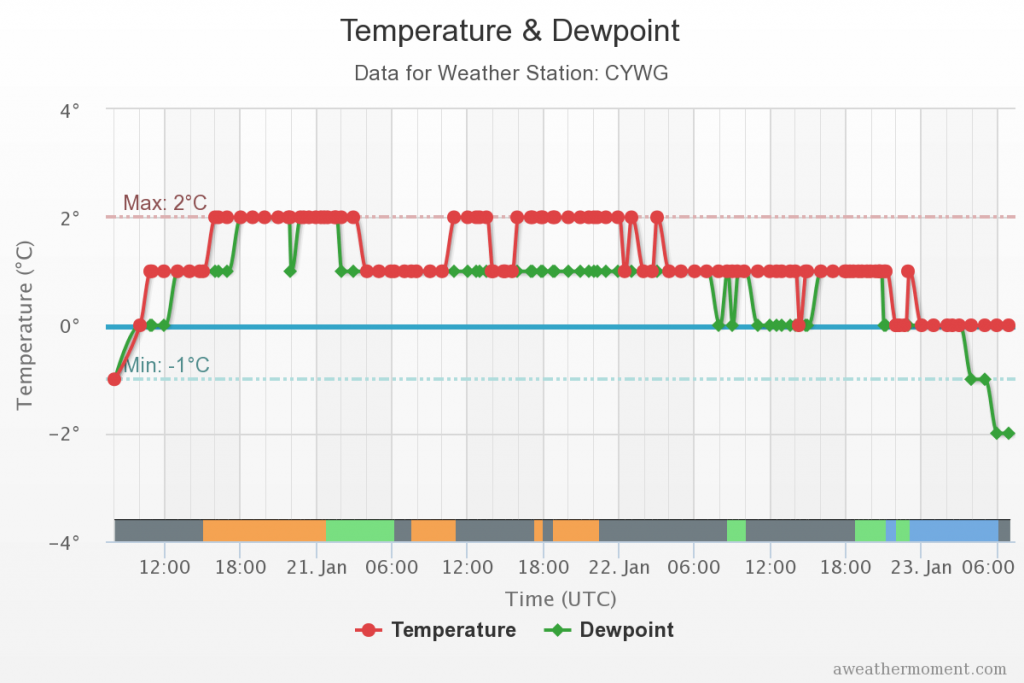 This record mild spell broke no record high temperatures, but did result in a couple of rainfalls that brought January 2017 to the 2nd rainiest on record with 3.6 mm so far. The rainiest January on record is 1944 when 3.7 mm fell.
So, all that said, the forecast for the next few days is simple.
Cloudy. Today and tomorrow will both bring a continued chance for some light flurry or freezing drizzle activity across the Red River Valley with temperatures topping out near -1°C and light winds. Lows will be near -5°C both tonight and tomorrow night.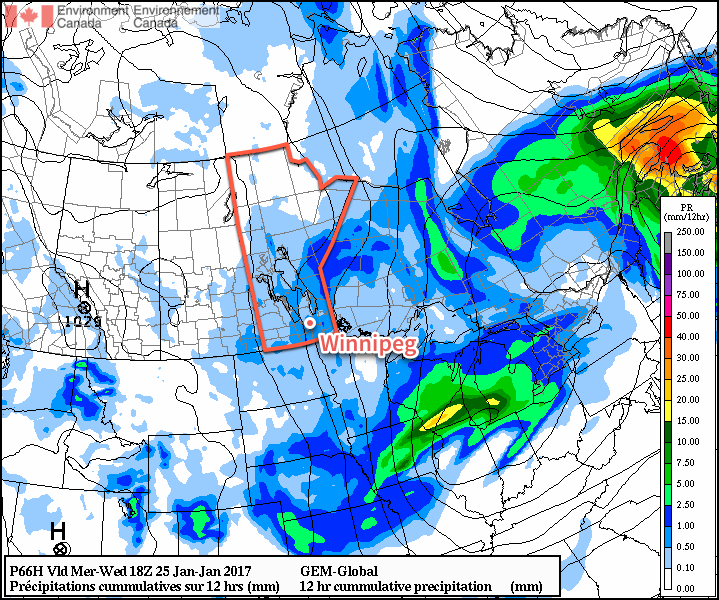 The area of low pressure that's entrenched over the region will begin moving out on Tuesday night, allowing some more organized northwesterly winds to develop across the Red River Valley. Winds will strengthen to 20-30 km/h by Wednesday morning and continue throughout the remainder of the day. Temperatures will be cooler with that northwest flow; highs will top out around -3°C and flurries will be widespread across southern Manitoba. Temperatures will dip to a low near -8°C under more cloudy skies on Wednesday night.
Long Range
Relatively mild temperatures will continue through the second half of the week with daytime highs hovering near -5°C. Sun may begin poking out on Thursday, but at this point it looks like Friday will be the first day of the week the sun makes a full comeback. No significant precipitation is expected in the second half of the week.