Temperatures will dip slightly through the second half of the week as breezy northwesterly winds develop across Southern Manitoba.
It's another fairly simple forecast for the coming days ahead as little changes in the weather other than a slight shift in temperatures.
As a potent low pressure system that brought a wintry mix to South Dakota yesterday moves off into Eastern Canada, the slack flow that's been in place over the province for the past week will be replaced by a northwesterly flow with breezy winds that will tap into slightly cooler temperatures.
Today will bring winds of 10-20 km/h and temperatures steady around -6°C. There will be a very slight chance of some flurries, but they would be quite light and scattered. Skies will be fairly cloudy, although a brief sunny break or two can't be ruled out.
Temperatures will dip to around -11°C tonight, the coldest overnight low since January 17th when the mercury dipped to -16.0°C early in the morning.
Thursday will bring a cooler high temperature and relatively light winds as a ridge of high pressure passes across southern Manitoba. Temperatures will top out around -7°C with cloudy skies in the morning giving way to some sunny breaks in the afternoon. Temperatures will dip to a low near -12°C once again on Thursday night under partly cloudy skies.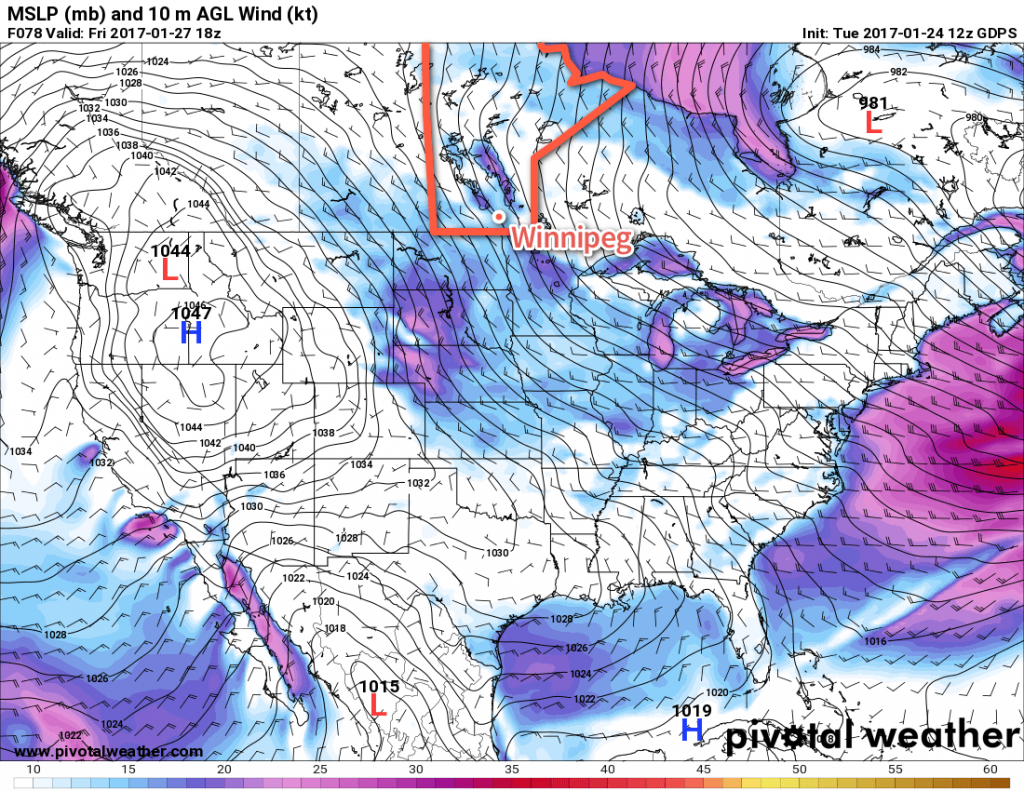 Friday brings mixed skies and strengthening northwesterly winds to 30-40 km/h. Temperatures will climb to a high near -3°C. It looks like the cloud cover will be reinforced late Friday, moderating overnight lows slightly as the temperature drops to about -8°C.
Long Range
The weekend will continue the trend of above normal temperatures and cloudy skies. Don't expect to see much sunshine as a slight chance of light, scattered flurries persists through the weekend.
Above-Normal Temperatures Expected Until End of January
While the cold snap earlier this month seems to be a vivid memory of many people I talk to, it actually hasn't been a cold month at all, temperature-wise.
The cold snap began on January 3rd and persisted through January 14th. Throughout that period, daytime highs averaged -17.6°C (4.5°C below normal) while overnight lows averaged -28.1 (5.1°C below normal). This resulted in a mean temperature of -22.8°C for that 12-day stretch, which is 4.8°C below normal.
By comparison, the latest warm spell began on January 15th and has persisted so far until January 24th. During this time frame, daytime highs have averaged -1.6°C (11.3°C above normal) and overnight lows have averaged -7.1°C (15.9°C above normal). The most extreme deviation from normal occurred on January 21st when a minimum temperature of +0.9°C occurred, breaking the daily record for warmest minimum temperature at a whopping 23.8°C above normal.1 This has resulted in a mean temperature of -4.4°C for that 10-day stretch, which is 13.6°C above normal.
All that to say, the warm has been much more unseasonable than the cold. January currently sits with a monthly mean temperature of -14.3°C, which is 3.7°C above normal.
Temperatures are expected to remain mild, albeit not as warm as we experienced earlier in the week, with daytime highs hovering between -8 and -1°C through the end of January. This means that another month of above-normal temperatures will likely be recorded in Winnipeg when January draws to a close.
Winnipeg's seasonal daytime high is currently -12°C while the seasonal overnight low is -23°C.
---
The previous record warmest January minimum temperature for January 21st was -3.3°C set in 1900. ↩