Winnipeg will see the peak warmth of the current weather system move in today with temperatures climbing well above the freezing mark. The unseasonable warmth will challenge several record types: record highs, record high minimums, record high dew points, and record high minimum dew points.
Everything ending in °C will be the highlight over the coming days as even more warm air floods into the region. Today's high will reach around 4°C, while tomorrow's and Sunday's highs will be near 3°C. Overnight lows will remain very mild as well, with lows near 0°C tonight, -5°C tomorrow night and +1°C on Sunday night.
Winnipeg, MB Temperature & Dewpoint Records for February 17-19
Date
Record Type
Current Record
February 17
High Temperature
5.4°C (1981)
High Minimum Temperature
0.8 (1998)
High Dewpoint
2.0°C (1981)
High Minimum Dewpoint
-0.6°C (1998)
February 18
High Temperature
3.9°C (1954)
High Minimum Temperature
-0.2°C (1998)
High Dewpoint
0.6°C (1954)
High Minimum Dewpoint
-1.3°C (1998)
February 19
High Temperature
5.6°C (1930)
High Minimum Temperature
0.2°C (2016)
High Dewpoint
0.6°C (1954)
High Minimum Dewpoint
-0.5°C (1981)
These temperatures will challenge many of the records listed above. For daytime highs, it's important to note that there will likely be significant variability around the city. The official records are for the official Environment & Climate Change Canada observing site located at the Winnipeg airport, which tends to be colder than much of the city during warm spells at this time of year. Throughout the city, temperatures could be anywhere from 2-4°C higher than what's reported at the ECCC site.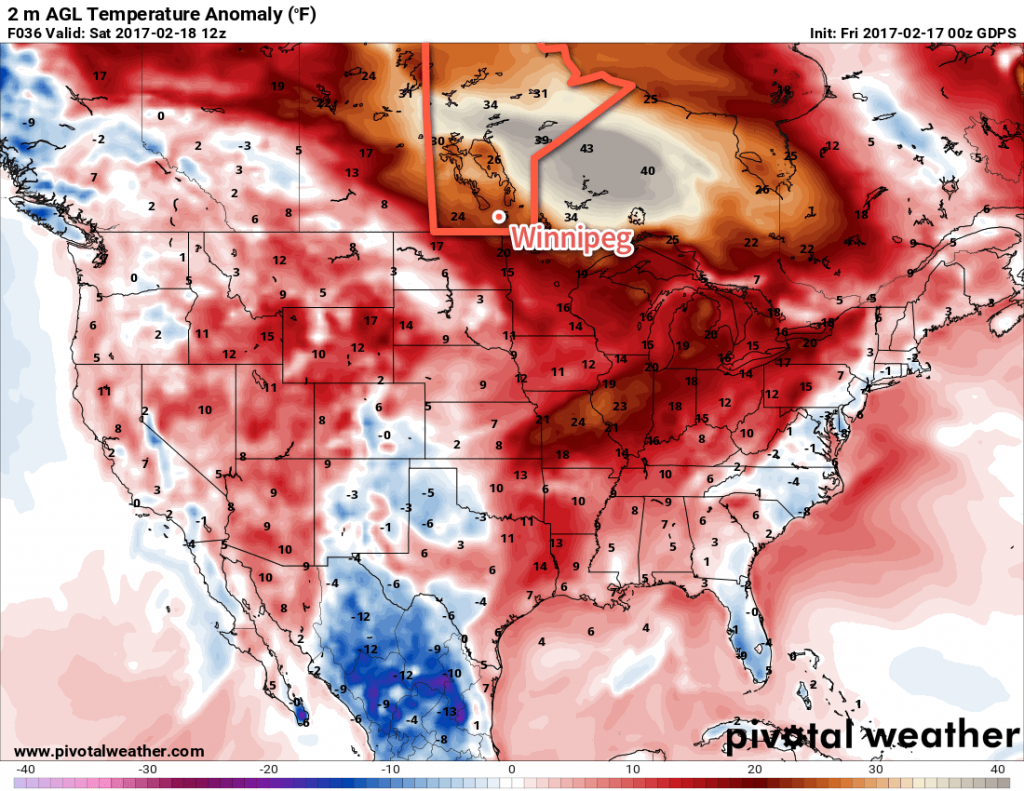 Skies will see variable cloudiness over the next few days, but we'll see no real threat of precipitation aside from a very low chance of a light rain shower this evening.
Winds will strength out of the southwest today to around 25-35 km/h with some gustiness, particularly near the western escarpment of the Red River Valley. These winds will continue overnight and then gradually taper off on Saturday. The wind will then swing around to the east/southeast on Saturday night and begin strengthening on Sunday to 20-30 km/h ahead of the next system.
Long Range
The beginning of next week will bring a Colorado Low that poses the threat for significant impact on the region, however it's difficult to pin down much of a forecast at this point as solutions for this disturbance vary dramatically, with some models dragging the precipitation of the low up the Saskatchewan/Manitoba border and others shunting it well off to the east over Lake Superior.
What we can say is that there will be a Colorado Low that will threaten the region on Monday, potentially into Tuesday. This system will be bringing an abnormally high amount of moisture with it, and with the mild temperatures, that means that any precipitation from it would fall as rain. Forecast amounts have varied, but in general it seems like this system will produce a swath that receives 10-20mm of rain. Whether or not that falls in the Red River Valley will yet to be seen.
That much rainfall would be very abnormal for this time of year. Current rainfall records for this general time of year are:
Winnipeg, MB Rainfall Records for February 19-21

| Date | Record Type | Current Record |
| --- | --- | --- |
| February 19 | Rainfall | 1.0mm (1997) |
| February 20 | Rainfall | 0.3mm (1965) |
| February 21 | Rainfall | 5.8mm (1877) |
The potential to over double the current record rainfall amount, all the while still having frozen ground with high water content and a fair amount of snow would likely introduce a risk for overland flooding.1 In North Dakota, the NWS has issued hazardous weather outlooks regarding this system for the potential for minor water level rises in low-lying areas and for area rivers. In the end, though, there's still a lot of uncertainty in where exactly this system will track, so we'll be keeping an eye on things as it develops.
Otherwise, temperatures will finally begin to cool back towards normal behind this system, but it continues to appear like southern Manitoba will be near the primary storm track and see more frequently unsettled weather through the remainder of next week.
Winnipeg's seasonal daytime high is currently -8°C while the seasonal overnight low is -18°C.
---
While I do have training in meteorology, this sort of issue is more of a hydrological challenge. I'm not formally trained in hydrology, but the fields are closely related and I do have some familiarity with it. That said, as it gets closer, monitor the news for any statements from the Province of Manitoba regarding the flooding threat. ↩