Today will be categorically unpleasant as a brisk northwesterly wind ushers colder air into Winnipeg & the Red River Valley behind a cold front that passed through earlier this morning. It will be relatively short-lived, though, as temperatures begin rebounding immediately on Saturday and climb back above-normal for Sunday.
A cold northwesterly wind will be in place over Winnipeg & the Red River Valley today, starting out at around 30km/h but strengthening to 50 gusting 70 km/h midday. This will be accompanied by light snow, with anywhere from 1-3 cm looking like the most likely accumulation. The combination of yesterday's rain, freezing overnight, and the gusty winds with snow will likely make highways in the Red River Valley slippery, so you should be sure to give yourself extra time and take caution if you have to travel today. Additionally, if any slightly heavier snow bands develop, visibilities will likely be very reduced as the strong winds blow the snow around underneath them. Temperatures will slowly drop through the day to around -4°C by this evening.
Winds will ease off through the night with clearing skies as temperatures dip to a low near -13°C.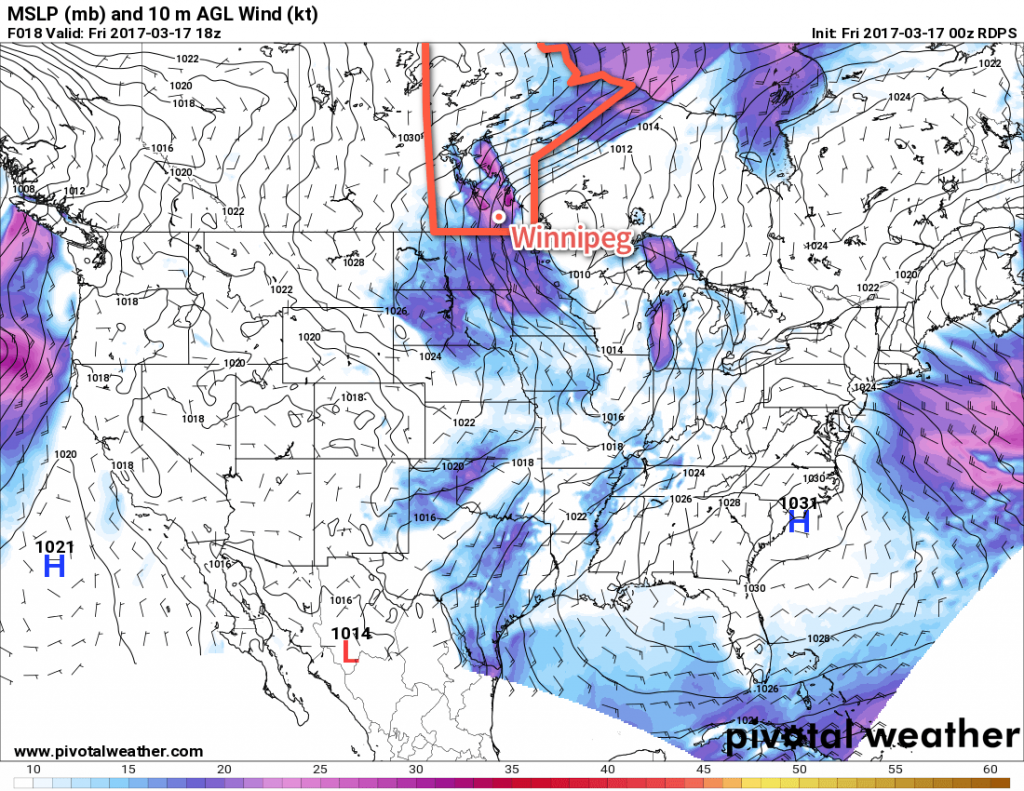 Saturday will be cool with a high of just -3 or -2°C and increasing cloud. Winds will increase to around 15-20
km/h
by the end of the day, and then continue to strengthen overnight to 30-40
km/h
. Temperatures will remain steady near -2°C overnight under cloudy skies. There's a very slight chance of some light flurries early Sunday morning.
Sunday will be a pleasant day with temperatures climbing to a high near +3°C under mixed skies. Winds will shift from southerly at 15-20 km/h to westerly at around 30 km/h late in the afternoon. Expect a low near -2°C under partly cloudy skies on Sunday night.
Long Range
Looking ahead into next week, it appears a cool-down is on the way Monday as northwesterly winds usher in an Arctic ridge behind the low pressure system tracking across the northern Prairies. This will send daytime highs back down to the freezing mark or just below for the first half of the week. Warmer weather returns in a windy southerly flow in the second half of the week, but along with it comes a couple potential disturbances that could bring precipitation to the Red River Valley.
Winnipeg's seasonal daytime high is currently 0°C while the seasonal overnight low is -11°C.