A cold front passing through the region this evening will bring the chance for some flurries this evening and return temperatures well below seasonal…for one day. Milder weather quickly returns for the remainder of the week on Wednesday.
Today will be a fairly sunny day with the Red River Valley still in the warm-sector of a major low pressure system bringing blizzard conditions to portions of northern Manitoba. Temperatures will be mild with daytime highs generally around the 4-6°C, bolstered by westerly winds at 20-30 km/h.
Things will change this evening when a cold front sweeps through the Red River Valley, bringing a chance of flurries and gusty northwesterly winds to 30-40 km/h. Temperatures will drop to around -5°C within a few hours, and then continue on to an overnight low near -13°C. Winds should taper off to around 20 km/h by midnight and remain there for the rest of the night. Skies will clear out fairly quickly behind the front.
Tuesday will see a large ridge of high pressure build into the region, bringing mainly sunny skies and winds that gradually taper off. Temperatures will be cool with daytime highs near -7°C. The northerly winds will taper off in the afternoon and then temperatures will head down to a low near -14°C overnight.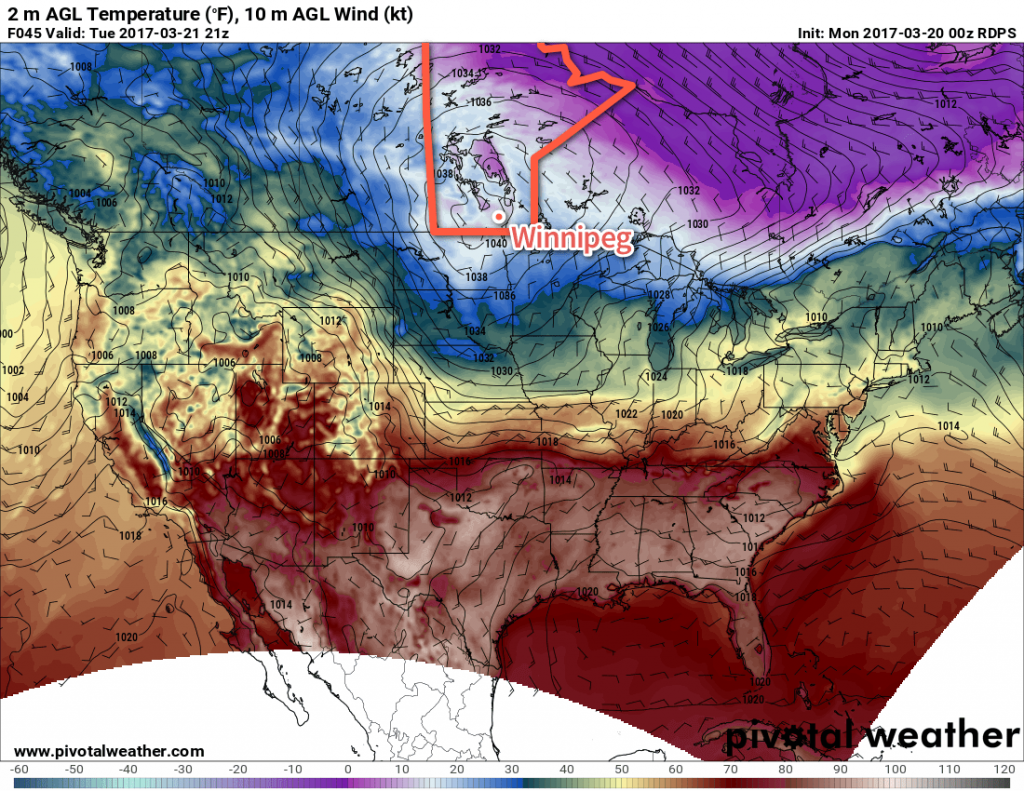 Wednesday will start off cool, but warm up through the day as a southerly wind to 30-40 km/h develops ahead of an approaching low pressure system. Daytime highs across the Red River Valley will be near 0°C as cloudy skies develop later in the afternoon. With windy conditions and warm air continuing to push eastwards overnight, temperatures will remain mild with lows near -2 to -4°C on Wednesday night. As the warm front moves through, there will be a chance for some precipitation, which could end up as anything from rain to snow or freezing rain.
Long Range
The remainder of the week looks mild with daytime highs above 0°C and generally settled conditions.
Winnipeg's seasonal daytime high is currently 1°C while the seasonal overnight low is -10°C.